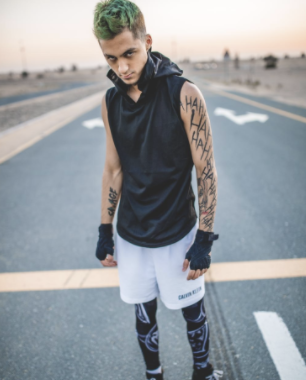 January 28, 2021 – With nearly 3 million YouTube subscribers, Dubai-based content creator, Amir now has arguably the biggest prankster platforms with his N & A Productions YouTube Channel.
Thanks to Amir, millions of people spend their spare time pleasantly. His unimaginable trick shot, wild pranks, and fun challenges have been a source of laughter and joy to many people around the world. Right behind generous donors and medical practitioners, content creators like Amir have been crucial to easing the strain of the global COVID-19 pandemic on people.
Today, Amir is popular as the guy who owns a YouTube channel with nearly 3 million subscribers, but not many are aware of the gruesome past that he had before he found success.
Before he decided to create his own YouTube channel and try his hands at entertainment, Amir lived with his mother and sister as the only son of his family. With his father out of the picture, young Amir had to grow up fast and contribute to his family. His YouTube ventures were not successful initially. He had to shut down a gaming channel that didn't take off after creating and uploading content for one year. It was hard on him, but he didn't stop working. He moved on to a Vlog and challenge related channel where he found some success.
Building off that success and his experiences, Amir started the N & A Productions channel where he made predominantly prankster videos and to his delight, it took off. His new channel grew exponentially and beat his modest objective to reach only 10,000 subscribers. Today he has racked up over 400 million views on his channel and is pleased with how far he has come. His success has also seen him partner with brands like Fortnite, a popular video game on nearly all gaming consoles.
When he is not making videos or pulling pranks on his friends and sometimes, total strangers, Amir spends his time fantasizing about boxing. Over time, he has revealed his love for boxing and his wild dream to become a pro someday. The world can only wonder what his girlfriend, Melody, and his family have to say about that.
Amir also aspires to be an influencer, but not like the common influencer. He wants to be the kind of influencer who helps people and tries to make their lives better.
Follow Amir's channel N&A Productions on YouTube: https://youtube.com/channel/UC-QZWTOtdsm6CNPHUR88irA
Follow Amir on Instagram: https://www.instagram.com/p/CHA1kDZjq3M/?igshid=msr29xi7amwi
On TikTok: https://vm.tiktok.com/ZSta4ELm/.
Media Contact
Company Name: Verifiedinsta
Contact Person: Media Relations
Email: Send Email
Phone: 8777428811
Address:261 Old York Road, Suite 930
City: Jenkintown
State: PA
Country: United States
Website: https://www.instagram.com/p/CHA1kDZjq3M/?igshid=msr29xi7amwi