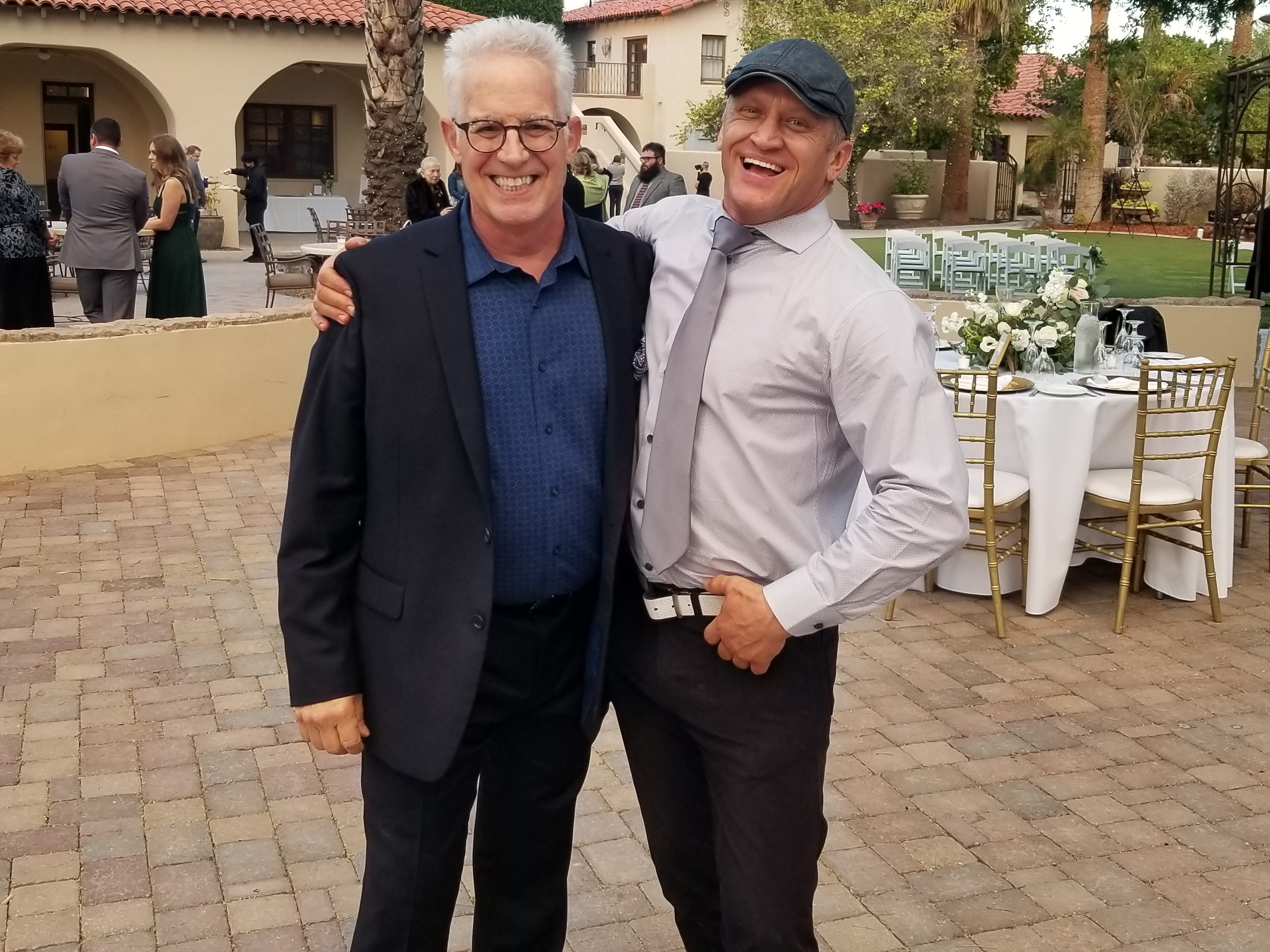 Jimmy Davenport and Brent Owens of Scottsdale Wedding DJ, Starz Entertainment. Starz Entertainment was inducted into the Knot Best of Weddings Hall of Fame for 2021.
Scottsdale, AZ – January 28, 2021 – Scottsdale Wedding DJ, Starz Entertainment takes great pride in announcing they been inducted into The Knot Best of Weddings Hall of Fame from The Knot, a leading wedding planning and registry brand and app. Exceptional wedding professionals who have earned four or more of The Knot Best of Weddings awards are inducted into the prestigious The Knot Best of Weddings Hall of Fame. This was Starz Entertainment's 7th year making the Knot's Best of Weddings and it's 4th consecutive year under it's new ownership, achieving the award and thus got them nominated into the Knot Hall of Fame.
Jimmy Davenport is very proud that Starz Entertainment continues to be honored as one of the top DJ's in the greater Phoenix metropolitan area on the Knot. "This year's award is especially rewarding because in the face of a global pandemic, political and social challenges, and an economic downturn, our DJs provide a few hours of fun and celebration for our clients and their guests. It is more important than ever to put a smile on people's faces."
Starz Entertainment has been going strong since the late 1990's in the Phoenix and Scottsdale areas. Jimmy Davenport took over the company from founder Eric Godfrey back in 2013 and has continued in its success. We reached out to Godfrey for comment, "I have known Jimmy Davenport for many years and I knew he was the best man to take care of my baby, the company that I built. He is all about customer service and being the most professional and skilled MC and DJ, that he can be. He instills those values in his staff and he has surpassed my most ambitious goals and taken the level of service and value to couples to an even higher level. It is no wonder he has had this success. I am so proud of his accomplishments!"
Despite COVID-19 interrupting many 2020 weddings and social events, wedding professionals around the nation continued to support to-be-weds throughout their wedding planning journeys. From adjusting future schedules to make way for postponed weddings, to helping couples host socially distanced weddings following state and local guidelines and restrictions with an increased focus on health and safety, wedding pros — and the industry as a whole — rallied together in 2020, ultimately helping couples continue to celebrate life and love. The Knot 2021 Best of Weddings recognition honors the vendors who went above and beyond to help to-be-weds navigate the global pandemic.
In its fifteenth annual year, The Knot continues to recognize local wedding vendors with The Knot Best of Weddings 2021, an annual by-couples, for-couples guide to the top wedding professionals across the country. To determine the winners, The Knot analyzes millions of user reviews across all vendor categories to find the highest and most rated vendors of the year for each market. These winners represent the best of the best wedding professionals that engaged couples should consider booking for their own unique weddings.
This year, The Knot Best of Weddings winners represent the top five percent of local wedding vendors listed on The Knot. There were 1,422 new inductees into The Knot Best of Weddings Hall of Fame for 2021, out of hundreds of thousands of local vendors featured on The Knot.
If you would like to read more about Starz Entertainment, please visit www.starzentertainment.net and check out their social media posts all over the internet:
You can also see reviews or news and information on these sites:
Google: https://g.page/StarzDJs?share
Facebook: https://www.facebook.com/starzdj
Twitter: https://twitter.com/starzdj
Instagram: https://www.instagram.com/starzdjs/
Media Contact
Company Name: Starz Entertainment DJ
Contact Person: Jimmy Davenport
Email: Send Email
Phone: 480-830-1308
Address:14362 N Frank Lloyd Wright Blvd #1000 S
City: Scottsdale
State: AZ
Country: United States
Website: http://StarzEntertainment.net