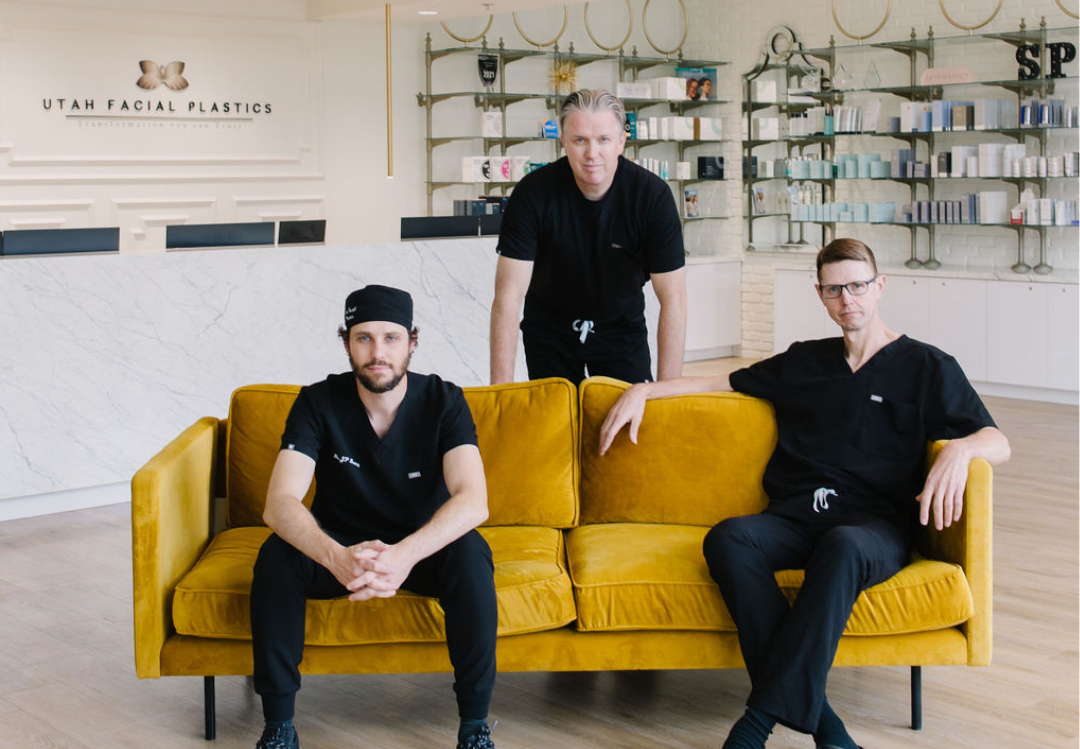 It has been a big year for Utah Facial Plastics! Utah's premier surgical, med spa and hair restoration center announced that they have received the prestigious awards for "Best Cosmetic Surgery Center" & "Best Med Spa" in the Best Of State, Best of SLC, and Best of Northern Utah awards. Utah Facial Plastics stands as a beacon of excellence in the realms of aesthetic enhancement, renowned for their unwavering commitment to delivering unparalleled results and exceptional care. With a foundation of 17 years built on expertise, innovation, and integrity, this distinguished practice has carved a niche for itself in the competitive field of facial rejuvenation.
UFP's highly skilled and reputable surgeons, Dr. Scott Thompson, Dr. Douglas Henstrom, and Dr. James Manning have cultivated a team of providers who are equally skilled, educated, and are passionate about delivering exceptional care. More than just a cosmetic clinic, Utah Facial Plastics fosters a culture of compassion, trust, where clients embark on self-care journeys with the confidence that they are in the hands of experts who prioritize safety, artistry, and unparalleled results.
"We at Utah Facial Plastics consider it a huge honor to be recipients of these awards, especially to win both categories in all 3 this year! This doesn't happen with consistent and reliable care from our entire UFP team who strive each day to live our mission to be a positive force in the lives of our patients." says Dr. Thompson. "We greatly appreciate the support and loyalty of our wonderful patients. Thank you!"
Utah's Best Of Awards
The Best of State Awards began in 2003 to recognize individuals, organizations and businesses in Utah. The criteria used to judge is based off achievement in the field of endeavor, innovation and creativity in methods and processes, and contribution to the quality and communities of Utah. Overall, these candidates make Utah a better place to live and work. In addition, other Best of SLC and the Standard Examiner's Best of Northern Utah have followed suit in giving local businesses the attention they deserve as well.
For more information about Utah Facial Plastics and UFP Aesthetics, the premier facial plastic and aesthetic provider of the Intermountain West, visit www.utahfacialplastics.com
About Utah Facial Plastics
Utah Facial Plastics has evolved over the last 17 years with two amazing locations is both Draper and Layton, UT offering providing facial cosmetic and hair restoration services to patients all over Utah and surrounding areas. The Draper clinic also offers a state-of -the-art accredited surgical suite where they can safely and conveniently perform surgeries. Both locations you will find UFP Aesthetics med spa, where highly credentialed and experienced nurse injectors, laser specialists, and medical aestheticians offer non-surgical services such as injectables, PDO threads, laser resurfacing, Hydrafacial, at other high level aesthetic treatments. UFP goes beyond facial reconstructive and cosmetic services, to cutting edge and personalized hair restoration solutions. Utah Facial Plastics is passionate about their specialties and is truly Utah's face place!
Media Contact
Company Name: Utah Facial Plastics
Email: Send Email
Phone: 801-960-3137
Country: United States
Website: https://www.utahfacialplastics.com/