February 6, 2020 – The fastest way to see a list of top Amazon products in any category is here. Review Audits works hand in hand with Amazon to drill down any category, be it home appliances, office supplies or electronic gadgets and displays the top 10 products with rankings and a link to make the purchase.
Review Audits makes shopping easier by collecting and analyzing millions of product reviews, ratings and features. Review Audits has made shopping on Amazon not only a breeze but also fun. Think of any category of products, and instead of going directly to Amazon and remaining in doubt, head straight to Review Audits.
Using Review Audits is really fun and simple – just click and view the products all ranked neatly! Go to the product category and click to view various sets of sorted lists. For example, a user who wants to buy a laptop can click on electronics list, and view ranked lists such as 'top 10 thin laptops'. Clicking on this will display the top thin laptops along with their ranks.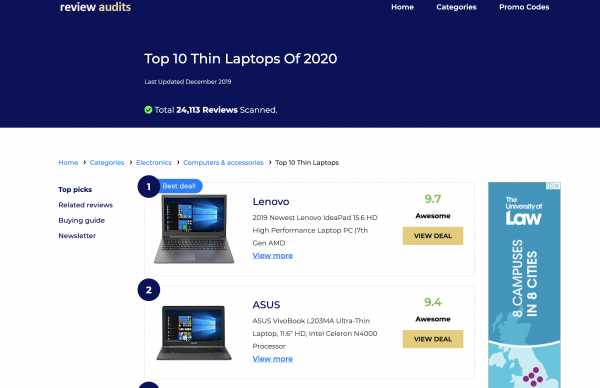 "Review Audits is a product recommendation portal based on data analysis and human experience. Our tool helps you with your shopping research by recommending a list of best products from any category," says Yemi of Review Audits.
No one thought of this before! Shopping on Amazon can take hours of browsing through layers and layers of pages, reviews, prices and special features. Review Audits makes it a matter of clicks to see top-ranked products.
Review Audits is powered with recommendation algorithms that are also managed by human control to create optimal outcomes. There is no need to be confused by tons and tons of data, information, facts and statistics floating around via social media, blogs, emails or the internet.
For more information, please visit: https://reviewaudits.com/
Media Contact
Company Name: Review Audits
Contact Person: Yemi
Email: Send Email
City: Bellevue
State: WA
Country: United States
Website: https://reviewaudits.com/