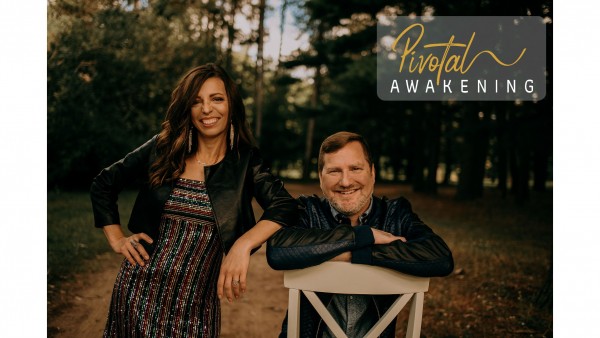 US-based Contemporary Christian band, Pivotal Awakening, is comprised of two extraordinary friends and musicians, Mindi Odom and Andy Graves. While Mindi is the lead singer of the band, Andy takes care of the bass guitar and keyboard. Pivotal Awakening's musical journey has been as unique as their music. What started as a one-time thing for Mindi and Andy, soon attracted massive attention and became the band that we know of today.
"Friends for several years on our church's music team, we formed in August 2019 to record "one song, just for fun." That one song changed our lives. It immediately attracted an international audience", says Mindi and Andy.
Ever since the release of their debut single "Soulblind" in December 2019, Pivotal Awakening has given many successful hits including "August Rain" and "Awaken and Rise". "Soulblind" was quick to grab attention from the international audience. It was nominated for four Detroit Music Awards, where Mindi was voted as a Finalist in the category of "Outstanding Christian Vocalist".
With their latest released single "Not That Different", the band is moving a notch ahead in their music game. Mindi and Andy like to describe their latest song as, "An anthem of love and acceptance for a turbulent world. It is a musical reminder that despite our human differences, we are all one as God's creations."
Pivotal Awakening takes inspiration from their faith and the gift of music that the almighty has given to them. Their music is infused with positive and meaningful ideas, which they often get through conversations with each other about life and their experiences. These ideas then later take the form of uplifting, lively, and inspiring songs made for their listeners to learn from while enjoying.
With a music style that they describe as "Contemporary Christian pop/rock", Pivotal Awakening amalgamates various writing styles in their music, like soft, piano-led arrangements; blends of piano, and guitar in a medium pop/rock style; and energetic guitar rock styles. This unique yet elating blend makes this band stand out from the rest.
This band has achieved many milestones in a short period. Their songs have been streamed over 1.3 million times on leading musical platforms, and their Facebook following is also on a roll, with nearly 100,000 people following them from all across the globe. They have also recently performed live at a Facebook fundraiser event for the Salvation Army's "Rock the Red Kettle" Christmas campaign, an exciting new adventure for a newly formed studio band.
With their optimistic approach and lively music, Pivotal Awakening has been rapidly paving its way into the music industry.
Listen to the latest single "Not That Different" now on Spotify.com.
Media Contact
Company Name: Pivotal Awakening
Contact Person: Andy Graves
Email: Send Email
Country: United States
Website: www.pivotalawakening.com