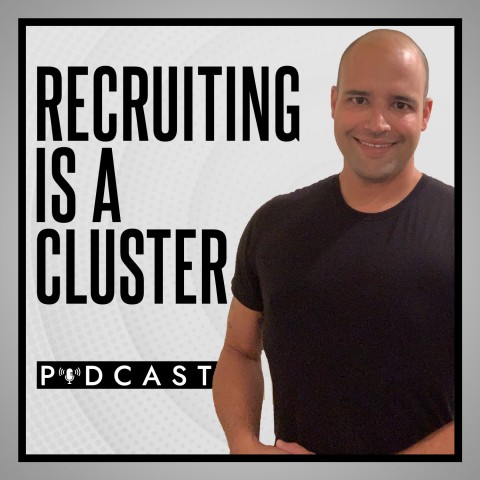 Even with the perfect set of skills, we have seen many people fail at cracking various job interviews due to rookie mistakes. Going through a job interview might not be a piece of cake to many, and it might take you dozens of interviews before you finally land a job, but we must learn through every mistake we make to perform better at our next chance. This is what the podcast "Recruiting is a Cluster" is here to help you with. As the name suggests, this is a unique business podcast where top executives, engineers, recruiters, and business leaders join the show to share their hilarious stories from the interviewing and hiring process. This podcast is a blessing to all the suffering souls in the world of business.
Hosted by Adrian Russo, Amazon Prime's top recruiter, "Recruiting is a Cluster" helps the listeners in tackling common hiring and interviewing challenges. As of now, there are a total of 5 episodes to this podcast, including an introductory episode that went live on September 18, 2020. This episode was a short 7 minutes episode where the host discussed with the listeners of what to expect from this business podcast. Ever since the introduction, "Recruiting is a Cluster" has received a massive reception from the listeners who eagerly wait for the next episode to unfold.
On each episode of "Recruiting is a Cluster", different guests are invited who are experts in the field of recruiting and hiring and share their hilarious experiences and stories of the entire process. Their comedy of error serves as a hilarious yet insightful learning opportunity for the listeners.
Telling about the podcast, the host, Adrian Russo says, "In some cases, the guests in the podcast share stories to help candidates through the interview process. In other instances, they share stories to help recruiters and hiring managers to attract and acquire top talent. This is a different and interesting spin on a traditionally boring topic."
"Recruiting is a Cluster" has helped many job seekers and recruiters, and people love to hear from their favorite host and the guests who are invited to the podcast.
A review by Addoru2021 says on the podcast, "Great Podcast! Hilarious, must-listen podcast for anyone who is a job seeker, recruiter, or hiring manager. The host uses guests' real (and absurd) stories to highlight teachable moments in the recruiting/hiring process. GREAT interview tips for job hunters!"
If you are a job seeker or a recruiter, and you plan on listening to just one podcast your entire life, this podcast would be a perfect pick for you!
Listen to the "Recruiting is a Cluster" podcast now on Apple Podcasts.
Media Contact
Company Name: RecruitLocator
Contact Person: Adrian Russo
Email: Send Email
Country: United States
Website: www.recruitlocator.com