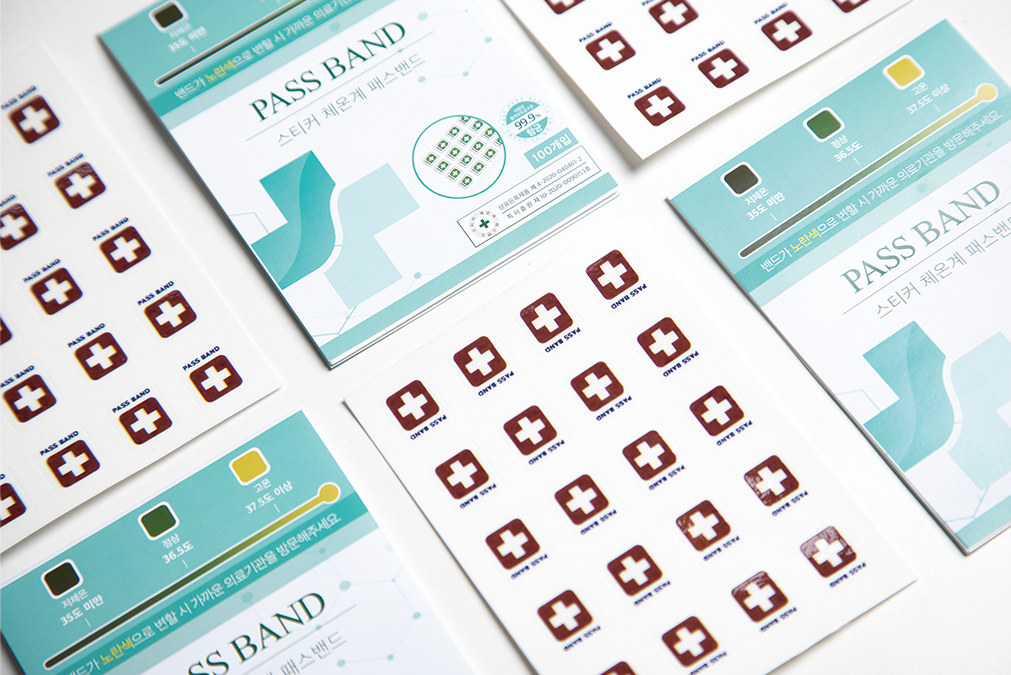 Pass Band is an affordable sticker-type thermometer that measures body temperature in real-time via its color-coding mechanism.
As daily confirmed COVID-19 cases hit an all-time high in South Korea on the 13th of December 2020, Pass Band is assisting in the coronavirus battle by introducing a revolutionary COVID19 self-assessment kit that could detect your body temperature in real-time.
This is one-step forward in the fight against COVID-19 fits well with the South Korean people as they emphasized on the importance of a home care system as a way to quell the rapidly spreading third pandemic, such as K-prevention, which has been exemplified by preemptive prevention such as quick inspections and voluntary restraints on traveling.
Pass Band is a simple device that is attached to a person's body to read the body temperature. A rise in temperature is indicated by the change in color on the sticker-like device.
Pass Band is developed by SK Commerce and Trading and can be used to monitor the wearer's body temperature in real-time based on the changes of color on the device. Each color band represents a different range of temperature. Brown color indicates a body temperature that is below 33 degrees Celsius while yellow specifies a temperature that is above 37.5 degrees. Color of green means a normal body temperature.
The device has been approved by the Korean FDA and Korean Ministry of Food and Drug Safety and has successfully completed its patent filing.
Pass Band offers a practical and inexpensive way to monitor a person's body temperature while relieving daily anxiety. It is made for men and women of all ages and all walks of life.
"If you measure your body temperature from the outside when it's cold, you don't get an accurate result if you use a conventional device," said SK Commerce and Trading. However, Pass Band that promotes monitoring of body temperature in real time has improved this shortcoming.
Pass Band is currently receiving inquiries not only at home but also abroad. They plan to export this product to Japan from January 2021 and are already receiving pre-orders globally. They also aim to expand its overseas market to India and the United States.
SK Commerce and Trading is supporting the K-defense strategy by sponsoring Pass Band kit at events such as donation activities, kimchi sharing, and film festivals.
Media Contact
Name: Jung Ju Hee
Website: 패스밴드.com
Email: themaniapassband@gmail.com
Tel: +82 2 6330 9000
Media Contact
Company Name: Pass Band
Contact Person: Jung Ju Hee
Email: Send Email
Phone: +82 2 6330 9000
Address:55, 911, Digital-ro 33-gil, (Guro-dong, E&C Venture Dream Tower 2) Guro-gu
City: Seoul
Country: South Korea
Website: http://xn--hy1b72livfg7s.com/