Innovative baby product, Nai-B Inflatable Baby BathTub, establishes itself as one of the most in-demand baby products on Amazon. The product has continued to grow at a fast pace and has become very popular on Amazon. This is evident in its performance on the platform, ranking high in a short time and garnering a lot of positive feedbacks from buyers.
In regards to choices, the product comes in pink and blue colors, and its standards-setting features tell it apart from the competition. This seems to justify its impressive performance on the Amazon marketplace.
Speaking on the product, the company owner said, "Babies need to be handled with love, and they deserve to be given every attention and care."
"One of the ways to keep them happy is to give them a clean bath that aides great wellness," he added.
Recall baby bathtubs are one of the most in-demand baby products out there, and there is, as a result, a surge in the supply of various products from different brands.
However, studies show that many of these products leave much to desire, lacking in key areas such as portability and durability. This is where Nai-B comes in, providing parents with not just a baby bathtub, but a product that unprecedentedly changes the way they bath their babies.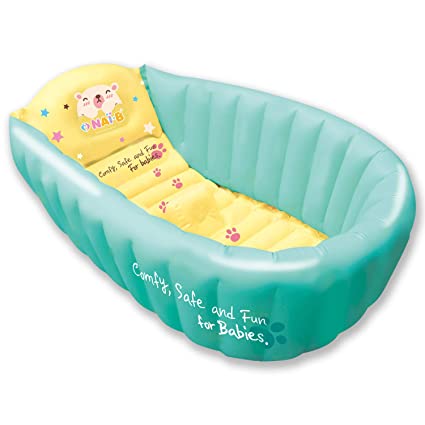 Nai-B set their baby bathtub apart from the competition by offering unconventional features such as a safety seat mat that prevents toddlers from slipping from the tub, as well as anti-slip pads beneath the tub that prevents it from shifting when in use.
Being an easy-to-use, portable bathtub, the product allows parents to bathe their babies anytime, anywhere. All they have to do is fold it into a bag and fill it with air whenever they want to put it to use, making it an equally great solution for baby playtime.
Talking about the materials the lightweight bathtub is made with, they are healthy and eco-friendly, providing babies with the best possible feeling and experience.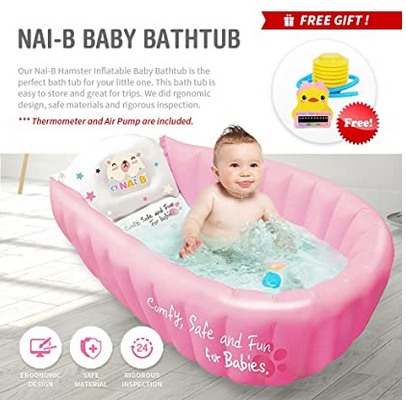 On the same note, a satisfied buyer on Amazon, E. Botello, said, "So far a great tub, and it has lasted longer than others I've used before."
Another buyer, Niky, said, "Works perfectly well for my super active 2-year old."
Let your kids enjoy water play at home using the bathtub for infants from Nai-B. These are made in Korea with the highest quality rubber and plastic materials safe for kids and infants. They also make a good bathtub for pets at home.
They are currently in stock on amazon.com now for a special 28.99 or less. Order today and enjoy 2 days of shipping on Amazon.
For more information about the baby bathtub and how to get one delivered to you, visit the Nai-B store on Amazon with the link below:
https://www.amazon.com/Inflatable-Portable-Foldable-Toddlers-Prevents/dp/B07DR9JJQ4
About Nai-B by Koreative
Nai-B is a provider of amazing baby products made to help parents give their little ones the best possible care. The company has seemingly carved a niche for itself with its wide range of innovative baby care solutions, becoming a leading name in that area.
Media Contact
Company Name: CGETC, Inc.
Contact Person: Karen Kang
Email: Send Email
Phone: 909-274-8396
Country: United States
Website: https://www.amazon.com/Inflatable-Portable-Foldable-Toddlers-Prevents/dp/B07DR9JJQ4