Talented writer, L.K. Dodding continues to receive accolades for The Adventures of Mocha; a children's book where she documents the historic 2020 through the eyes of a much-loved rescue dog, Mocha.
L.K. Dodding has hit the ground running in the children's book segment in the world of literature, as her first children's book, The Adventures of Mocha, continues to gain traction on Amazon and other reputable platforms. Written during the first UK lockdown, the book holds an insightful view of 2020 and how the unprecedented pandemic literally brought the world to a standstill.
2020 remains one of the most historic years in some time, with the COVID-19 pandemic disrupting normalcy. Amid the confusion caused by the health crisis, the year offered a unique opportunity for people to self-reflect and spend some time with loved ones. L.K. Dodding seems to be one of the very few individuals who made the best use of the period of isolation, writing her debut children's book with the hope of helping families spend some quality time together enjoying the stories.
The Adventures of Mocha contains 12 individual stories, documenting the initial COVID-19 period from the perspective of the author's much-loved rescue dog Mocha – a half chocolate Labrador and half Springer Spaniel.
L.K. Dodding personifies the lockdown experience, offering stories about Mocha and her participation in every family activity while raising "little people."
The book has continued to get excellent reviews from readers in the United Kingdom and other parts of the world. "A gorgeous book for adults to share with children but also to read and savour yourself. Settle down on a comfy chair and prepare to be transported back to your own childhood as seen through the eyes of the family rescue dog. The stylised photographs enhance and support the stories beautifully. Impossible to put down until you reach the end," said Lesley Hickman.
The Adventures of Mocha is currently available on Amazon and Waterstones for readers in different parts of the globe.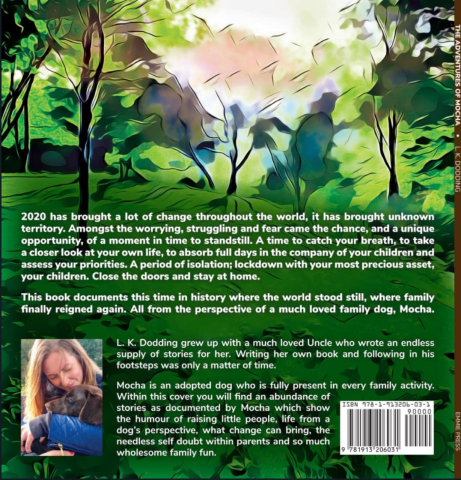 Media Contact
Company Name: Notebook Publishing
Contact Person: Louise Dodding
Email: Send Email
Phone: 07506550654
Country: United Kingdom
Website: https://www.notebookpublishing.co.uk/authors/louise-k-dodding/