In order to achieve the protection of Moodysfx platform investors, Moodysfx Eco-Development Foundation in conjunction with the world's top communities and capital to establish an investor protection fund, special custody and to ensure the safety and sustainability of funds, to reduce the risk that investors may arise from the whole process of trading.
The foreign exchange market is the largest and most liquid market in the world, with trillions of dollars of foreign exchange converted every day, it does not have a centralized fixed trading position, instead banks, brokers, institutional investors and individual traders trade with liquidity, however some foreign exchange platforms are unable to secure transactions and protect their clients' assets, generating fraud and theft.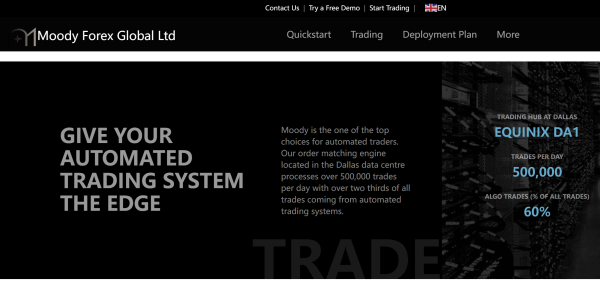 Moodysfx says its platform is designed to ensure fairness and transparency in the global process of trading and to meet regulatory compliance needs for security, auditing, reporting, analysis, etc. in the safest and most efficient way possible, allowing traders and investors to trade with confidence at any size.
The management of Moodysfx's funds is led by an Investor Protection Fund that adheres strictly to the principles of fairness, equity and openness and has the development of Moodysfx as its primary objective. This protection fund is used for users who have suffered losses in objective circumstances, and the use of all funds will be disclosed to all investors on a regular basis, without fraudulent concealment.
Moodysfx creates a fair and ideal environment for investors to invest, trade and manage digital assets. It does not use a traditional centralized corporate structure, does not have a CEO and board of directors, and the community governance is led by the Moodysfx Platform Foundation. Relying on the core technology and innovative forex economy concept, Moodysfx will be the world's first autonomous community-based trading platform, and the community governance will be done by nodes through smart contract voting.
In order to avoid events that are contrary to the system design philosophy, the Foundation will help manage general and privileged matters of community projects by developing a good governance structure and system. The foundation is set up with reference to the operation of traditional entities and will have various functional committees, including a strategic decision committee, a technical review committee, a compensation and nomination committee, and a public relations committee. It can be said that Moodysfx provides the best possible quality services with a complete and strict organizational structure.
In order to ensure the openness of the use of funds and to create a favorable environment, Moodysfx also commits to the following.
1. Freedom to invest. Wherever and whenever you have a computer and an Internet connection, you can buy and sell on your own. It is not only suitable for young people who like to work independently and freely, but anyone can join.
2. Objective and fair market that is not easy to be manipulated. In the market and data online trading platform, the market and data are open to the public, the most transparent market.
Media Contact
Company Name: Moodysfx Global Limited
Contact Person: Alice
Email: Send Email
Country: United States
Website: https://www.moodyfx.com