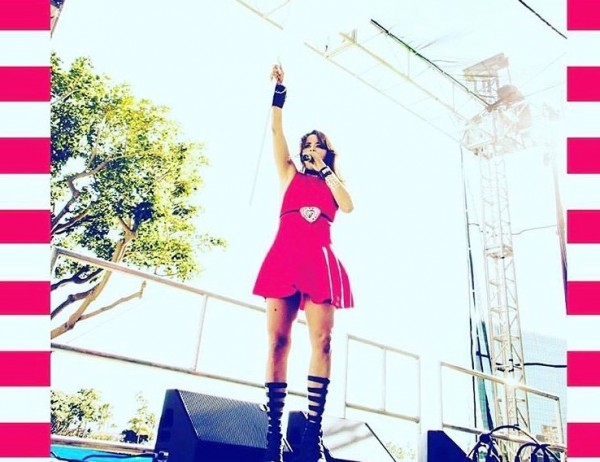 Born in Los Angeles, California, and raised in Acapulco, Mexico, La Sinclair is an artist with a purpose. When she is not taking the day off to work on social causes, she loves to create music. Recently, she demonstrated her talent to the world with her first single, "Won't Let Go", followed by the Spanish-language "Ok Ok Ok," the English version of which will be launched by the end of the current month. "Ok Ok Ok" was produced by Juan Coronel, Max Gallo, and Adan Cruz – the dream team behind Toy Selectahs studio in Monterrey, Mexico. The recording was made possible by the success of their online hit "No Doubt 1 and 2" with 13 million views and counting! La Sinclair is now gearing up for her new album, "Acapulco Gold," which will be released in April of this year.
La Sinclair's father moved to Mexico in the 1950's after owning several gourmet restaurants in California. Her mother, a soulful jazz singer, inspired her to follow her passion for music. Growing up in a pristine bay with shells and tropical fish, La Sinclair was devastated to see how plastic pollution was destroying her beloved beaches. So, she decided to make an impact by supporting efforts to save the ocean. The singer has spent the last few years campaigning with other activists in Mexico, and together, they have been able to make a significant impact. They wrote a citizen's proposal, which has now become law, that successfully banned plastic in Guerrero and other Mexican states. La Sinclair's husband, Brian Politzer, rightly calls her the "Eco Artist" as she lives her life for the love of family, music, and earth.
La Sinclair asserts, "We can save the planet with our everyday actions, such as choosing products that have no plastic packaging and chemicals, and buying fewer animal products and meat, as that greatly reduces our carbon footprint as well."
La Sinclair has enjoyed a successful career traveling around the globe. After visiting Iraq to film the movie "Curse of Mesopotamia," she shot scenes in Babylon that she included in her music video. She also appeared on "The Voice Mexico," singing rock and cover songs and garnering a devoted fan base. Now, she is excited to work in the Hip-Hop, R&B, Soul and Pop genres of music.
Listen to La Sinclair's music on YouTube and Spotify.com.
Media Contact
Company Name: La Sinclair
Contact Person: Ana Carla Sinclair
Email: Send Email
Country: United States
Website: www.instagram.com/lasinclairmusic/