Affectionately known as the Publisher of Purpose: Jesus, Coffee, and Prayer Christian Publishing House LLC. is quickly becoming the Global
Go-To and platform leader for Publishing, PR, and providing Powerhouse speakers, authors, and girl bosses who inspire, encourage, challenge, and equip Women across the globe to SOAR! 2021 is no exception, blazing a trail that is catching like wildfire, Min. Nakita Davis leveraged her authentic connections with Award-Winning panelists, Elite Speakers, and 6 – 7 Figure Women entrepreneurs to impart words of wisdom and profound insight at her inaugural Girl on FIRE! International virtual summit. For 7 nights, audiences from All over the US, Egypt, Norway, India, Spain, Bangladesh and more tuned in to capture the thought-leadership from Min. Nakita Davis' Powerhouse Girl on FIRE! panel:
Girl on FIRE! Millionaire All Stars
Dr. Cheryl Wood @cherylempowers, Dr. Sonja Stribling @iamdrsonja, Shonda Scott @shondascott360, Nikki Rich @nikkirichshowtv
Girl on FIRE! Headliners:
Michelle S. Thomas @yourrelationshipsurgeon, Tracy Tate Jones @tljprofessionalservicesinc, Cynthia Videau @cbeyond.marketing, Kearn Cherry @kearncherry, Dr. Tonya Blackmon @onlydrtonyab, Charcora Palmer @totalpowerfinancial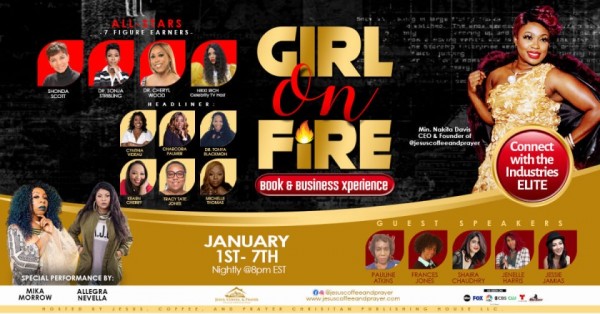 Girl on FIRE! Guest Panelists:
Frances Jones, Jenelle Harris, Jessie Jamias, Pauline Atkins, Shaira Chaudhry
Girl on FIRE! Spotlight Speakers:
Frances Frazier, Tiffany D. Bell, Dr. Jennifer Bryant, Charmaine Lewis, Dorothy Wilson, Jamila Surles-Walker, Keever Murdaugh, Dorothy Wilson, Tracye Hamler, Godella Petty, Jalynn Jones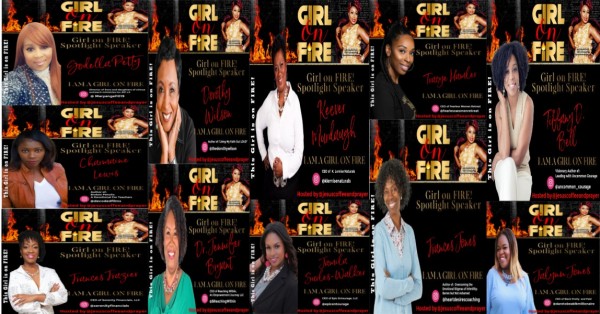 If 7 epic nights were not enough, Davis pulled in multiple Grammy nominated Singers to help celebrate this momentous time.
Providing a loving shout-out to Davis' Girl on FIRE! Panel included cameo appearance from Drummer legend: Sheila E. (4x Grammy Nominated & Drummer to legendary Prince.) Coko Gamble – R&B lead singer of the chart-topping soulful group "SWV," and the beautifully talented, award winning, Chante' Moore!
Davis gives a huge Thank you to each Girl on FIRE! Panelists, speaker, Celebrity Cameo appearance and to her performing Girl on FIRE! Artist:
Inspirational Explosion Mika Morrow @mikamorrow featuring Allegro Nevella @allegronevella (Gospel rap artists & Sister to legendary Yolanda Adams)
Prior to the inaugural Girl on FIRE! movement, Jesus, Coffee, and Prayer hosted a 3-night LIVE event entitled: Success Leaves CLUES.
An Allstar cast of prolific speakers dropped golden nuggets, tips, techniques, and clues for entrepreneurs to succeed in preparation of 2021.
Min. Nakita Davis is quoted saying, "After Queens pick up clues to success from influential leaders, they are now READY to become Girl on FIRE!"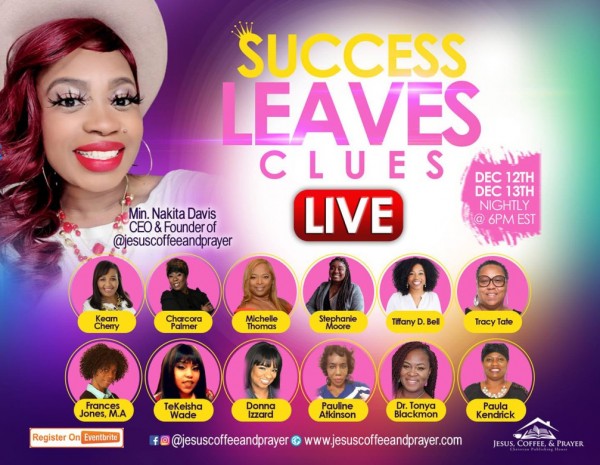 Headliner Speakers
Michelle Thomas, Kearn Cherry, Charcora Palmer, Stephanie Moore, Tracy Tate Jones, Paula Kendrick, Dr. Tonya Blackmon
Guest Speakers
Tiffany D. Bell, Frances Jones, TeKeisha Wade, Donna Izzard, Pauline Atkinson

Success Leaves CLUES Live event w/ Headliner Speaker Kearn Cherry

Success Leaves CLUES Live event w/ Guest Speaker TeKeisha Wade
If you are a speaker, author, girl boss or aspire to be a Game-Changer in 2021, then you need to stay connected with Min. Nakita Davis and her dynamic Glow-getter Queens. They are on the Move!
Follow on FB/IG @jesuscoffeeandprayer
Connect with All Speakers HERE (https://linktr.ee/womenwin)
Media Contact
Company Name: Jesus, Coffee, and Prayer Christian Publishing House LLC
Contact Person: Min. Nakita Davis
Email: Send Email
Phone: (1) 833.333.0733
Country: United States
Website: www.jesuscoffeeandprayer.com