The geospatial analytics market has witnessed substantial growth in recent years, on account of massive technological advancements in end-use sectors such as urban planning, military and defense, and disaster management, on account of the ability of the technology to provide filtered and accurate data.
The global geospatial analytics market size is projected to reach USD 134,479.7 million by 2025, registering a CAGR of 15.0% from 2019 to 2025, as per a study conducted by Grand View Research, Inc. The industry is being driven by the numerous innovations and advancements in drone technology, coupled with the growing deployment of Unmanned Aerial Vehicles (UAVs) for remotely monitoring and gathering multiple location data with minimal human intervention. Another major growth driver for the industry is the increasing use of GPS-enabled smartphones and devices across the globe. Geospatial analytics utilizes data from various technologies such as location sensors, mobile devices, GPS, satellite imagery, and social media, in order to visualize data accurately to better understand trends between places and people.
The promising initiative of smart city that has been undertaken by many countries globally is expected to increase the requirement for innovative technologies in the areas of 3D urban mapping, monitoring and mapping natural resources, agriculture, and utilities, and disaster management. In case of natural disasters, location-based analytics enables decision makers to take suitable actions. For instance, in 2017, when the Hurricane Irma was about to hit Florida, officials in the city of Key West downloaded map-based data from earlier disasters as a means of preparation for the post-hurricane scenario; as a result, rescue operations were not hindered in any way and relief efforts went on smoothly. The technology is also being utilized by major oil & gas companies across the globe, as a means of discovering potential crude oil and natural gas deposits, as well as monitoring their vast pipeline network. Developments in the transportation infrastructure across the globe, with the introduction of driverless and smart vehicles, have also presented a viable growth avenue for the industry players.
The geospatial analytics market is broadly segmented on the basis of component (software, service); and analytics type (surface and field analytics, network and location analytics, and geovisualization, among others). Major application areas for the geospatial analytics industry include surveying, medicine and public safety, disaster management and risk reduction, Climate Change Adaptation (CCA), marketing management, urban planning, and military intelligence, among others. Key players operating in the industry include Alteryx, Inc., DigitalGlobe, Fugro N.V., Hexagon AB, RMSI, SAP SE, Trimble Inc., Maxar Technologies Inc., MapLarge, Harris Corporation, Bentley Systems Incorporated, ESRI, General Electric Company, Oracle Corporation, and Google LLC.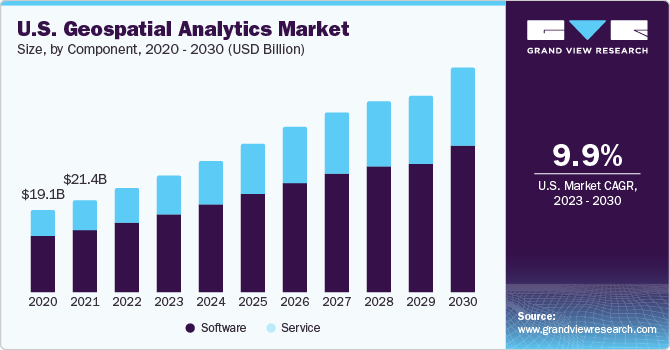 Geospatial Analytics Market Report Highlights
1 Safety concerns for vehicles have resulted in increased demand for geospatial technologies in the automotive and transportation sectors. The United States witnesses 125 million people travelling by road every day, making it a necessity to have proper analytics tools in place to avoid major mishaps or accidents
2 Vehicles are being integrated with IoT and location-based services for making driving safer and more convenient. The National Highway Traffic Safety Administration states that on an average, 102 people are estimated to die each day due to vehicle accidents in the United States
3 Geospatial analytics can be a huge asset to organizations looking to move ahead of their competition, or to identify their customer base accurately. According to CIO, around 80 percent of the enterprises have some kind of location data, which can even be addresses and zip codes
4 The service component segment in the geospatial analytics market is anticipated to show fastest growth through 2025 owing to the increasing demand for deployment, training, and support services by government and public safety agencies
5 The network & location analytics segment is anticipated to gain substantial traction due to the increasing use of network & location analytics systems by companies for analyzing buying behavior and foot traffic patterns, as well as for studying behavior patterns in a brick-and-mortar setup
6 The military intelligence application segment is expected to witness the highest growth over the forecast period owing to the rising adoption of UAVs and increasing number of remote sensing satellites
7 There has been a huge growth in defense spending by governments around the globe, with trade wars and oil disputes threatening war scenarios between major economies. Geospatial analytics has been increasingly implemented in this area as a means of offering security and surveillance infrastructure
8 The outbreak of the coronavirus pandemic in the first quarter of 2020 led to healthcare organizations trying to find ways to mitigate the spread by identifying the affected areas. The Parkland Health & Hospital System, in partnership with PCCI, developed an AI-based predictive model called the 'Proximity Index', which predicts COVID-19 exposure risk for individuals, on the basis of their proximity to positive cases as well as population density
9 Asia Pacific is expected to register the highest CAGR in the geospatial analytics industry through 2025. Numerous promising projects such as the ASEAN Smart Cities Initiative are anticipated to fuel the demand for geospatial analytics software in the region
"Would you Like/Try a Sample Report" Click the link below:https://www.grandviewresearch.com/industry-analysis/geospatial-analytics-market/request/rs1
Geospatial Analytics Market Segmentation
Grand View Research has segmented the global geospatial analytics market based on component, type, application, and region:
Geospatial Analytics Component Outlook (Revenue, USD Million, 2014 – 2025)
· Software
· Service
Geospatial Analytics Type Outlook (Revenue, USD Million, 2014 – 2025)
· Surface & Field Analytics
· Network & Location Analytics
· Geovisualization
· Others
Geospatial Analytics Application Outlook (Revenue, USD Million, 2014 – 2025)
· Surveying
· Medicine & Public Safety
· Military Intelligence
· Disaster Risk Reduction & Management
· Marketing Management
· Climate Change Adaptation (CCA)
· Urban Planning
· Others
Geospatial Analytics Regional Outlook (Revenue, USD Million, 2014 – 2025)
· North America
o U.S.
o Canada
· Europe
o U.K.
o Germany
· Asia Pacific
o China
o India
o Japan
· Latin America
o Brazil
· Middle East & Africa
List of Key Players of Geospatial Analytics Market
• Alteryx Inc.
• DigitalGlobe
• Fugro N.V.
• Hexagon AB
• RMSI SAP SE
• Trimble Inc.
• Maxar Technologies Inc.
• MapLarge
• Harris Corporation
• Bentley Systems Incorporated
• ESRI
• General Electric Company
• Oracle Corporation
• Google LLC
Have Any Query? Ask Our Experts for More Details on Report:https://www.grandviewresearch.com/inquiry/6216/ibb
Browse Related Report @
Space Robotics Market – https://www.grandviewresearch.com/industry-analysis/space-robotics-market
Explore the BI enabled intuitive market research database, Navigate with Grand View Compass, by Grand View Research, Inc.
About Grand View Research
Grand View Research is a market research and consulting company that offers market research reports, syndicated and customized reports. The company is headquartered in San Francisco, California. It offers client engagement for business consulting and market intelligence from various domains. The clientele is based across various countries with queries coming from more than 50 industries worldwide.
Grand View Research helps its clients to make informed decisions by helping them understand current trends and scenarios. Every year Grand View Research accomplishes more than 300 multi-country market studies to optimize consulting for clients.
Media Contact
Company Name: Grand View Research, Inc.
Contact Person: Sherry James, Corporate Sales Specialist – U.S.A.
Email: Send Email
Phone: 1888202951
Address:Grand View Research, Inc. 201 Spear Street 1100 San Francisco, CA 94105, United States
City: San Francisco
State: California
Country: United States
Website: https://www.grandviewresearch.com/industry-analysis/geospatial-analytics-market