DelveInsight's "Rosacea Market Insights, Epidemiology, and Market Forecast-2030" report delivers an in-depth understanding of the Rosacea, historical and forecasted epidemiology as well as the Rosacea market trends in the United States, EU5 (Germany, Spain, Italy, France, and United Kingdom) and Japan.
Rosacea is a characteristic condition that affects the skin by causing facial erythema or redness. Around one in 10 people in the world is affected by rosacea.
How has Rosacea impacted people's lives?
Some of the key facts of the report
1. The total Rosacea prevalent population in the 7MM was 47,634,256 in 2017.
2. The prevalence of Rosacea was found in the United States with 16,652,170 cases in 2017.
3. Germany had a prevalent population of Rosacea with 8,383,943 cases in 2017.
4. France had Rosacea prevalent population of 6,082,002 cases in 2017.
5. Italy had Rosacea prevalent population with 3,217,083 cases in 2017.
How will Disease transform Rosacea Market?
The current therapeutic landscape of Rosacea can be divided into four major categories based on the route of administration and the approved usage for the condition. These are topical retinoids, topical antibiotics, oral-tetracycline class antibiotics (TCAs), and oral retinoids.
Among Topical therapies, topical retinoids mainly include Tretinoin, Tazarotene, Adapalene, and Clindamycin/tretinoin, and several others are used to reduce erythema, papules and pustules, and telangiectasias. Among these, Tretinoin has the lowest cost and most commonly prescribed topical retinoid, accounting for the majority of the population.
Topical antibiotics, such as metronidazole (e.g. Metrolotion), clindamycin, erythromycin, azelaic acid (e.g. Fincea), benzoyl peroxide, benzoyl peroxide/clindamycin, benzoyl peroxide/erythromycin, sulfacetamide, and sulfacetamide/sulfur, are applied directly to the skin to kill bacteria on the surface of the skin.
The US FDA approved drugs for Rosacea include Rhofade (topical oxymetazoline), Mirvaso (brimonidine) topical gel, Finacea (azelaic acid) Foam, Oracea (doxycycline), Soolantra (ivermectin 1% cream), and MetroGel (metronidazole) gel.
The key driver for the surge in Rosacea market size is the expected launch of emerging therapies and increasing Rosacea prevalence.
Which biotechnical companies are developing Rosacea drugs?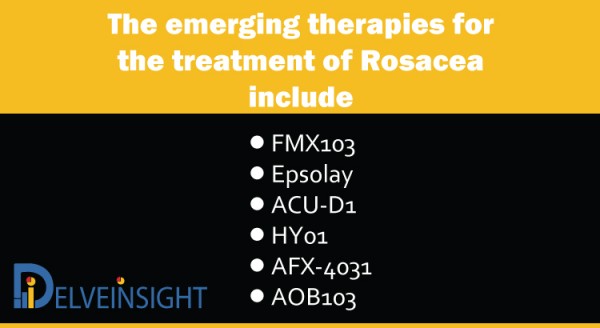 The dynamics of Rosacea market is anticipated to change in the coming years owing to the expected launch of emerging therapies during the forecasted period of 2020‒2030. There are presently several Rosacea emerging therapies focused on the treatment of Rosacea that includes, FMX103 (Foamix Pharmaceuticals), Epsolay (Sol-Gel Technologiesl), ACU-D1 (Accuitis), HY01 (Hovione Scientia Limited), AFX-4031 (Afecta Pharmaceuticals), and AOB103 (AOBiome).
Media Contact
Company Name: DelveInsight
Contact Person: DelveInsight
Email: Send Email
Phone: +919650213330
City: Albany
State: New York
Country: United States
Website: https://www.delveinsight.com/