Finding Home is an inspirational book that pays tribute to the life and lessons experienced by Amiri. It explores the many unique stories of his life while emphasizing themes that relate to something bigger.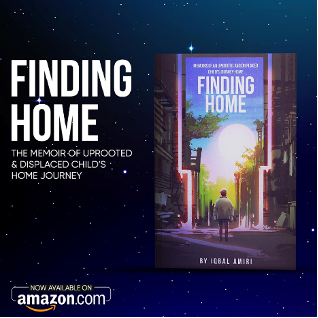 Iqbal Amiri is an example of incredible resilience and strength. Born in Burma, Iqbal spent his formative years in the turbulent world of East Pakistan, battling PTSD and loneliness. But Iqbal was not easily defeated by these challenges, and he continued to pursue success even when it meant confronting racial abuse during his journey to prominence. Iqbal was determined to build a home for himself, and it wasn't until his eventual move to Canada that he found solace in the dawn of his maturity, love, and security. Unsurprisingly, Iqbal describes his incredible search for belonging as a journey worth telling—his story of great resilience indeed stands as a testament to the lengths we can take when searching for our place in this world.
Iqbal Amiri's memoir, Finding Home, offers readers a powerful and detailed glimpse into his journey across two continents and multiple decades. As Iqbal reflects on his struggles along the way, he paints an evocative portrait of modern society and its complex dynamics. From his own experiences to the views of others, Iqbal opens up conversations about various social issues and norms, such as prejudice and immigration systems, making for a compelling read filled with memorable lessons that can be applied even outside of Iqbal's direct circumstances. Ultimately, Iqbal's story is a thought-provoking tribute to his life and those of many in similar situations.
Finding Home is more than just an incredible tribute to author Amiri's amazing life – it reminds us of the valuable lessons we can only learn from living. Amiri takes us on a remarkable journey from his humble beginnings to discovering parts of the world and ultimately carving out an insightful story that serves as a reminder that even when life changes drastically, there's still something to be found through all the transitions. Finding Home seeks to bridge the gap between experienced and new readers, offering insight into Amiri's background and unique perspective on navigating personal growth in changing environments. A real-life adventure tale, Finding Home encourages all its readers to recognize the beauty in finding where home truly exists.
About Finding Home
Iqbal Amiri is a great example of entrepreneurship in the financial services sector. Starting in 1991 with a global insurance company, Iqbal had the vision to progress his career and struck out on his own in 1999 when he established AMIRI Wealth Management. Iqbal has been the President of the company for the past two decades. He continues to guide AWM to success by employing an individualized approach to financial planning that allows him to provide personalized services combined with industry expertise. Iqbal's commitment to providing his clients with strategies tailored to their specific needs has helped create greater peace of mind and financial stability for many people over the years while also allowing Iqbal himself to keep growing his business.
Amazon: https://www.amazon.com/dp/B0BPVX4FWB/ref=sr_1_1?crid=3IBNSKN1BNCI5&keywords=finding+home+by+iqbal&qid=1670954087&s=books&sprefix=finding+home+by+iqba%2Cstripbooks%2C363&sr=1-1
Media Contact
Company Name: Book Finding Home
Contact Person: Iqbal Amiri
Email: Send Email
Country: United States
Website: https://bookfindinghome.com/