Paper Crown Candles is pleased to announce the official launch of its new line of magically themed soy candles that will delight and amaze with their unique scents and designs. It's no secret that book inspired soy candles are a treat for all fans of fantasy and fiction and this collection of literary candles aims to prove that magic need not only be in books.
"We believe that magic can (and should!) be found in everyday experiences. We hope that our candles spark joy by creating a more immersive reading experience and help ignite the imagination, transporting you into your favourite fairy tales and fantasy worlds," said owner, Christina Hill.
These handcrafted Bookish candles create the perfect ambiance for reading and are sure to add that missing magic to your home. The collection features delectable scents such as butterscotch, pumpkin pasties, buttery shortbread and more. Their mesmerizing fragrance blends have been developed with passion and dedication to the art of candle making.
Try for instance, the The Boy Who Lived, which smells of birthday cake and sweet butterscotch candy, reminding everyone of that great boy wizard. Then there is the Wizard Chess Champion candle, which is an unexpected mix of the sweet and savory aromas of freshly baked pumpkin cornbread and sugary buttercream frosting.
The online shop is also brimming with other fantastical goodies, like their wide variety of wax melts, which are intensely scented and work as an alternative to candles, providing exceptional scent without the flame.
Founded in 2017, Paper Crown Candles combines the love of reading and magic to create unique products inspired by myth, fantasy and fairy tales.
For more information, please visit: www.papercrowncandles.com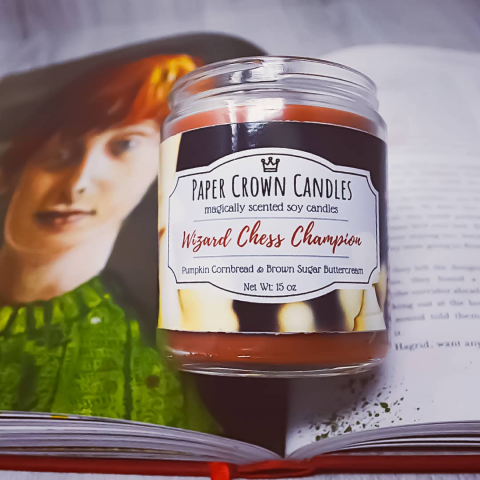 Media Contact
Company Name: Paper Crown Candles
Contact Person: Christina Hill
Email: Send Email
Address:8350 Bee Ridge Rd #114
City: Sarasota
State: Florida
Country: United States
Website: papercrowncandles.com