The Drone Package Delivery Market will grow from USD 228 Million in 2022 to USD 5556 Million in 2030, at a CAGR of 49.0%. Technological advances such as VTOL, Geospatial Mapping, IoT, AI, and Machine Learning drive market growth.
CHICAGO, Oct 27, 2023 – The global Drone Package Delivery Market is expected to soar from USD 228 million in 2022 to an astounding USD 5,556 million by 2030, registering an amazing growth. This incredible growth is reflected in a thorough market analysis carried out by MarketsandMarkets, a top market research and consulting business. The report shows a spectacular Compound Annual Growth Rate (CAGR) of 49.0% from 2022 to 2030. The study provides information on the major market segments, factors influencing growth, obstacles, chances, and prominent participants in the drone package delivery industry.
• Informational PDF Brochure :- https://www.marketsandmarkets.com/pdfdownloadNew.asp?id=10580366
Key Segments:
The Drone Package Delivery Market is segmented into several critical categories, including:
Type: This segment encompasses various drone types, such as fixed-wing, multirotor, and hybrid drones, each tailored to specific delivery needs.
Payload Capacity: Different drones are equipped to handle diverse payload capacities, ranging from light to heavy deliveries.
End-User: Key end-users include e-commerce companies, logistics providers, healthcare organizations, and more, signifying a broad application range.
Range: The market analysis covers drones with short-range, mid-range, and long-range capabilities, catering to different delivery scenarios.
Region: The market spans across regions, including North America, Europe, Asia Pacific, and the Rest of the World.
Browse 264 market data Tables and 66 Figures spread through 308 Pages and in-depth TOC on "Drone Package Delivery Industry by Solution, Type, Range, Package Size, Duration, End Use, Operation Mode, Region – Global Forecast to 2030"
View detailed Table of Content here – https://www.marketsandmarkets.com/Market-Reports/drone-package-delivery-market-10580366.html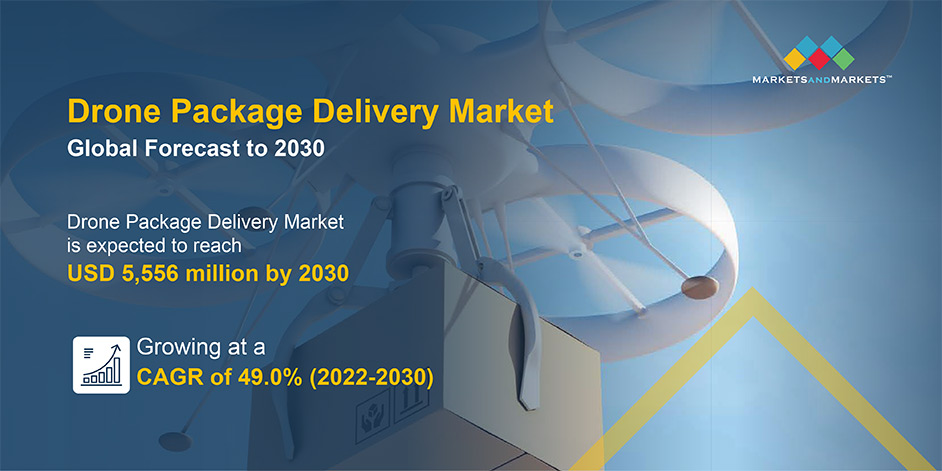 Growth Drivers:
The robust growth of the Drone Package Delivery Market is attributed to various drivers, including:
E-commerce Boom: The burgeoning e-commerce industry is driving the need for efficient and rapid package deliveries, compelling companies to turn to drone solutions.
Last-Mile Delivery: Drones are increasingly being used for last-mile deliveries, saving time and costs associated with traditional delivery methods.
Medical and Healthcare: The healthcare sector is leveraging drone delivery for medical supplies, especially in remote or emergency situations.
Technological Advancements: Continuous advancements in drone technology are enhancing their efficiency, reliability, and safety for delivery operations.
Challenges:
Despite the promising growth, the Drone Package Delivery Market faces challenges, including:
Regulatory Framework: Evolving regulations and airspace management present challenges in scaling up drone delivery operations.
Infrastructure: Developing the required infrastructure for drone delivery, including landing zones and charging stations, can be demanding.
Safety Concerns: Ensuring the safety of drone operations, especially in urban environments, is a primary concern for market players.
Opportunities:
The Drone Package Delivery Market presents several opportunities, including:
Rural and Remote Areas: Drones can address the delivery needs of underserved or remote regions, offering significant growth prospects.
Sustainability: Drone delivery can contribute to eco-friendly and sustainable delivery solutions, aligning with global environmental goals.
Global Expansion: Expanding drone delivery services to emerging markets creates opportunities for new revenue streams.
Key Players:
Key players in the Global Drone Package Delivery Market include:
Amazon.com, Inc., Alphabet Inc. (Wing), United Parcel Service of America, Inc. (UPS), FedEx Corporation, DHL International GmbH, JD.com, Inc., Zipline, Flirtey, Matternet, EHang.
These market leaders are pioneering the drone package delivery revolution, investing in technology, infrastructure, and innovative delivery solutions.
As the Drone Package Delivery Market experiences unprecedented growth with a CAGR of 49.0%, it's paving the way for faster, more efficient, and environmentally friendly delivery solutions. The market is set to transform the logistics landscape in the coming years.
For more insights and a comprehensive analysis of the market, please refer to the full report by MarketsandMarkets.
Media Contact
Company Name: MarketsandMarkets™ Research Private Ltd.
Contact Person: Mr. Aashish Mehra
Email: Send Email
Phone: 18886006441
Address:630 Dundee Road Suite 430
City: Northbrook
State: IL 60062
Country: United States
Website: https://www.marketsandmarkets.com/Market-Reports/drone-package-delivery-market-10580366.html