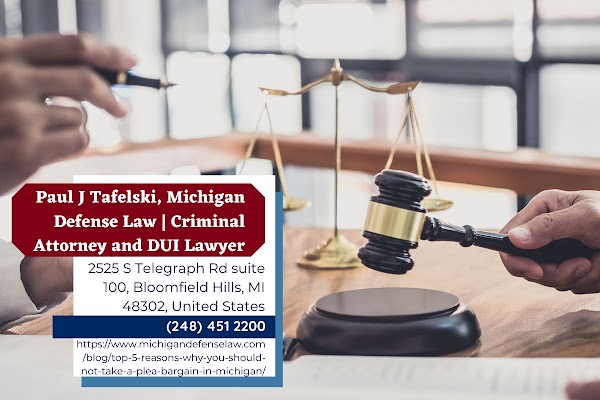 Federal defense lawyer Paul J. Tafelski, has recently published an in-depth article about federal defense. This piece sheds light on federal crimes, the federal criminal procedure, and the role of a criminal defense lawyer in such cases.
In the opening paragraphs, federal defense lawyer Paul J. Tafelski emphasizes the seriousness of facing a federal crime. He underscores that the federal government typically possesses more resources to investigate and prosecute crimes than the state of Michigan. Consequently, the conviction of a federal offense often results in stiffer penalties than equivalent state law crimes.
"Federal crimes are not to be taken lightly. Given the federal government's resources and the potential for severe penalties, it becomes paramount to engage an experienced Michigan criminal defense lawyer," says federal defense lawyer Paul J. Tafelski.
The article further elaborates on the two distinct sets of criminal laws that Michigan residents are subject to. Tafelski, an experienced lawyer, explains the difference between state-level and federal offenses, and how they are prosecuted in different courts. He further provides insight into how the federal government criminalizes certain acts, including violent crimes, typically under the Commerce Clause.
Paul J. Tafelski adds that, "To effectively navigate the complexities of federal law and the federal court system, it's crucial to work with a seasoned criminal defense lawyer. This legal professional will know which arguments to raise and how to best defend their client's rights while avoiding the harsh penalties that may result from a criminal charge."
In the latter part of his article, the attorney discusses the differences between federal and state prosecutions. He highlights the superior investigative and prosecutorial resources of the federal government, including federal agents, the unique nature of federal courts, and the potential for harsher penalties in federal crimes.
"Mounting a defense against federal crimes requires diligence, fortitude, and skill. It's critical to explore all possible factual and legal defenses, often with the help of a competent criminal defense lawyer," says Paul J. Tafelski.
Tafelski then outlines possible defenses to federal offenses, emphasizing the importance of factual and legal defenses. He further discusses how federal judges in the federal district court impose sentences and the impact of criminal liability.
Finally, Tafelski underscores the importance of having an experienced attorney to help minimize the potential impact of federal crimes on a person's life.
Tafelski's article provides a comprehensive understanding of the role and importance of lawyers when dealing with federal crimes. The complexities of a criminal investigation under the federal law, the potential consequences, and the critical role an attorney plays are all well-covered in this article. It's an essential resource for anyone seeking clarity on federal crimes and their potential impacts.
About Michigan Defense Law:
Michigan Defense Law is a premier law firm focusing on criminal defense, including federal offenses. Founded by lawyers Paul J. Tafelski and David Goukassian, the firm is dedicated to defending individuals facing serious criminal charges. Their extensive experience and in-depth understanding of the criminal justice system help their clients navigate complex legal situations.
Embeds:
Youtube Video: https://www.youtube.com/watch?v=YXhYwkDzjNY
GMB: https://www.google.com/maps?cid=7441820969606749572
Email and website:
Email: paul@michigandefenselaw.com
Website: https://www.michigandefenselaw.com/
Media Contact
Company Name: Michigan Defense Law
Contact Person: Paul J. Tafelski
Email: Send Email
Phone: (248) 451-2200
Address:2525 S Telegraph Rd suite 100
City: Bloomfield Hills
State: Michigan 48302
Country: United States
Website: https://www.michigandefenselaw.com/