The COVID-19 pandemic has greatly affected global economic industry. Thailand's digital content industry, which has generated annual revenue of 3.3 billion US dollars, is one of many industries that has been disturbed. Several major digital content related events such as Hong Kong International Film & TV Market and MIPTV, have been postponed or cancelled. It is estimated that the industry will face as high as a 40% decline in revenue.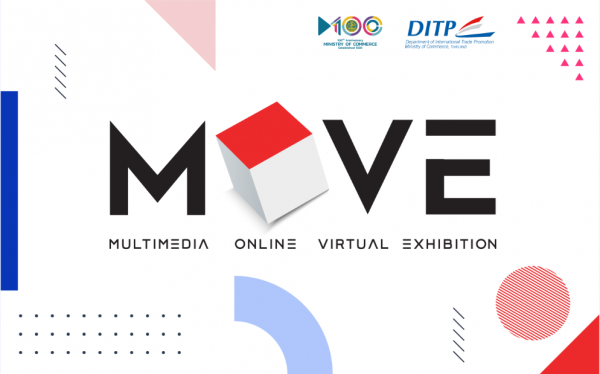 Mr. Jurin Laksanawisit, Deputy Prime Minister and Minister of Commerce, has pledged his continued support for the digital content industry, and has appointed the Department of International Trade Promotion (DITP) to introduce immediate measures to proactively address the challenges faced by the industry. Multimedia Online Virtual Exhibition (MOVE) was initiated as an online trade show and business matching platform for digital content entrepreneurs where Thai companies have theopportunities to present their content and services in the international market through VDO Conference by the name of MOVE.DITP.GO.TH
MOVE will take place 25th to 27th May, 2020.
Through a dedicated website, the MOVE project will, for the first time, create a comprehensive directory of Thai companies offering products and services within the Film, Television, Animation, and Game industries. This will assist international companies to find potential suppliers and partners. This directory will be maintained as a permanent resource.
The MOVE Live event will allow international companies to connect with Thai companies, and engage in one-on-one live chat meetings, view trailers and work samples, and exchange documents.
The MOVE Live event has been designed to closely replicate the process of a trade show. International companies will be able to make advance appointments, and conduct meetings from the convenience of their own offices or homes. The dedicated secure platform will use Zoom technology.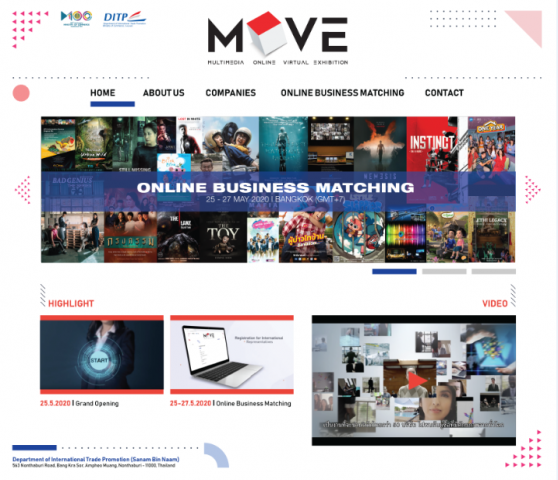 Potential international participants will not be restricted by geographic location or by their registration at individual trade shows, but will be drawn from the database of over 10,000 global companies who have conducted business with Thai companies, attended events, or expressed interest in doing business in Thailand.
MOVE will be supported by press promotion, an email campaign, and international PR.
The experienced MOVE staff will assist in matching international delegates with Thai content and service providers that fulfill their requirements.
When the COVID-19 emergency has been resolved, it is hoped that trade shows will resume, and that Thailand will once again be represented.
However, it is anticipated that online marketing and digital platforms will become an increasingly important component in international sales. The MOVE event is a valuable and innovative step in encouraging and preparing Thai entrepreneurs to explore the new marketing opportunities offered to them through modern communications technologies.
Media Contact
Company Name: Office of Service Development and Promotion Department of International Trade Promotion
Contact Person: Paul Spurrier
Email: Send Email
Phone: 02-507-8439
Country: Thailand
Website: http://move.ditp.go.th