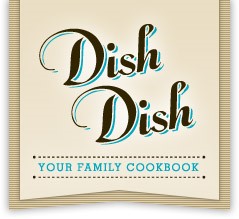 Dish Dish announces the launch of recipe app "DishDish Recipes, Grocery List and Cookbook" on Google Play for Android devices. Members are now able to use Dish Dish on their Android devices to save and share unlimited recipes, manage their grocery list and view friends' recipe collections while at home, at work, out grocery shopping, or on the go.
The Dish Dish recipe app creates a social platform for saving and sharing recipes with family and friends, while making family meal time less stressful by providing easy ways to manage a grocery list (add any recipe's ingredients to the grocery list with one click) and find favorite recipes quickly for meal planning.
"I am thrilled to offer our digital app now for members with Android devices as well, in addition to the app for iPhone and iPad. We are glad to see even more families be able to enjoy accessing their recipes and grocery list while on the go."
– Melanie Carr, Dish Dish owner and president
Dish Dish is the modern solution to organizing recipes online, providing a digital recipe box and online cookbook resource so families can save time and money while meal planning, grocery shopping, and enjoying family food traditions with friends and relatives around the globe. We enjoy inspiring home cooks, brides, cooking clubs, community groups, young adults and small business owners alike to digitally preserve and pass along foodie traditions along with the joy of sharing meals around the table together.
Since 2012, Dish Dish has been providing a social place for members around the world to keep all their favorite recipes in one place, have fun sharing with family and friends, and get back to their family heritage food traditions while also passing those along to the next generation.
The services we offer include the following:
Online Family Cookbook – Dish Dish provides a one-stop online location for families to organize their favorite recipes for easy meal planning, managing grocery lists, and preparing meals.
Recipe App with Grocery List – available on iTunes as "Dish Dish Online Cookbook" and on Google Play as "DishDish Recipes, Grocery List and Cookbook".
Digital Recipe Album – Dish Dish digitizes entire recipe collections, sending an envelope to collect paper recipes, digitizing them and organizing into an online cookbook as well as providing scanned images.
Dish Dish – To find out more about Dish Dish, see https://dishdish.us/about-us.
Media Contact
Company Name: Dish Dish
Contact Person: Melanie Carr
Email: Send Email
Phone: 214-450-7612
Country: United States
Website: https://dishdish.us