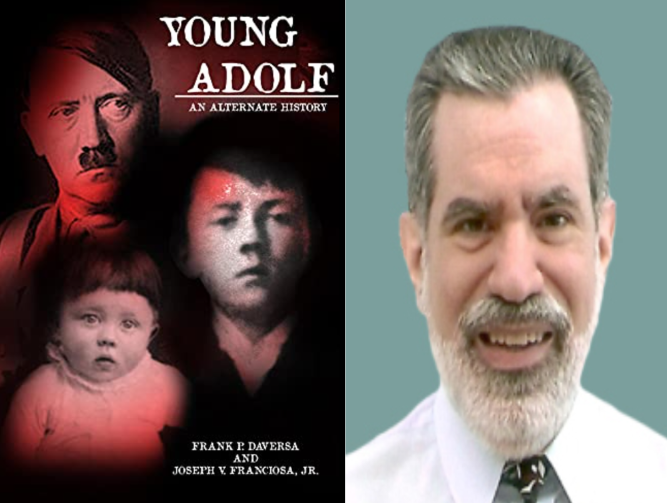 Seasoned author Frank P. Daversa has left his audience stunned with his first book, "Young Adolf: An Alternate History," published in 2011. A unique take on the most reviled man in history, Frank's book gives the reader an unseen perspective on what could have been a different story, thus, in the process, rewriting history.
"Young Adolf: An Alternate History" is an application of developmental psychology. It asks the question: 'Can a child develop normally despite growing up in harsh surroundings?' The book contrasts the real-life childhood of Adolf Hitler with a fictional female character two years his senior. In this made-up world, the two hit it off and finally fall in love until a catastrophic event separates them forever. The story ends by asking the reader, "Was young Adolf's love for her strong enough to change his personality for the better, and thus, could it have altered the course of history?"
"I really enjoyed reading this book. The author actually caused me to feel compassion for the boy and teenager named Adolf, growing up in his family. I liked the teenage romance that Adolf experienced, as well as other people who influenced his life. The book gives insight into how the boy could become a hated dictator who killed millions of Jews," says a reviewer.
Frank was raised in South Hempstead, NY – a published author and a part of the spiritual community. During his college years, he refined his writing skills and eventually earned his A.A.S. degree in 1981. Two years after earning his B.S. degree in 1986, Frank moved to Houston, TX. He worked 14 years in the corporate world before becoming a writer in 2007. Frank's second book, "Politics in America: A Guide to the Two-Party System," came out in 2012. After contracting a serious illness in 1997, Frank began a spiritual journey which motivated him to write his latest book, "Spirituality in the 21st Century."
For more information, please visit: https://www.amazon.com/Young-Adolf-Frank-Daversa-ebook/dp/B09CL21S4F/ref=sr_1_1?dchild=1&keywords=Frank+Daversa+by+Global+Summit+House&qid=1632264459&s=digital-text&sr=1-1
Media Contact
Company Name: Global Summit House
Contact Person: Anna Reid
Email: Send Email
Country: United States
Website: https://www.amazon.com/Young-Adolf-Frank-Daversa-ebook/