Aqeeb Farooq is a young entrepreneur from the UK who started off with selling items on eBay to make money on the side whilst, enjoying his summer holidays. Since starting his journey, he has covered multiple figures of profit and has his own successful online course with over 265 clients and the number is growing steadily.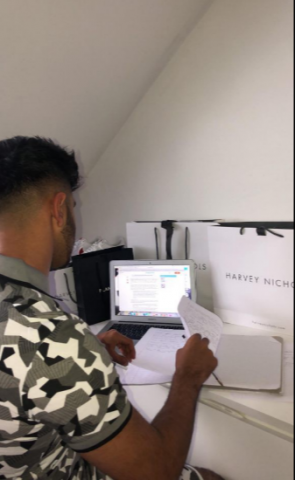 His passion began at the age of 16, after his completion of his exams for the final term. He wanted to make some money instead of being lazy during his summer holidays and do nothing productive. He had tried many ideas out but failed to make progress and was thinking to give up. He came across his final idea of selling on eBay and liked the idea of it, so decided to give it a try.Luck was on his side as he woke up with sales and from then on, as weeks went by it only went in the right direction for him. After selling on eBay for a year and learning all the aspects about it, he decided to create an online course for others to get on board and take the opportunity of making money online, little did he know that as years went by, he has now helped over 265 people from 20 different countries across the world with achieving $150k client sales.
Aqeeb's journey only started with just selling items on eBay and then turned into helping hundreds of people make money online. At the time of starting, he didn't expect for his course to grow with people joining and making progress, but he did have hope and patience. As his social media presence started to expand, he had interest from many international brands wanting to expand further on eBay with their sales and wanted his help. Aqeeb had completed his last few years and is now at university, he decided to take on a contract with a brand and expects to take more on very soon as he gets more time, but also has plans for new projects…
Any advice for upcoming entrepreneurs?
"Yes 100%, I would advise everyone going into business to have a plan ready and always try stick to it, if something isn't going right, then adapt where you can to ensure you lower the risk of any losses or problems. There will be times where business isn't going your way but that's all part of the journey, so keep going." – @aqeebfarooq (Instagram)
Make sure to check Aqeeb Farooq out… https://www.instagram.com/aqeebfarooq/?hl=en
Media Contact
Contact Person: David Smith
Email: Send Email
Country: United Kingdom
Website: https://www.instagram.com/aqeebfarooq/?hl=en