DelveInsight's 'Acromegaly Market Insights, Epidemiology, and Market Forecast–2030' report deliver an in-depth understanding of the Acromegaly, historical and forecasted epidemiology as well as the Acromegaly market trends in the United States, EU5 (Germany, France, Italy, Spain, and the United Kingdom) and Japan.
Acromegaly is a rare and chronic disorder characterized by excess growth hormone secretion and elevated insulin-like growth factor-1 levels, most often caused by a pituitary Adenoma.
How Acromegaly has impacted people's lives?
Acromegaly Epidemiology Insights
The total Acromegaly prevalent cases in 2017 were 64,508
The diagnosed patient pool cases of Acromegaly in 2017 was 49,814
The prevalent population of Acromegaly in the United States in 2017 was 28,671
Acromegaly prevalent cases in Japan in 2017 was 10,690
EU5 countries occupied around 38.98% of Acromegalypatient pool amongst 7MM in 2017
How will Disease transform Acromegaly Market?
Acromegaly market size in 7MM in 2017 was USD 956.96 Million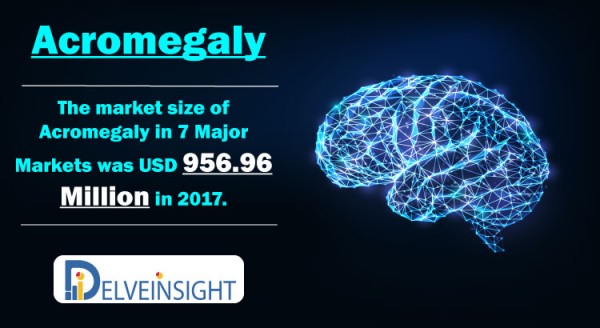 Robust pipeline
Increase in Prevalence
More efficacious mono and combination therapies
Economic burden
Low disease awareness and delay in diagnosis
No standard cure available
Which biotechnical companies are developing Acromegaly drugs?
The emerging therapies for Acromegalytreatment that are expected to launch in the forecasted period (2020–2030) include Octreotide Capsules (Chiasma Pharma), IONIS-GHR-LRx (Ionis Pharmaceuticals), ATL1103 (Antisense Therapeutics), CAM2029 (Camurus), Veldoreotide (Strongbridge Biopharma), CRN00808 (Crinetics Pharmaceuticals), and Lanreotide PRF (Ipsen).
Media Contact
Company Name: DelveInsight
Contact Person: DelveInsight
Email: Send Email
Phone: +919650213330
City: Albany
State: New York
Country: United States
Website: https://www.delveinsight.com/