DelveInsight's "Androgenetic Alopecia Market Insights, Epidemiology, and Market Forecast-2030" report delivers an in-depth understanding of the Androgenetic Alopecia, historical and forecasted epidemiology as well as the Androgenetic Alopecia market trends in the United States, EU5 (Germany, Spain, Italy, France, and United Kingdom) and Japan.
What is Androgenetic Alopecia?
Androgenetic Alopecia is a type of alopecia/hair-loss, is often referred to as 'Male Pattern Hair Loss' or 'Female Pattern Hair Loss'. Androgenetic Alopecia is caused by a combination of genetic and hormonal factors. Dihydrotestosterone (DHT) is the main hormone responsible for Androgenetic Alopecia in genetically susceptible individuals. DHT causes scalp hair loss by inducing a change in the hair follicles on the scalp.
How many people are affected by Androgenetic Alopecia?
It is the most common type of hair loss affecting approximately 50% of men over the age of 50 and around 50% of women over the age of 65.
Androgenetic Alopecia can also affect younger men and women. As many as 13% of premenopausal women reportedly have some evidence of androgenetic alopecia.
The prevalence of moderate or severe male Androgenetic Alopecia was approximately 50% in the age group 40–49.
Androgenetic Alopecia has a higher prevalence among men than women. Men tend to be diagnosed more frequently. Nevertheless, women get Androgenetic Alopecia almost as often as men, in particular as they age.
Request for free sample pages @ Androgenetic Alopecia Market Forecast
How will Androgenetic Alopecia Market change in upcoming years?
Rising prevalence of Androgenetic Alopecia and alopecia areata diseases is the key factor driving the market growth.
The Androgenetic Alopecia market outlook of the report helps to build the detailed comprehension of the historic, current, and forecasted Androgenetic Alopecia market trends by analyzing the impact of current therapies on the market, unmet needs, drivers and barriers and demand of better technology.
Various pharmaceutical companies have shifted their focus to develop the cure for Androgenetic Alopecia. Pharma giants like Samumed (SM04554), Follicum AB (FOL-005), Cassiopea (Clascoterone solution 7.5%), and others are thoroughly working in Androgenetic Alopecia Treatment Market.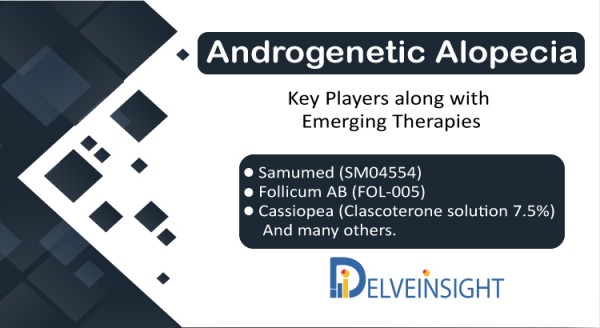 The dynamics of the Androgenetic Alopecia market is anticipated to change in the coming years owing to the improvement in the rise in the number of healthcare spending across the world. Nevertheless, there are many drugs in the pipeline and are under investigation in late-development stages of clinical trial and due to their launch in upcoming years, there will be a positive shift in the Androgenetic Alopecia market.
Request for free sample pages @ Androgenetic Alopecia Market Trends and Size
Media Contact
Company Name: DelveInsight
Contact Person: DelveInsight
Email: Send Email
Phone: +919650213330
City: Albany
State: New York
Country: United States
Website: https://www.delveinsight.com/