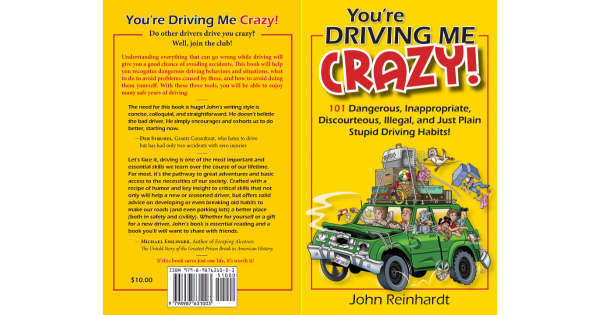 You're Driving Me Crazy by John Reinhardt is a groundbreaking book that explores the fundamental details of driving, which are often overlooked. The book serves as a notable source of guidance for readers, by equipping them with key tools to recognize dangerous driving behaviors.
Driving entails immense responsibilities. You are not only risking your own life, but also the lives of others on the road. John Reinhardt's book sheds light on this obligation, highlighting the importance of staying focused, respectful, and attentive while driving. In doing so, You're Driving Me Crazy helps avoid potential accidents, by ensuring a safer driving experience for everyone.
Drawing from the author's own passion for driving, and a deep-seated concern for the safety of people on the road, You're Driving Me Crazy addresses the widespread issue of drivers' irresponsibility, lack of focus, and lack of respect when driving, which can lead to hazardous situations and accidents. Through years of studying bad driving behaviors, John provides significant insights into recognizing and avoiding such behaviors.
You're Driving Me Crazy is a valuable toolkit for drivers, covering various topics, from identifying dangerous driving situations to understanding how to steer clear of these scenarios. John does a credible job of breaking the complex topic into simple kernels, by empowering readers with the knowledge and awareness needed to make informed decisions when behind the wheel.
You're Driving Me Crazy by John Reinhardt is a call to action for all drivers, irrespective of their experience and age. The author emphasizes readers to reflect on their driving habits, take precautionary steps to enhance their skills, and contribute to a safe driving environment. The book stands to help avoid contributing to the alarming statistics of accidents caused by reckless driving.
It's time to take the first step toward safe driving. This encompasses more than just adhering to legal commitments; it also entails a moral duty.
You're Driving Me Crazy is available on Amazon. For more information, please also visit https://youredrivingmecrazy.com/.
Media Contact
Company Name: John Reinhardt Book Design
Contact Person: John Reinhardt
Email: Send Email
Phone: 802-236-4147
Country: United States
Website: https://youredrivingmecrazy.com