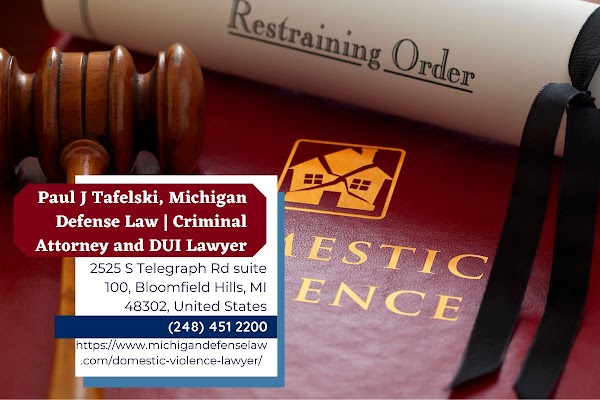 Domestic violence lawyer Paul J. Tafelski of Michigan Defense Law, a seasoned law firm, has recently published a comprehensive article focusing on the nuances of Michigan domestic violence laws. Tafelski's deep understanding of the legal intricacies surrounding domestic violence and domestic assault cases has made his insights invaluable for those grappling with such charges.
In the article, Tafelski emphasizes the severity of domestic violence charges in Michigan and the crucial need for immediate action by those facing such accusations. As a seasoned domestic violence lawyer, Tafelski stresses the importance of understanding the gravity of the situation and seeking assistance from a qualified Michigan domestic violence lawyer.
"Domestic violence is considered a crime across the United States," states domestic violence lawyer Paul J. Tafelski. "For those who have been charged and convicted of domestic violence or domestic abuse, there are severe legal consequences, including fines and jail time. The stigma of a domestic violence conviction can also follow someone for the rest of their life, ruining their reputation, their career, and their future."
Dealing with a domestic abuser or facing allegations of being one can be challenging and may result in the issuance of a restraining order or an order of protection. These protection orders, legally binding documents issued by the court, can significantly impact both parties involved in a domestic violence case.
Tafelski, along with his team of exceptional defense attorneys, has spent over two decades diligently protecting the legal rights of individuals charged with domestic abuse. Their knowledge and experience have been instrumental in offering the best possible legal representation to those facing such allegations.
The article also elaborates on the statistics of domestic violence in Michigan, revealing that approximately 36.1% of women and 25.8% of men will experience some form of intimate partner abuse in their lives. This high incidence rate has led to a crackdown on domestic violence by Michigan law enforcement, often resulting in a warrant for the accused's arrest.
Tafelski and his team of skilled lawyers are well-versed with the intricacies involved in these cases, often resulting from minor altercations where one partner calls the police to control the situation. "Unfortunately, once law enforcement is involved, an arrest is usually made, and it is treated as a serious crime with equally serious consequences," Tafelski explains.
The article also provides an in-depth understanding of the legal definition of domestic violence under Michigan Penal Code § 750.81 and Michigan Statutes § 400.1501, which broadens the definition of the crime to include domestic battery and spousal abuse. Tafelski urges those facing such charges to seek a competent Michigan domestic violence lawyer to navigate the legal system and protect their rights.
Michigan Defense Law provides a holistic approach to resolving cases, combining a comprehensive understanding of the ramifications of convictions with practical strategies. Sofor individuals facing domestic violence charges in Michigan, remember that immediate action is key. Secure the assistance of a competent Michigan domestic violence lawyer to help understand their rights and develop a robust defense strategy.
About Michigan Defense Law:
Michigan Defense Law is a leading law firm widely experienced in criminal defense, with a focus on domestic violence cases. Founding attorney Paul J. Tafelski and his team of skilled attorneys have dedicated their careers to providing comprehensive legal representation and protection for those charged with a crime. With over two decades of experience, the firm prides itself on its diligence, commitment to clients, and understanding of Michigan laws.
Embeds:
Youtube Video: https://www.youtube.com/watch?v=mtf4ECEij50
GMB: https://www.google.com/maps?cid=7441820969606749572
Email and website
Email: paul@michigandefenselaw.com
Website: https://www.michigandefenselaw.com/
Media Contact
Company Name: Michigan Defense Law
Contact Person: Paul J. Tafelski
Email: Send Email
Phone: (248) 451-2200
Address:2525 S Telegraph Rd suite 100
City: Bloomfield Hills
State: Michigan 48302
Country: United States
Website: https://www.michigandefenselaw.com/