YardSail has designed a collection of gorgeous face masks to benefit local causes.
NEW YORK – January 13, 2021 – YardSail has created a collection of elegant one-of-a-kind face masks in vibrant colors and patterns. These non medical grade fabric masks are designed to protect the wearer by protecting others. All YardSail profits go to support vital local causes. New items are added to their collections every week.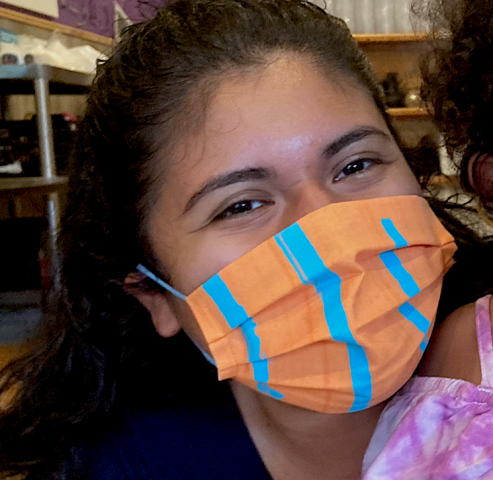 YardSail was launched by Tillett&Rauscher Inc, a South Bronx design firm owned by Nicole Rauscher and Seth Tillett. The name references the raw canvas used by the renowned House of Tillett Fabrics. It also refers to the classic American yard sale which is a last resort for many households facing economic challenges, such as those brought on by the current pandemic.
"We are a second generation design firm with a large stock of historic textiles," says YardSail co-founder Seth Tillett. "When COVID hit, we felt we could use these beautiful museum-quality fabrics to create striking masks whose sale would benefit our community."
YardSail masks come in two styles. One is a classic pleated cloth mask available with an optional inner cotton pouch for extra protection. This pouch can also hold herbs or flowers to scent the incoming air. The silk bandit-style mask uses hidden magnets to close the mask under the chin for greater protection. All masks have adjustable straps with unique bead stoppers. They can also be ordered with extra long straps that attach behind the head.
In the true yard sale spirit, YardSail has created an ever expanding Other Things collection, where odd, witty and rare artifacts from the Tillett&Rauscher archives are offered for sale. These range from original art and one-off design prototypes to historic photographs, rare books and even signed letters from Jaqueline Kennedy Onassis.
YardSail aims to meet an historic social upheaval with practical support and address a global pandemic with safety and style. With YardSail, people can acquire elegant and collectable textile masks at the same time as they give to important causes.
About YardSail
YardSail creates face masks from historic fabrics and sells other unique and rare artifacts.
All YardSail profits are channeled to vital local causes: UPBEATNY, LaMorada, and G.L.I.T.S.
For more information:
Web: https://yardsail.net
Instagram: https://www.instagram.com/yard.sail/
Media Contact
Company Name: YardSail
Contact Person: Seth Tillett
Email: Send Email
Phone: 646 785 6626
Country: United States
Website: https://yardsail.net