Wearable tickets and interactive clothing provide a groundbreaking approach to event experiences and merchandising.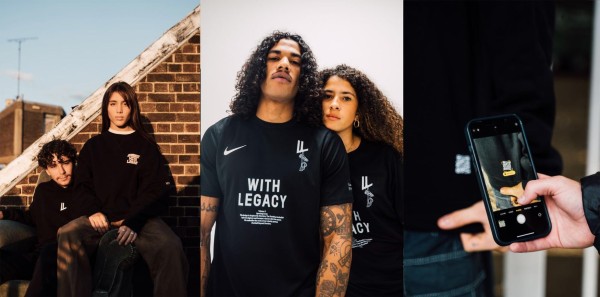 With Legacy is taking the fashion industry by storm with its unique blend of style and cutting-edge technology. By incorporating QR codes and NFC technology into their clothing, each garment becomes an interactive piece of art, offering customers an unparalleled experience. This innovation has caught the attention of major players in the music world, as event companies seek to use With Legacy's clothing technology to transform the outdated merch model.
The QR and NFC technology embedded in With Legacy's clothing allows for individual garment scanning, paving the way for wearable tickets that replace traditional VIP sections and general admission. The company has already collaborated with global brands like Adidas and Nike and successfully introduced wearable tickets at Singapore music events in 2022. These successful collaborations have positioned With Legacy as a sought-after partner in the music and events industry.
With Legacy's wearable technology provides an exciting alternative to traditional event merchandise. Attendees can now wear event-specific clothing before the event, scan their garment to gain entry, and continue to enjoy the unique features of their purchase long after the event has ended. This approach not only enhances the consumer experience but also offers a more sustainable and eco-friendly solution compared to disposable event merch.
George Wells David, the CEO of With Legacy:
"With Legacy's wearable technology, we're paving the way for boundless possibilities in the realm of fashion, events, and entertainment. Our QR and NFC technology embedded in our clothing enables a diverse range of applications, catering to the evolving needs of event companies, musicians, and influencers. By offering wearable ticketing, we provide attendees with a seamless entry experience, while also granting them exclusive post-event content upon rescanning their clothing. Musicians can leverage our technology to revolutionise their merchandise and host immersive listening parties, both digitally and physically. Our goal is to redefine the fashion industry by delivering exceptional value to consumers, and our ability to change the QR code's content in seconds adds a layer of intrigue and versatility to the experience. With Legacy's wearable technology, the possibilities are truly endless."
Despite incorporating advanced technology, With Legacy has ensured that their designs remain aesthetically appealing. They have perfected the integration of QR codes and NFC technology in their clothing without compromising style, resulting in a seamless fusion of fashion and functionality.
With Legacy is redefining the future of fashion, events, and technology with their innovative approach. As they continue to forge partnerships and expand their reach, With Legacy is set to revolutionise the way people interact with fashion and experience events. To learn more about With Legacy and their groundbreaking clothing technology, visit their website at www.withlegacy.com
Media Contact
Company Name: With Legacy
Contact Person: Jorge Vitoria
Email: Send Email
City: London
State: Central London
Country: United States
Website: withlegacy.com