It is not comfortable to imagine the life of a person who is unable to distinguish between real and imaginary people. It might seem daunting because it is how schizophrenic patients spend their lives, looking at everything and everyone with questionable eyes. The short film, The Splitting Mirror deals with the life of a schizophrenic patient who is encountering similar challenges. The movie is directed by Jolie Chan. While Victoria Radrigan is responsible for the cinematography and editing of the movie.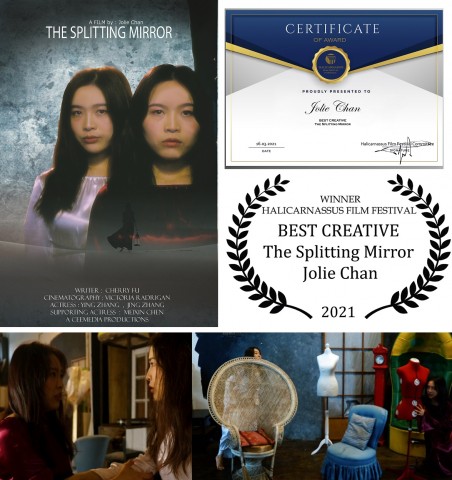 The movie begins with a shot of a bird trapped in a cage. After a while, several more cages appear on the screen. The director behind this shot intends to showcase the inner condition of the main character, played by Ying Zhang. She is the bird who is trapped inside the cage of her mind. But neither the bird nor Ying Zhang's character is alive from the inside. She has become frustrated by confronting analogous situations repeatedly.

Video Link: https://www.youtube.com/embed/IvoCyhZWNqQ
The next shot depicts her running inside her house. It is felt as if someone is following her, but later we understand that she is running away from her hallucinations. The director and cinematographer have skillfully used a handheld camera whenever the girl is in the real world, with real people around her. The reason behind this can be to showcase her uncertain condition. But the camera is set up on a tripod whenever the girl is playing with the imaginary sister, to signify her stable condition, even though she is lost in her imaginary world.
Another point to notice is that whenever the director demonstrates the slow-motion movements of the girl, it indicates that she is transcending into her imaginary world, where she has befriended another girl. In the scene when both the girls are copying each other's gestures, it can be said that the girl is simply watching herself in a mirror, and she has befriended her reflection. Hence the reason behind her saying that they were born together.
The moment her maid tells her to take her medicine, she gets lost in her imaginary world and begins to find her sister. The frame starts to get dark, but as soon as her friend appears and touches her, the dark turns into light. She soon says that they are now going on their separate paths which can be because she is about to take the medicine. She is aware that once she takes the pills, she will stop hallucinating and her connection with her imaginary sister will be lost. Through the film, the director has skillfully and creatively given an inside view of the mind of a schizophrenic patient. Most of the movies dealing with such topics are dark and difficult to watch, but this short film is easy to watch, understand and grasp the underlying hidden messages.
More info: http://www.ceemediaproductions.com/
Media Contact
Company Name: Ceemedia Productions
Contact Person: Media Relations
Email: Send Email
State: NY
Country: United States
Website: https://www.ceemediaproductions.com/