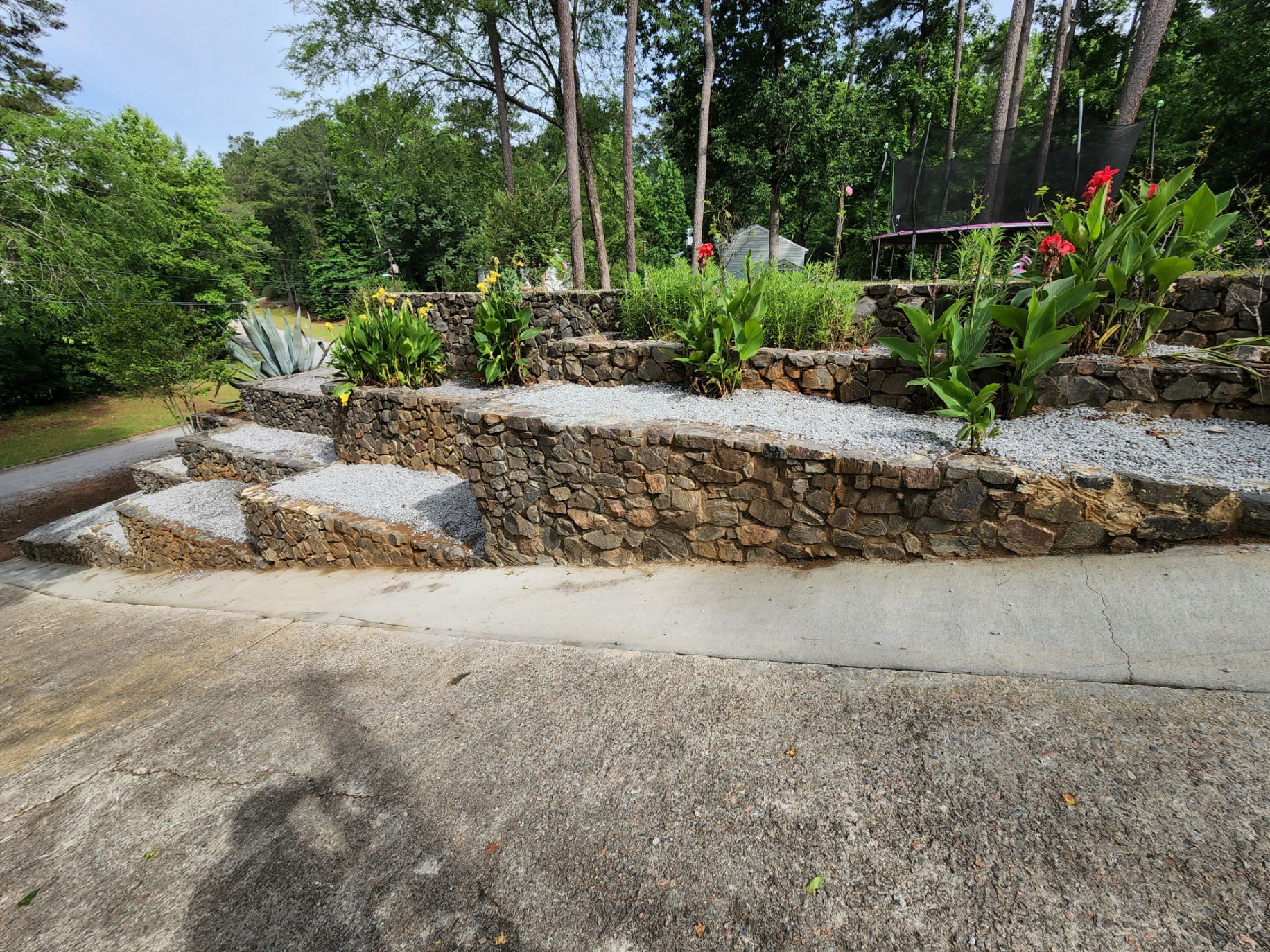 Willow Creek Outdoor Management cleared out overgrown plants, shrubs and weeds in this Augusta GA homeowner's front yard to create inviting landscaping beds with a modern touch.
Maintaining a beautiful and well-kept yard is no small task. It requires regular attention and a variety of services to ensure an outdoor space remains an inviting and aesthetically pleasing oasis. Willow Creek Outdoor Management, located in the greater Augusta GA area, specializes in providing reliable yard clean up services that can transform any outdoor area into a functional and beautiful space.
Willow Creek Outdoor Management offers a range of yard clean up services. Their landscaping team helps CSRA businesses and homeowners tackle overgrown landscapes, seasonal transitions, storm damage clean up and much more.
Debris and Leaf Cleanup
The first step to a pristine yard is to bid farewell to unsightly debris and leaves that accumulate over time. Willow Creek Outdoor Management excels at thorough debris and leaf cleanup. Whether it's the remnants of a recent storm or the gradual accumulation of fallen leaves, their team will efficiently clear any yard.
Pruning
Pruning is an art form, and Willow Creek's team of experts knows it well. Proper pruning enhances the overall health and aesthetics of trees and shrubs. They'll trim away dead or overgrown branches, improving the air circulation and ensuring plants receive the sunlight they need to flourish. Their pruning services leave plants rejuvenated and looking their best.
Pine Straw and Mulch Application
Adding a layer of pine straw or mulch to garden beds is a simple yet effective way to enhance any landscape's beauty and health, helping with moisture retention, weed and erosion control and temperature regulation. Willow Creek offers pine straw and mulch application services that make any home look cared for, creating an inviting atmosphere for a homeowner, their family, and their guests.
Winter Rye Seed Application
Georgia's winters can be harsh on a lawn. Willow Creek's winter rye seed application service is the secret to maintaining a lush, green lawn all year round. This cool-season grass ensures a yard remains vibrant and inviting, even during the coldest months. Say goodbye to a dull, barren lawn in the winter with Willow Creek's winter rye seed application.
Lawn Aeration
Lawn aeration is a simple and effective way to improve a lawn's health. Willow Creek Outdoor Management uses specialized equipment to perforate the soil, allowing water, air, and nutrients to penetrate the root system more easily. This results in a healthier, more robust lawn that can withstand the challenges of different seasons.
Lawn Fertilization
A well-fertilized lawn is a thriving lawn. Willow Creek's lawn fertilization services are designed to provide grass with the nutrients it needs to grow and maintain its lush green color. Their experts will assess a lawn's specific requirements and apply the right fertilizers to promote healthy growth, disease resistance, and improved color.
Other Yard Maintenance Projects
Willow Creek Outdoor Management is a homeowner's one-stop-shop for all yard maintenance needs. In addition to the services mentioned above, they offer a range of other projects to keep any outdoor space in top condition. From lawn mowing to hardscaping projects, they have the expertise and experience to tackle any yard-related challenge.
Willow Creek Outdoor Management Serves Augusta GA and Beyond
Willow Creek Outdoor Management's commitment to excellence doesn't stop with their range of services. They proudly serve homeowners and businesses in the greater Augusta GA area including Evans, Grovetown, Martinez, Harlem and North Augusta, providing top-notch yard clean up near me. Whether a small residential yard or a vast commercial property, their dedicated team is equipped to handle any project, big or small. Get in touch with Willow Creek Outdoor Management today and let their experts transform any yard into a stunning, well-maintained masterpiece. Visit https://www.willowcreekoutdoors.com/lawn-cleanup-services/ to learn more.
Media Contact
Company Name: Willow Creek Outdoor Management
Contact Person: Andrew Graham
Email: Send Email
Phone: (706) 829-6004
Address:539 Emerson Dr
City: Harlem
State: Georgia
Country: United States
Website: https://www.willowcreekoutdoors.com/seasonal-transitions-for-a-beautiful-lawn-expert-tips-and-services/