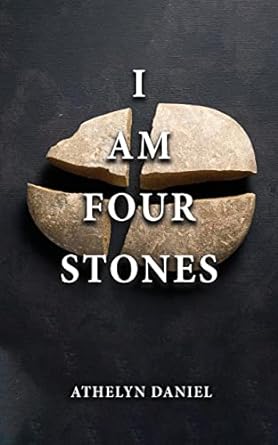 Discover the Unforgettable Experience That Shaped a Lifetime
In a world teeming with challenges and distractions, it's the stories of our past that often hold the keys to our future. "I Am Four Stones" by Athelyn Daniel, now available on Amazon, is a poignant account of a life-changing experience, one that not only touched the author's heart but continues to inspire readers around the world.
This extraordinary story began in Athelyn Daniel's childhood, a memory etched into her soul. Her family recounted the event throughout her life, not merely as a tale, but as a guiding light, urging her to become a better person. With time, this experience became more than just a memory; it transformed into a cornerstone of her character.
"I Am Four Stones" isn't just a personal narrative; it's a powerful testament to the enduring impact of our past on our present and future. Through her journey, Athelyn Daniel illustrates how one can grow from a singular experience and let it shape their character, allowing them to touch the lives of countless others.
Athelyn's own recounting of this experience to others has become an act of sharing and inspiration. It is a simple yet profound truth, one that we can all embrace: each of us is akin to "Four Stones." Just as these stones work together to build something beautiful and complete, so do the various facets of our lives come together to create our whole selves.
As Michelle Radvansky aptly describes it, "The story makes people think about the different parts of a person's life and how important all the parts are to make up or bring together a whole person."
"I Am Four Stones" is not merely a book; it's a mirror that reflects the potential within each of us to connect, inspire, and grow. Athelyn Daniel invites you to embark on this journey of self-discovery, unity, and personal evolution. This extraordinary story has the power to change your perspective on life and to inspire you to be the best version of yourself.
About the Author
Athelyn Daniel, the insightful author behind "I Am Four Stones," is a storyteller with a unique gift—the ability to transform her personal experiences into universal lessons that touch the hearts of all who read her work. Her childhood experience has not only molded her character but has also provided a beacon of inspiration to guide others on their journey through life.
Through her writing, Athelyn Daniel spreads the message that we all possess the potential to be better, to be more compassionate, and to be united. With grace and wisdom, she shares her transformative journey, encouraging each of us to recognize the "Four Stones" within ourselves and to build a life that is both beautiful and complete.
"I Am Four Stones" is not only a testament to the power of personal growth but also a reminder that our stories, when shared, have the capacity to inspire positive change in the world.
About Author's Tranquility Press
Author's Tranquility Press is a top publicity agency known for delivering innovative solutions designed to help writers across genres to reach a wider audience. The company combines the use of the latest technologies and the expertise and diverse experience of the team to provide quality, relatable content to as many people as possible, irrespective of their location across the globe.
Media Contact
Company Name: Author's Tranquility Press
Contact Person: Patricia Adams, Marketing Supervisor
Email: Send Email
Phone: 8664118655
Address:3800 CAMP CREEK PKWY SW BLDG
City: Atlanta
State: GA
Country: United States
Website: www.authorstranquilitypress.com/