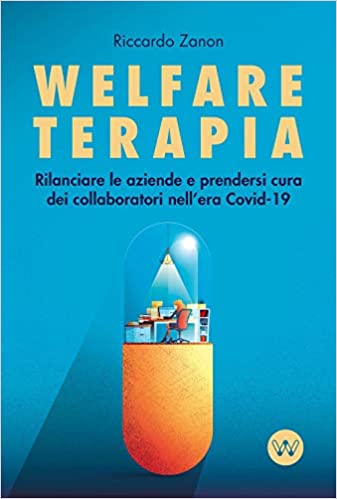 Milan – Jan 7, 2021 – "Until the arrival of covid-19, we lived in the belief that nothing or almost nothing could affect our lives. Now a new era seems to be looming that of the community of the territory and the attention to others". This is the thought of Riccardo Zanon, lawyer and owner of Zanon Studio and author of the book Welfareterapia. Relaunching companies and taking care of employees in the era Covid-19, the first text published by the publishing house Tuttowelfare, of which ESTE is a partner.
Zanon presents an idea -that of the new proximity welfare- which, in reality, is more than 2,000 years old but which now appears more clearly in the midst of a global crisis.
In this context, corporate welfare is presented as an indispensable tool for facing the future's challenges.
Zanon's essay underlines the importance of communication from management to employees, with a view to taking more care of them for the company's wellbeing in the round. The watchwords for recovery are two: "communication" and "creativity". Covid-19 urged us to find solutions that integrate the need to protect health with the sustainability of a productive world that could undergo further downturns.
Interesting the image of the Swiss knife with which the book ends: a necessary object for those who love passing in the mountains, which has more accessories inside. They must be used according to the needs of the moment. This is also the case for corporate welfare.
About Tuttowelfare.info
It is the first online magazine entirely dedicated to welfare where the various players in the world of welfare can illustrate their projects, discuss and compare the dynamics in place and contribute to the growth of a market with potential yet to be expressed. ESTE is the exclusive concessionaire for the communication of TuttoWelfare.info.
Welfare Terapia is can be purchased on Amazon, https://collanaimprenditoresereno.com/ and on the editors eshop.
Media Contact
Company Name: Welfareterapia
Contact Person: Riccardo Zanon
Email: Send Email
Phone: +390418760070
Country: Italy
Website: http://www.riccardozanon.com/