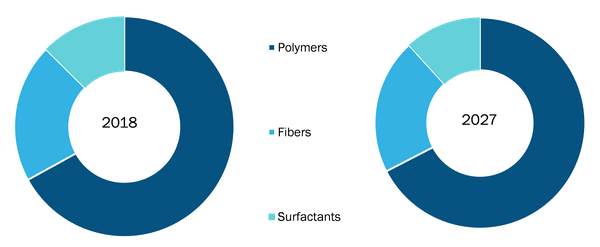 The water soluble packaging market was valued at US$ 2,751.00 million in 2018 and is projected to reach US$ 4,295.57 million by 2027; it is expected to grow at a CAGR of 5.1% from 2019 to 2027.
Water soluble packaging is a form of packaging made from biodegradable materials that dissolve in water leaving behind a harmless and non-toxic aqueous solution. Better solubility in water with minimum residue and good impact resistance makes them a favorable packaging material in a number of industries. Water soluble packaging is manufactured in different grades, including cold water soluble PVA grades as well as hot water soluble PVA grades. The global water soluble packaging market, by application, has been segmented into industrial and residential. In 2018, the industrial segment dominated the market with a larger share. Wide scope of application for water soluble packaging in several industries such as food & beverages, chemicals, personal care and cosmetics, and pharmaceuticals is projected to boost the demand for water soluble packaging in the industrial applications
The global water soluble packaging market is concentrated with a few well-established players, such as Amtopack, Inc., Changzhou Kelin PVA Water Soluble Films Co., Ltd, Cortec Corporation, Harke Group, Jiangmen Cinch Packaging Materials Co., Ltd, Kuraray Co., Ltd, Mitsubishi Chemical Corporation, Mondi Group, Sekisui Chemical Co., Ltd, and SmartSolve Industries.
Download Sample PDF Copy: https://www.theinsightpartners.com/sample/TIPRE00008583/
Increasing demand from personal care and cosmetic application to lead water soluble packaging market growth at 5.1% CAGR during 2019–2027
The recent COVID-19 outbreak, which first began in Wuhan (China) in December 2019, has spread at a fast pace worldwide. As of March 2020, China, Italy, Iran, Spain, the Republic of Korea, France, Germany, and the US are among the worst-hit countries in terms confirmed cases and reported deaths. The COVID-19 pandemic has been affecting economies and industries in various countries due to lockdowns, travel bans, and business shutdowns. The global chemicals and materials industry is one of the major industries that are suffering serious disruptions such as supply chain breaks, technology events cancellations, and office shutdowns.
The report highlights key factors driving the market growth, and prominent players and their developments in the market.
The demand for water soluble packaging has surged in the personal care and cosmetics industry. The personal care and cosmetic product manufacturers are improving their product portfolio and introducing natural as well as organic products to attract new customers. Organic cosmetics are produced with the help of organically farmed ingredients. Such ingredients are cultivated without use of genetically modified organisms (GMO), herbicides, synthetic fertilizers, and other harmful chemicals. Such cosmetics are produced from ingredients that are organically certified by the authorized institutions operating internationally. These cosmetics product manufacturers use the best natural component of plants and flowers, which are good for skin health. As the demand for organic personal care and cosmetics products is rising, manufacturers are looking forward to a sustainable type of packaging solutions such as water soluble pods. For instance, several manufacturers produce personal care products such as shampoo and body wash in the form of water soluble drops, which are organically certified under authorized institutions. Also, cosmetic companies are involving in strategic partnerships with packaging vendors to develop cost-effective and sustainable packaging solutions for their products. Through an effective research and development strategy, manufacturers are diversifying the use of water soluble pods in the packaging of different types of organic cosmetics.
Purchase a copy of this report: https://www.theinsightpartners.com/buy/TIPRE00008583/
The report segments the global water soluble packaging market as follows:
Water Soluble Packaging Market, By Raw Material
Polymers

Fibers

Surfactant
Water Soluble Packaging Market, By Product Type
Pouches

Films

Bags

Others
Water Soluble Packaging Market, By Solubility Type
Hot Water Soluble

Cold Water Soluble
Water Soluble Packaging Market, By Application
Media Contact
Company Name: The Insight Partners
Contact Person: Sameer Joshi
Email: Send Email
Phone: +1-646-491-9876
City: Pune
State: Maharashtra
Country: India
Website: https://www.theinsightpartners.com/reports/water-soluble-packaging-market/