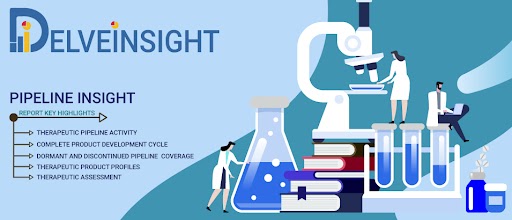 (Las Vegas, Nevada, United States) As per DelveInsight's assessment, globally, Vitiligo pipeline constitutes 22+ key companies continuously working towards developing 22+ Vitiligo treatment therapies, analysis of Clinical Trials, Therapies, Mechanism of Action, Route of Administration, and Developments analyzes DelveInsight.
The Vitiligo Pipeline report embraces in-depth commercial and clinical assessment of the pipeline products from the pre-clinical developmental phase to the marketed phase. The report also covers a detailed description of the drug, including the mechanism of action of the drug, clinical studies, NDA approvals (if any), and product development activities comprising the technology, collaborations, mergers acquisition, funding, designations, and other product-related details.
"Vitiligo Pipeline Insight, 2023" report by DelveInsight outlines comprehensive insights into the present clinical development scenario and growth prospects across the Vitiligo Market.
Some of the key takeaways from the Vitiligo Pipeline Report:
Companies across the globe are diligently working toward developing novel Vitiligo treatment therapies with a considerable amount of success over the years.
Vitiligo companies working in the treatment market are Clinuvel Pharmaceuticals, Bioniz Therapeutics, TAGCyx Biotechnologies, Temprian Therapeutics, Aclaris Therapeutics, TWi Biotechnology, Dermavant Science, Amgen, Pfizer, Incyte Corporation, Clinuvel Pharmaceuticals, and others, are developing therapies for the Vitiligo treatment
Emerging Vitiligo therapies in the different phases of clinical trials are- Phimelanotide, BNZ-1, TAGX-0003, TT-01, ATI-1777, AC-1101, Cerdulatinib, AMG 714, Ritlecitinib, Ruxolitinib, Afamelanotide, Crisaborole 2% Topical Ointment, and others are expected to have a significant impact on the Vitiligo market in the coming years.
In March 2020, In order to create potential monoclonal antibodies for vitiligo and other autoimmune illnesses, Edesa Biotech and the National Research Council (NRC) of Canada engaged into a collaborative research agreement. The National Research Council of Canada will manufacture several monoclonal antibodies in accordance with the agreement, and Edesa will select a lead candidate to move forward with IND-enabling research. The NRC will provide Edesa a worldwide exclusive right to use the project's produced antibodies.
In January 2020, Eli Lilly and Company declared that they had reached a final deal to buy Dermira for a cash price of about $1.1 billion. A biopharmaceutical business called Dermira is committed to creating novel treatments for long-term skin diseases like vitiligo, atopic dermatitis, and acne.
Jiangsu Hengrui Medicine Co., a Chinese business, licensed SHR0302 to Arcutis Biotherapeutics. This compound is the active ingredient of ARQ-252, a strong and highly specific inhibitor of janus kinase type 1 (JAK1). Numerous signaling molecules depend on the JAK pathway, particularly JAK1, which is essential for the proper operation of the immune system. This drug, according to Arcutis, offers a promising therapeutic potential without the hematological side effects that are commonly associated with inhibition of JAK2. In March 2021, Arcutis started a Phase 2a trial to assess ARQ-252 as a possible vitiligo treatment.
AnaptysBio is entering a Phase 1 study with healthy volunteers for their ANB030 (Anti-PD-1 Agonist) program; top-line data are expected in mid-2021. Phase 2 clinical studies for vitiligo and alopecia areata are planned for Q4 2021, assuming all goes according to plan.
Vitiligo Overview
A complicated pigment condition affecting the skin, hair, and occasionally the mucous membranes is called vitiligo. Though it can occur on any part of the skin, vitiligo usually affects the hands, neck, and face. Clinically, vitiligo manifests as milk-white, irregularly oval skin patches that start out small and grow over time.
Get a Free Sample PDF Report to know more about Vitiligo Pipeline Therapeutic Assessment-
https://www.delveinsight.com/report-store/vitiligo-pipeline-insight
Emerging Vitiligo Drugs Under Different Phases of Clinical Development Include:
Phimelanotide: Clinuvel Pharmaceuticals
BNZ-1: Bioniz Therapeutics
TAGX-0003: TAGCyx Biotechnologies
TT-01: Temprian Therapeutics
ATI-1777: Aclaris Therapeutics
AC-1101: TWi Biotechnology
Cerdulatinib: Dermavant Science
AMG 714: Amgen
Ritlecitinib: Pfizer
Ruxolitinib: Incyte Corporation
Afamelanotide: Clinuvel Pharmaceuticals Limited
Crisaborole 2% Topical Ointment: Pfizer
Vitiligo Route of Administration
Vitiligo pipeline report provides the therapeutic assessment of the pipeline drugs by the Route of Administration. Products have been categorized under various ROAs, such as
Oral
Parenteral
Intravitreal
Subretinal
Topical.
Molecule Type
Vitiligo Molecule Type
Vitiligo Products have been categorized under various Molecule types, such as
Monoclonal Antibody
Peptides
Polymer
Small molecule
Gene therapy
Product Type
Vitiligo Pipeline Therapeutics Assessment
Vitiligo Assessment by Product Type
Vitiligo By Stage and Product Type
Vitiligo Assessment by Route of Administration
Vitiligo By Stage and Route of Administration
Vitiligo Assessment by Molecule Type
Vitiligo by Stage and Molecule Type
DelveInsight's Vitiligo Report covers around 22+ products under different phases of clinical development like
Late-stage products (Phase III)
Mid-stage products (Phase II)
Early-stage product (Phase I)
Pre-clinical and Discovery stage candidates
Discontinued & Inactive candidates
Route of Administration
Further Vitiligo product details are provided in the report. Download the Vitiligo pipeline report to learn more about the emerging Vitiligo therapies
Some of the key companies in the Vitiligo Therapeutics Market include:
Key companies developing therapies for Vitiligo are – Dermavant Sciences, Incyte Corporation, TWi Biotechnology, Aclaris Therapeutics, Dermira, Amgen, Pfizer, Arcutis Biotherapeutics, AnaptysBio, Bioniz Therapeutics, among others.
Vitiligo Pipeline Analysis:
The Vitiligo pipeline report provides insights into
The report provides detailed insights about companies that are developing therapies for the treatment of Vitiligo with aggregate therapies developed by each company for the same.
It accesses the Different therapeutic candidates segmented into early-stage, mid-stage, and late-stage of development for Vitiligo Treatment.
Vitiligo key companies are involved in targeted therapeutics development with respective active and inactive (dormant or discontinued) projects.
Vitiligo Drugs under development based on the stage of development, route of administration, target receptor, monotherapy or combination therapy, a different mechanism of action, and molecular type.
Detailed analysis of collaborations (company-company collaborations and company-academia collaborations), licensing agreement and financing details for future advancement of the Vitiligo market.
The report is built using data and information traced from the researcher's proprietary databases, company/university websites, clinical trial registries, conferences, SEC filings, investor presentations, and featured press releases from company/university websites and industry-specific third-party sources, etc.
Download Sample PDF Report to know more about Vitiligo drugs and therapies
Vitiligo Pipeline Market Drivers
Increasing awareness, demand of novel therapies, large patient pool and better healthcare infrastructure are some of the important factors that are fueling the Vitiligo Market.
Vitiligo Pipeline Market Barriers
However, patient compliance, chronic nature of disease and long term therapy, lack of adequate financial assistance & stringent regulatory procedure and other factors are creating obstacles in the Vitiligo Market growth.
Scope of Vitiligo Pipeline Drug Insight
Coverage: Global
Key Vitiligo Companies: Clinuvel Pharmaceuticals, Bioniz Therapeutics, TAGCyx Biotechnologies, Temprian Therapeutics, Aclaris Therapeutics, TWi Biotechnology, Dermavant Science, Amgen, Pfizer, Incyte Corporation, Clinuvel Pharmaceuticals, and others
Key Vitiligo Therapies: Phimelanotide, BNZ-1, TAGX-0003, TT-01, ATI-1777, AC-1101, Cerdulatinib, AMG 714, Ritlecitinib, Ruxolitinib, Afamelanotide, Crisaborole 2% Topical Ointment, and others
Vitiligo Therapeutic Assessment: Vitiligo current marketed and Vitiligo emerging therapies
Vitiligo Market Dynamics: Vitiligo market drivers and Vitiligo market barriers
Request for Sample PDF Report for Vitiligo Pipeline Assessment and clinical trials
Table of Contents
1. Vitiligo Report Introduction
2. Vitiligo Executive Summary
3. Vitiligo Overview
4. Vitiligo- Analytical Perspective In-depth Commercial Assessment
5. Vitiligo Pipeline Therapeutics
6. Vitiligo Late Stage Products (Phase II/III)
7. Vitiligo Mid Stage Products (Phase II)
8. Vitiligo Early Stage Products (Phase I)
9. Vitiligo Preclinical Stage Products
10. Vitiligo Therapeutics Assessment
11. Vitiligo Inactive Products
12. Company-University Collaborations (Licensing/Partnering) Analysis
13. Vitiligo Key Companies
14. Vitiligo Key Products
15. Vitiligo Unmet Needs
16 . Vitiligo Market Drivers and Barriers
17. Vitiligo Future Perspectives and Conclusion
18. Vitiligo Analyst Views
19. Appendix
20. About DelveInsight
About DelveInsight
DelveInsight is a leading Business Consultant and Market Research firm focused exclusively on life sciences. It supports Pharma companies by providing comprehensive end-to-end solutions to improve their performance. It also offers Healthcare Consulting Services, which benefits in market analysis to accelerate business growth and overcome challenges with a practical approach.
Media Contact
Company Name: DelveInsight Business Research
Contact Person: Gaurav Bora
Email: Send Email
Phone: 8774225362
Address:27 Drydock Ave S. Jones Blvd #2432
City: Boston
State: MA
Country: United States
Website: https://www.delveinsight.com/consulting/asset-prioritizaton-services