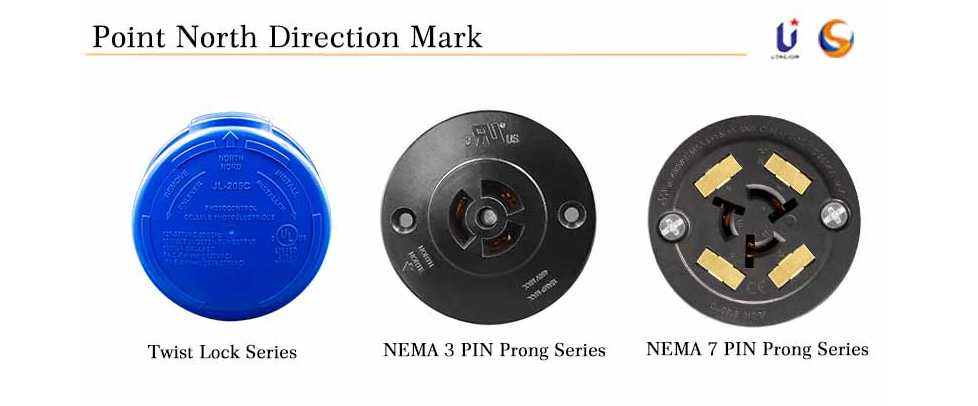 Dusk to dawn photocell sensor. This is a single Light controller, it's so good perfect outdoor nighttime lighting solutions, and a various for roads, parking lots light and barn light, yard light or anywhere you need light. If someone need full play to the function of auto on / off of light control, pls NEMA series receptacle will interconnecting between ansi c136.10-1996 photo control and luminaires.
Why Choose Long-join Brand Photocontroller Suppliers Receptacle, Especially global Distributor Selected?
1. brand distributor: amazon, home-depot, eBay, woods, Walmart.
2. Sturdy phenolic base and optional back cover.
3. Regain revise and continue progressive upgrade from customers feedback, in order to reduce problem of twist-lock 3 pin contacts and perfectly solve waterproof.
4. Available support dimming and signal output. Sure, people can choose different type receptacle to Smart lighting solution, for example two pad contacts is JL-240XB, and also people can choose four pad contacts is JL-240XA. JL-240XA with 0-10V dimming and digital address lighting interface(DALI), another is JL-240XB with 0-10V dimming.
5. Available customize raintight rating: IP54, IP65, IP66, IP67.
How to install twist lock photocell switch on the LED Pole light?
Surprised! Guys will find the installation and operation method so easily, they will also like our photo sensor control.
So easily mounting on, this light controller is installed by 3 steps.
1) Point north direction. keep the north direction mark of the NEMA Receptacle and the north direction of the twist-lock photocell controller housing at the same horizontal position.
2) Push into socket hole position. when the north direction of the twist-lock socket and the connector are kept in the same horizontal direction, please push the photocontrol into the socket hole slot smoothly and vertically.
3) This a one-steps very important. people should pay attention to clockwise and twist lock photocontrol into NEMA Receptacle.
Photocontrol receptacle application diagram
Autocratically turn on at dusk, automatically turn off at dawn. Sure, people can adjustment photocontroller built in LDR value in accordance with the ambient light level. however, a various categories photocell different property work mode and LDR (Light dependent resistant) value effect on work day and night.
In order to give full play to the function of the light sensor switch, people should browse about more the characteristics of the product and more the relevant electronic parameters of the product. At the same time, for do not affect the daily work of the light controller, please carefully consider important product parameters, also can contact me mailbox: neal@chiswear.com
Significant Feature
1)Automatic light activation for unnecessary use of electricity.
2)Twist lock photo control receptacle with 2-4 plated pad on top surface, 2 plated pad as JL-240XB model, 4 plated pad as JL-240XA. It's dimming and signal output to Zigbee wireless remote-control street lighting and collect ambient data.
photocontrol Application information
Recommend Photocell Products kits
This JL-208 shorting cap (waterproof cap) is design to replace a photo-control switch on light fixture for fail on mode or always on. Photo control shorting cap with 0-480VAC, Maximum 15 amp. Ideal for street light, parking lot light, garden light and upgrade street light application and other will need public area lighting.
Feature
1.Compliant to ANSI C 136.10 3 pin twist lock
2.Sturdy material PC and add anti-UV additive
3.Durable material and lightweight to easy install, and to resist flying objects impact.
4.Mov Options:JL-208-15, JL-208-23
5.Waterproof Rating Level: IP65, IP66 (2020 years Latest popular style model)
Frequently Recommend Buy Product Kits Advice
If someone intention to auto control light on every day, and his budget is limited, and he had considered preparation for further promote smart city lighting project, pls guys choose different two lighting solution or if want non-regular solved, also contact me:neal@chiswear.com
JL-208-IP66: Waterproof cap / Waterproof cap
If people want to develop a Zigbee, IOT-NB wireless remote intelligent controller, but they need to be equipped with other accessories of the lighting controller PCB boards. then, how to choose a quality professional supplier to produce controller accessories?
Listed below the reasons why other famous trading partners recommend Long-join suppliers.
1. More 20 years professional production and processing of light controller and a some part of street lamp intelligent light controller accessories manufacturer.
2. Long-join manufacturer has been already cooperation with a famous foreign brand technical lighting solution provider, Such as Selc Ireland Limited, Selc Ireland Limited, CORADIR S.A. LLC etc.
3. Outstanding product quality and process craft cost advantages can reduce the cost of channel promotion, to make you to gain competitive strength ahead of competitors in other countries.
4. Obtained the global EU zhaga book 18 certification in 2019, and actively joined the zhaga member. Welcome to visit website: https://www.zhagastandard.org/members/associate-members.html
5. According to the height of the photocontroller PCB panel you provide, we can recommend enclosures of different heights and other colors.
6. Provide 24-hour after-sales professional consulting services to help you solve related product use and installation problems. Such as JL-241J base and PCB boards installation, whether the color of the cover will affect the light control effect and so on.
Conclusions, people can customize NEMA series light controller accessories, and also customize PCB boards. other one hand, they also customize processing zhaga series light controller accessories.
JL-241J: Smart Controller Base
YS800076: Smart Controller Cover/ Shell
JL–240XA-14: Smart Controller Receptacle
Frequently Recommend buy product kits advice
1) NEMA Series photo-control accessories: JL-241J & JL-240XA-14 & YS800076
2) Zhaga series photocell accessories : JL-700 & JL-701J, JL-742J
3) I dare sure, you personalize customize photo control connector.
If people unsure as to what might be the best photocell control selection for their application, give Chiswear a call, and Chiswear can help they discover what might be best for them. welcome to send Chiswear Email: neal@chiswear.com
Media Contact
Company Name: Shanghai Chiswear Industrial Co., Ltd.
Contact Person: Media Relations
Email: Send Email
Phone: +86 13817761880
Address:NO.5895, GongHexin Road
City: Shanghai
Country: China
Website: https://www.chiswear.com/