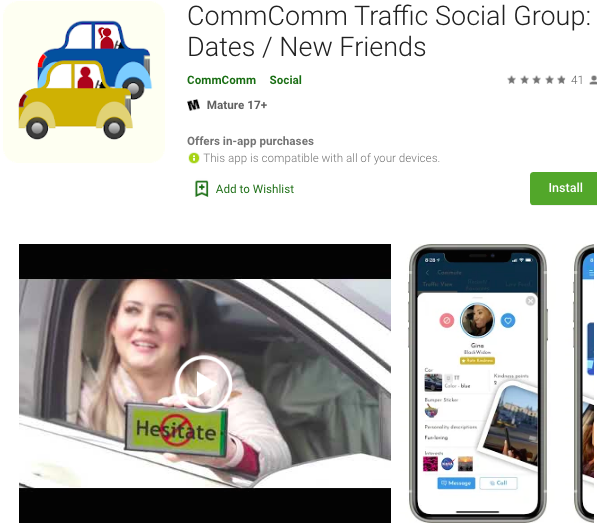 Scot and his team at Commcomm have launched a new unique mobile app, the CommComm Traffic Social Groups which aims at connecting people who are riding as passengers in vehicles. This applies to public transportation as well as carpooling commuters.

Video Link: https://www.youtube.com/embed/D6TivxISyuo
Connecting with someone new in traffic makes it easier for people to form a strong bond quickly than any other dating/friendship site. In fact, According to U.S Dept. of Transportation, traffic congestion results in 5.7 billion person-hours of delay annually in the United States, while U.S Center for Transportation Excellence said that Drivers in one-third of U.S. cities spend more than 40 hours a year (an entire work week) in traffic that is not moving. Commcomm created the app for people who find themselves in these gridlocks to turn the grim situation into something more exciting by pinging fellow commuters and shooting a shot. The immediate connection of bonding with someone just a few lanes away in traffic is always thrilling.
The app was developed for people who are up for new dating experience, those stuck at home during this Covid-19 lockdown, those who are tired of the generic dating apps out there. The CommComm Traffic Social dating app offers a dynamic, nimble and flexible experience for the user. Whether in traffic or even walking on the sidewalk, users can link up with other users and start something new and exciting.
According to Scot, "The key is to be open and candid; be yourself. Use our social dating & friendship network to match and find a partner, or just chat with new people and find friends near you in traffic. We do not tolerate any inappropriate behavior and have strict usage guidelines. We strongly desire that you have the best possible experience connecting with someone new"
The uniqueness of this dating app lies in its simplicity. "Less is more" according to an adage, and the developers of the app adhered to that by ditching overcomplicated algorithm often found in similar apps that limits matches by race, ultimately reinforcing bias. CommComm Traffic Social dating app is an unbiased dating app developed by millennials who are in tune with the street credibility in the current dating market. It's currently available on App Store and Google Playstore
Android Play Store: https://play.google.com/store/apps/details?id=com.wapp.commcomm
iPhone App Store: https://apps.apple.com/us/app/commcomm-traffic-social-groups/id1492791355?ls=1
Media Contact
Company Name: CommComm Traffic Social Groups
Contact Person: Scot
Email: Send Email
Phone: 253 670 8633
Country: United States
Website: play.google.com/store/apps/details?id=com.wapp.commcomm