As a world-class university, the National University of Singapore (NUS) has always been an outstanding performer in the field of medical research. Haier Biomedical has reached a range of cooperation with the University with the help of our local partner DKSH.
To build up secure and stable sample storage conditions, the National University of Singapore has successively purchased a variety of cold chain equipment, such as the -150°C Cryo freezer from Haier Biomedical. In addition, the University has also introduced Haier Biomedical's CO2 incubator and other lab equipment to develop a stable culture environment for the in vitro culture of cells, viruses, and tissues.
DKSH, Haier Biomedical's local partner in Singapore, played an important role in the cooperation between Haier Biomedical and the National University of Singapore. Before that, DKSH found several problems with the University's old equipment, such as high energy consumption and inconvenient use, and proposed Haier Biomedical's solutions to overcome these issues. Upon review, the University recognized Haier Biomedical's products as solution to the university's needs.
"Haier Biomedical provided comprehensive solutions for us to help our university solve all problems at the same time through a single point of contact, and we also appreciated the delivery speed of DKSH. It has the shortest lead time amongst all our suppliers, saving us time and money." Said a researcher from the Faculty of Medicine of the National University of Singapore.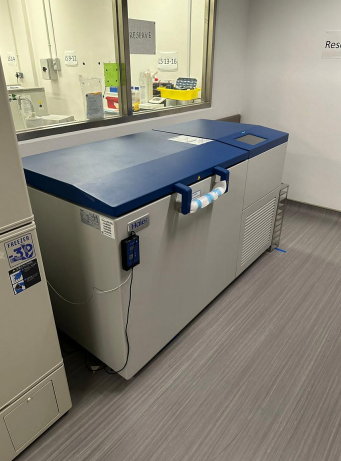 As a featured product in 2022, Haier Biomedical's -150°C Cryo freezer is designed to use hydrocarbon refrigerants only, with the product breaking through the technical barriers of the industry. In terms of security, it uses a self-regulating pressure control system to ensure a stable internal pressure environment for the refrigeration system and transmits the freezer alarms in real-time through a mobile APP to safeguard the samples. With the help of the new-generation hydrocarbon refrigerants combined with the dual-compressor four-stage cascade refrigeration system, the product can adapt to a wide range of ambient temperatures from 10℃ to 32℃, with smaller inner temperature fluctuation, thus achieving better and industry leading stability. The product saves the most energy in the industry, up to 30% and in terms of environmental friendliness, the unit can further protect the environment through the usage of hydrocarbon refrigerants. Additionally, it is super quiet and very suitable for use in labs with a noise level down to 55dB, it provides users with a more harmonious working experience.
Haier Biomedical's CO₂ incubator uses professional and superior technology such as precise temperature control, rapid temperature return, real-time monitoring, and multiple alarms to create a stable cell and virus culture environment for researchers. And to ensures stability and homogeneity, the CO₂ incubator is designed with a quick recovery system with active airflow control technology that enables rapid recovery of controlled temperature and CO₂ levels within 4 minutes of opening the door for 30 seconds, ensuring safety even when multiple people are sharing the incubator.
This cooperation between Haier Biomedical and the National University of Singapore has laid a solid foundation for the company's strategic product export model in Singapore. Moving forward, Haier Biomedical will continue to explore the Singapore market jointly with DKSH for a win-win cooperation.
Original Source: https://www.haiermedical.com/news/HB-and-DKSH-Deliver-to-the-Singapore-Market.html
Media Contact
Company Name: Haier Biomedical
Email: Send Email
Phone: +86-532-88935593
Country: China
Website: https://www.haiermedical.com/