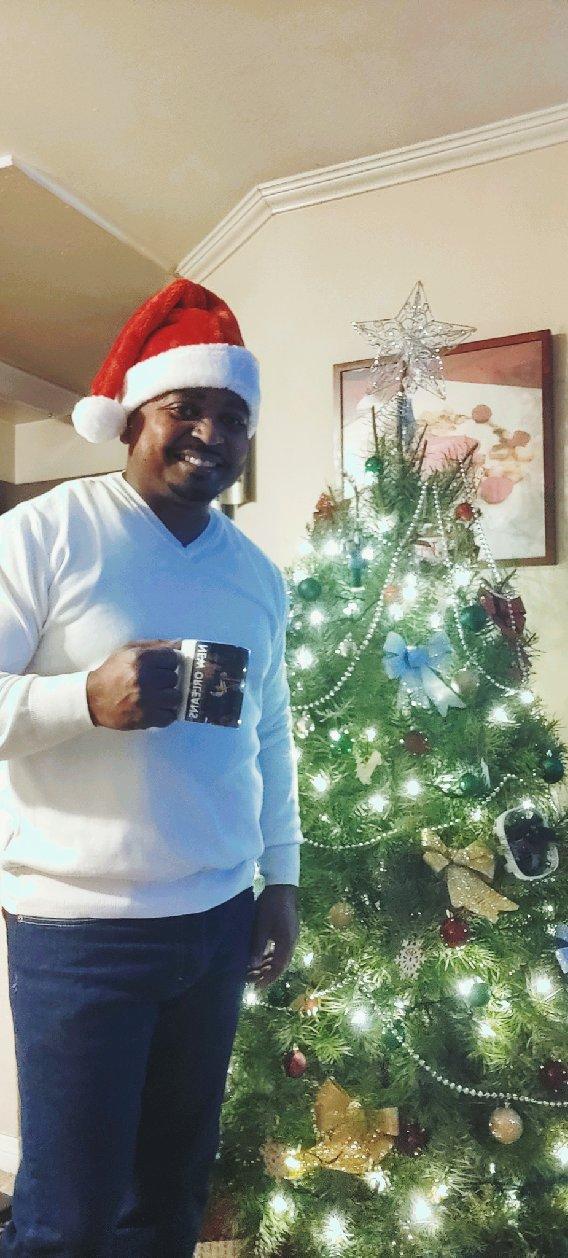 Tis' the season to be surrounded by great food, drinks and good company. This December, Chef to the Stars, Ryan Rondeno is making sure even the grinchiest of folks get in the holiday spirit by teaming up with professional chefs to bring seasonal favorites this holiday season. We've taken the guesswork out of meal-planning with this complete guide of desirable recipes.
1. Roast Turkey with Lemon, Parsley, and Garlic Recipe- Chef Gordon Ramsay

Ingredients (Serves 8–10)
1 free-range turkey (ideally Norfolk Black or Bronze), about 5–5.5kg
sea salt and freshly ground black pepper
2 onions, peeled and halved
1 lemon, halved
1 head of garlic, halved horizontally
6 bay leaves
olive oil, to drizzle
8 rashers of smoked streaky bacon
Lemon, Parsley & Garlic Butter
375g butter, at room temperature
1 tbsp olive oil
finely grated zest and juice of 2 small lemons
3 garlic cloves, peeled and crushed
small bunch of flat leaf parsley, leaves only, chopped
Directions
Preheat the oven to 220°C/Gas 7. Meanwhile, prepare the herb butter. Put the butter into a large bowl and season with salt and pepper. Add the olive oil and mix well. Add the lemon zest and juice, crushed garlic and chopped parsley. Mix well to combine.
Remove the giblets from the turkey cavity. Season the cavity well with salt and pepper, then stuff with the onions, lemon, garlic halves and 2 bay leaves. With your hands, loosen the skin on the breast from both ends of the bird so that you will be able to stuff
the flavoured butter underneath it, making sure you keep the skin intact. Repeat with the skin on the legs – from the lower side of the breast feel your way under the skin and out towards the leg, loosening the gap.
Stuff half the butter mix into the opened spaces under the skin. From the outside of the skin, gently massage the butter around the breasts so that the meat is evenly covered. Finally, insert the rest of the bay leaves under the skin of the breasts.
Place the bird in a large roasting tray, breast side up. Spread the rest of the butter all over the skin. Season well with salt and pepper, then drizzle with a little olive oil. (If preparing a day ahead, cover the turkey with foil and refrigerate at this stage.)
Roast the turkey in the hot oven for 10–15 minutes. Take the tray out of the oven, baste the bird with the pan juices and lay the bacon rashers over the breast to keep it moist. Baste again. Lower the setting to 180°C/Gas 4 and cook for about 2 1⁄2 hours (calculating at 30 minutes per kg), basting occasionally.
To test whether your turkey is cooked, insert a skewer into the thickest part of the leg and check that the juices are running clear, rather than pink. As oven temperatures and turkey shapes and sizes vary, it is crucial to check your turkey about 30 minutes before the calculated roasting time. If the juices are pink, roast for another 15 minutes and check again. Repeat as necessary until the turkey is cooked.
Transfer the turkey to a warmed platter and remove the parson's nose, wings and tips of the drumsticks; reserve these for the gravy. Leave the turkey to rest in a warm place for at least 45 minutes; make the gravy in the meantime. Remove the bay leaves from under the skin before carving. Serve the turkey with the piping hot gravy, stuffing and accompaniments.
2. Truffled Macaroni and Cheese-Chef Ryan Rondeno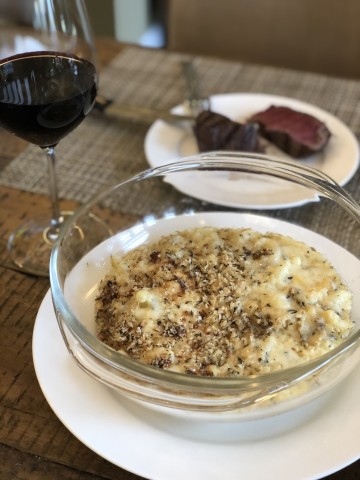 Bring your mac and cheese to a new level with my Smoked Gouda truffled mac and cheese!
Time to cook 01:15:00
Ingredients (serves 8)

1 lbs. elbow noodles
4 oz. butter
½ c. all-purpose flour
2 c. milk
2 c. heavy cream
10 oz. parmesan cheese, freshly grated
12 oz. smoked gouda, freshly grated
28 oz. white cheddar, freshly grated
8 oz. fontina cheese
4 oz. truffle puree
2 eggs
Salt and pepper to taste
Instruction
Preheat oven at 400 degrees.
Butter 9×13 casserole pan. Set aside. In a 4qt pot, fill with water. Once it comes to a boil, season with salt. Cook pasta for 8- 10 minutes. Drain. Toss with 1-2 tbs olive oil and set aside. In a 6-quart pot, add the butter on medium heat. Cook until completely melted. Add flour and whisk until incorporated. This will create a blond roux. Cook for 2-3 minutes. Add milk and heavy cream. Whisk until combined with roux. Cook for 4-5 minutes at medium heat. It will give you a slightly thick consistency. Add all cheeses, except 16 oz. of white cheddar. Cook for 20 minutes. Season with salt and pepper.
Fold noodles and truffle puree into cheese mixture. Fold in eggs until incorporated. Add grated white cheddar cheese. Place mac and cheese mixture into casserole pan and bake for 20-25 minutes or until golden brown.
Note: For an added umami, shave fresh truffles over mac and cheese.
3. Buttery Mashed Potatoes- Rachael Ray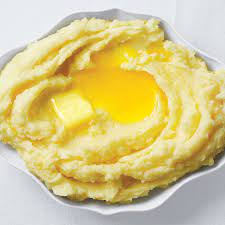 Ingredients (serves 8)
3 pounds baking potatoes, peeled and quartered
3 cloves garlic, peeled
1/2 cup heavy cream
1 1/2 sticks (6 oz.) butter, cut into tbsp
coarse salt
Directions
In a large pot, combine the potatoes and garlic with enough salted water to cover by 2 inches. Bring to a boil over high heat. Lower to a gentle boil and cook until the potatoes are tender, about 30 minutes.
Meanwhile, in a small saucepan, bring the cream to a simmer over low heat. Remove from the heat and add the butter to melt.
Drain the potatoes and garlic and return to the pot. Shake the pan over medium heat for 1 minute to dry the potatoes. Put the potatoes and garlic through a food mill or ricer and add the cream mixture along with 1 tsp. salt, stirring until smooth. Spoon into a serving bowl.
4. Sweet Potato Pie with Gingersnap Crust- Chef Ryan Rondeno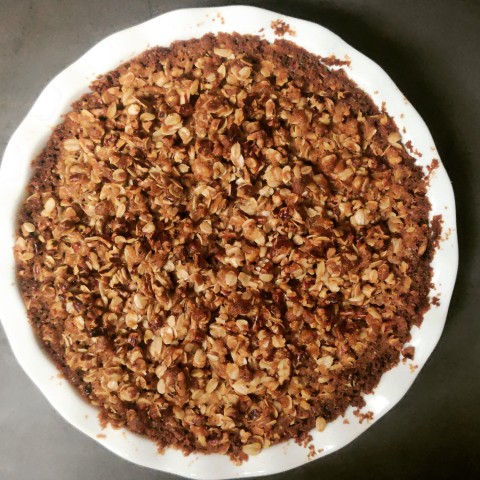 For a delicious accompaniment, Serve with fresh whipped cream.
Time to cook 1:45:00
Serve 8-12
Ingredients
25 gingersnap cookies
¼ cup granulated sugar
Pinch of salt
6 tbs. butter, plus 4oz for streusel
4 sweet potatoes, mashed
2 eggs
7 oz. sweetened condensed milk
½ cup heavy cream
1 tsp. cinnamon
1/8 tsp. ground cloves
¼ tsp. freshly grated nutmeg
¼ tsp. allspice
1 cup light brown sugar
1 cup chopped pecans
1 cup rolled oats
¼ cup all-purpose flour
Instruction
For the sweet potato filling: Heat oven to 375°F On a sheet pan, add sweet potatoes to the pan. Roast for 50-55 minutes or until tender. Remove from oven and allow to cool. Peel and add sweet potatoes to a mixing bowl. Using a potato masher, mash sweet potatoes until smooth. In the same bowl, add sweetened condensed milk, heavy cream, sugar, cinnamon, cloves, nutmeg, and allspice. Whisk until smooth. Add eggs and salt. Whisk until fully incorporated. Set aside.
For the crust: In a food processor Place cookies in the bowl of the food processor; pulse until finely ground. Pour into a medium bowl, and add sugar, salt and melted butter. Press mixture into bottom and sides of 9-inch pie pan or 5 tartlette pans. Bake at 325 degrees for 12 minutes or until slightly darkened. Set aside and allow to cool slightly.
Add sweet potato filling to pie container.
For the streusel topping:
In a 2-quart saucepan, melt butter. Set aside. In a stainless-steel bowl, add pecans, ½ cup of brown sugar, oatmeal, and flour. Fold in melted butter. Mix until combined. Add topping to sweet potato pie.
Turn oven up to 375°F. Pour filling into cooled crust and bake for 30-35 minutes or filling is set. Allow to cool.
Serve chilled or at room temperature with fresh whipped cream.
5. Spiced Apple Cocktai lA spiced apple cocktail that's perfect for the holiday season!- Chef Ryan Rondeno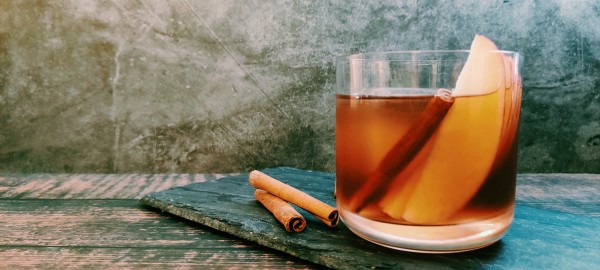 Time to cook 10:00 Serve 2
Ingredients
2oz. whiskey
3 dashes Angostura Bitters
1 cup brown sugar
1 cup water
1 3-inch piece of ginger
2 cinnamon sticks
10 black peppercorns
2 bay leaves
Apple slices for garnish
Instruction
For the ginger simple syrup: In a 2 qt. saucepan, add brown sugar, water, ginger, cinnamon sticks, black peppercorns, and bay leaves. Bring to a simmer and cook until sugar has dissolved. Allow to steep for 15-20 minutes. Cool and set aside.
For the Spiced Apple Cocktail: In a cocktail shaker, add ice, whiskey, Angostura bitters, and 1 oz. of ginger simple syrup. Shake vigorously for 10-15 seconds. Strain into glasses filled with ice. Garnish with sliced apples and cinnamon stick. Enjoy!
About Ryan Rondeno
Chef to the Stars Ryan Rondeno is changing the way people cook at home. He brings gourmet flair and a modern sensibility to simple dishes, producing elegant dinners that feel anything but ordinary. His soufflés, sauces, and dressings have been the talk of many high-profile events. Ryan Rondeno is a private chef to some of the biggest names in Hollywood such as Diddy, Will Smith, Common, Tyrese Gibson, Robert Smith, and more. The culinary wizard brings excellent food and a big flavor to the home kitchen.
Chef Rondeno is the founder and owner of Rondeno Culinary Designs and the Rondeno Spice Collection (Nola Creole Rub, Citrus Herb Rub, and Ancho-Chili BBQ Rub) designed to help cooks of all skill levels enhance the flavor of the dishes. His culinary focus is on the use of grass-fed organic meats and locally-grown organic produce.
https://www.rondenoculinarydesigns.com/
Media Contact
Company Name: ICT
Contact Person: Nolan Bellamy
Email: Send Email
Phone: 3235134804
City: Los Angeles
Country: United States
Website: www.iconnectyou.today