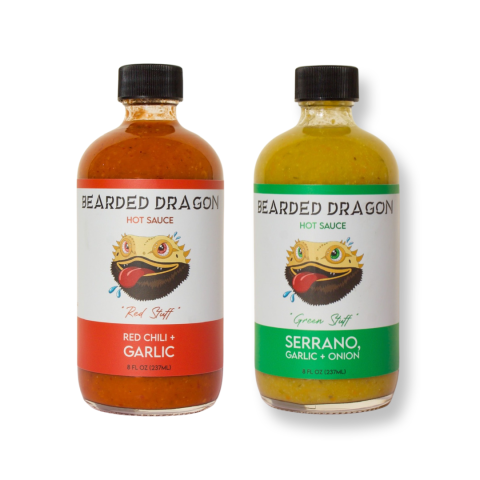 Founded by Greek-American entrepreneur Nick Zambas, Bearded Dragon Hot Sauce is a small-batch hot sauce company that prides itself on creating the perfect balance between heat and flavor. Unlike other hot sauce brands, Bearded Dragon Hot Sauce contains no preservatives, colorings, thickeners, or emulsifying agents, ensuring that every bottle is packed with the most delicious ingredients. As someone who has had ulcerative colitis since high school, Nick believes it is vital that the ingredients be natural and healthy.
Nick Zambas created Bearded Dragon Hot Sauce as a hobby in 2018, a few months after he graduated from college, where he majored in product design and entrepreneurship. Nick comes from a huge Greek and Brazilian family who loves to grow various fruits and vegetables every summer. "At the end of the season, we would gather up all the excess peppers and make our homemade hot sauce (even though we didn't know what we were doing)," Nick recollected.
After growing up around this farm-to-table lifestyle, Nick created his recipe for fun after graduating and working for half a year. He spent the whole summer of 2018 creating new recipes and tweaking them until they tasted just right.
"I would bring these different versions of my sauce to dinner parties and family gatherings and get feedback until the sauce was just right. Once I found my two favorites, I thought, "Why not try and sell these at my family's diner?" And so, I did! I put a bottle on each table in the restaurant and quickly realized that I had a great product on my hands!" Shortly after, he partnered up with his cousin Neo to help run the company. They quickly realized that most other sauces on the market were full of preservatives, thickeners, colorings, emulsifiers, and worse; Bearded Dragon Hot Sauce was NOT going to be like those brands.
"They also all had the same sort of look: same bottle and some crazy over-the-top label. We wanted to simplify things with a sleek design, a unique bottle, and a sauce that only uses natural ingredients. From there, Bearded Dragon Hot Sauce was born."
This remained a hobby for about another year and a half, serving its customers till they finally decided to take it online and reach a bigger audience. Since its formation in early 2020, a month before the global Covid-19 pandemic, the company has been fortunate enough to sell thousands of bottles all over the USA with no retail markets, only eCommerce. They fully sold out twice"
However, since going online, In just a short time, Bearded Dragon Hot Sauce has already gained a strong presence on social media, with over 6,000 followers on Instagram and 12,000 on TikTok. Their viral video, which has over 1.3 million views, showcases the unique and bold flavors of their hot sauce.
Bearded Dragon Hot Sauce is not resting on its laurels yet. In 2023, the company is releasing two new, carefully crafted hot sauces to add to its lineup and will join some specialty retailers on the East Coast. With big goals and spicy dreams, the company will continue to tackle this market the only way they know how to! Naturally!
To know more about the fascinating Bearded Dragon Hot Sauce, visit the company's website at www.beardeddragonhotsauce.com
Media Contact
Company Name: Bearded Dragon Hot Sauce
Contact Person: Nick Zambas
Email: Send Email
Country: United States
Website: https://www.beardeddragonhotsauce.com/