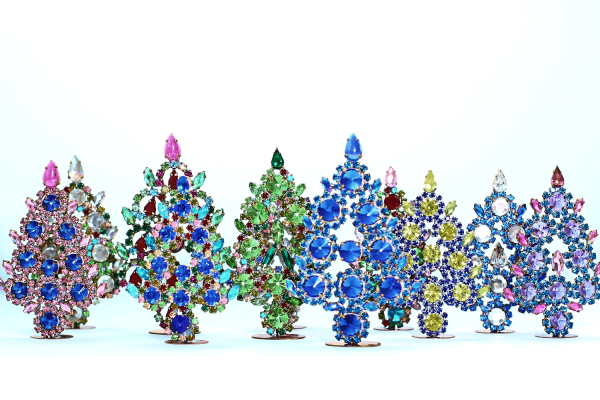 Rhinestone Tree is a popular Etsy shop known for its unique collection of vintage Christmas trees made of dazzling rhinestones. This shop offers a variety of, colorful rhinestone Christmas trees for anyone who loves vintage Christmas decorations. As of now, the shop has 36 varieties of Crystal Christmas trees and Small Crystal trees. For a limited period of time, the shop is offering a flat 20% discount on all of its products.
Rhinestone Tree is based in Prague and specializes in offering Czech Rhinestone Christmas trees. It uses high quality and sparkling rhinestones in a variety of colors to create small-sized, unique Christmas trees that make the perfect décor for Christmas and any other festival. Most of the rhinestone trees offered on the online store are vintage, from before 2000 and in fact some of the items are absolutely rare as only a single quantity is available.
Konstantin, the shop owner loves to collect these Rhinestone trees that are about two decades old and offering them for sale at great prices. The Crystal Christmas tree is handmade using rhinestones, glass stones and crystals by expert craftsmen from Prague. They sparkle fabulously in the sun and in indoor lighting. One of the products to look out for is the Blue and pink rhinestone Christmas tree which is a rare find and there's only 1 of these is in stock. The blue and white rhinestone tree is another beautiful item by the Etsy store that can lighten up any space where it is kept. Most of the rhinestone trees are 3.2 inches in height and perfect to be kept on the tabletop, dashboard, and other places.
The shop offers free worldwide shipping on all products.
Check out all the rhinestone trees at etsy.com/rhinestonetree.
Media Contact
Company Name: RhinestoneTree
Contact Person: Konstantin Bohati
Email: Send Email
Country: Czech Republic
Website: www.etsy.com/shop/RhinestoneTree