The Uv Gullas College of Medicine is a top medical institution based in the Philippines that has recently completed 100 years in the industry.
The Uv Gullas College of Medicine is one of the topmost medical institutions in The Philippines. It was established in 1919, and has recently completed 100 years in 2019 in medical education.
It is now a sprawling 8-campus institution and there are two campuses located in Cebu City. The primary university campus is situated in Cebu City's downtown region. Over the years, it has become a top destination for study MBBS abroad for students from India and many other countries.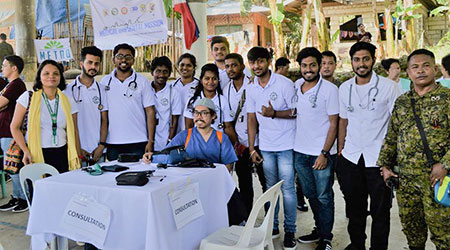 Top medical faculties provide lectures and education in this institution, and students can be assured of the best MBBS education here. The faculty members of the college come with a lot of experience. This academic institute has many modern facilities and amenities to ensure a comfortable and convenient stay for students. Uv Gullas COllege of Medicine Hostel offers seperate hostel for Boys and girls. There is 24/7 security surveillance with CCTV to keep an eye on students and staffs, which ensure complete safety.
In the main campus, which is a 6-storeyed building, there is also a gymnasium that can be used by students who would like to keep physically fit other than educating themselves. Students can get the best medical courses in the institute at affordable costs, which means even those who are not from a very well-to-do background can pursue MBBS education here and establish a career. They can become established medical professionals after studying an MBBS Abroad course here.
About Uv Gullas College Of Medicine
The Uv Gullas College of Medicine is located in Cebu City the Best Country to Study MBBS, The Philippines. It has some of the best medical courses on offer for students, and its fees are affordable. It has given many skilled medical professionals to the industry.
For further information or for the purpose of enquiry, please visit the website https://www.uvgullasmedicalcollege.com
Media Contact
Company Name: UV Gullas College of Medicine
Contact Person: Dr. Herald Miller
Email: Send Email
Phone: 9944737004
Address:1st Floor, EJR Enclave Butt road, Near Bus-stop
City: Chennai
State: Tamilnadu
Country: India
Website: www.uvgullasmedicalcollege.com/