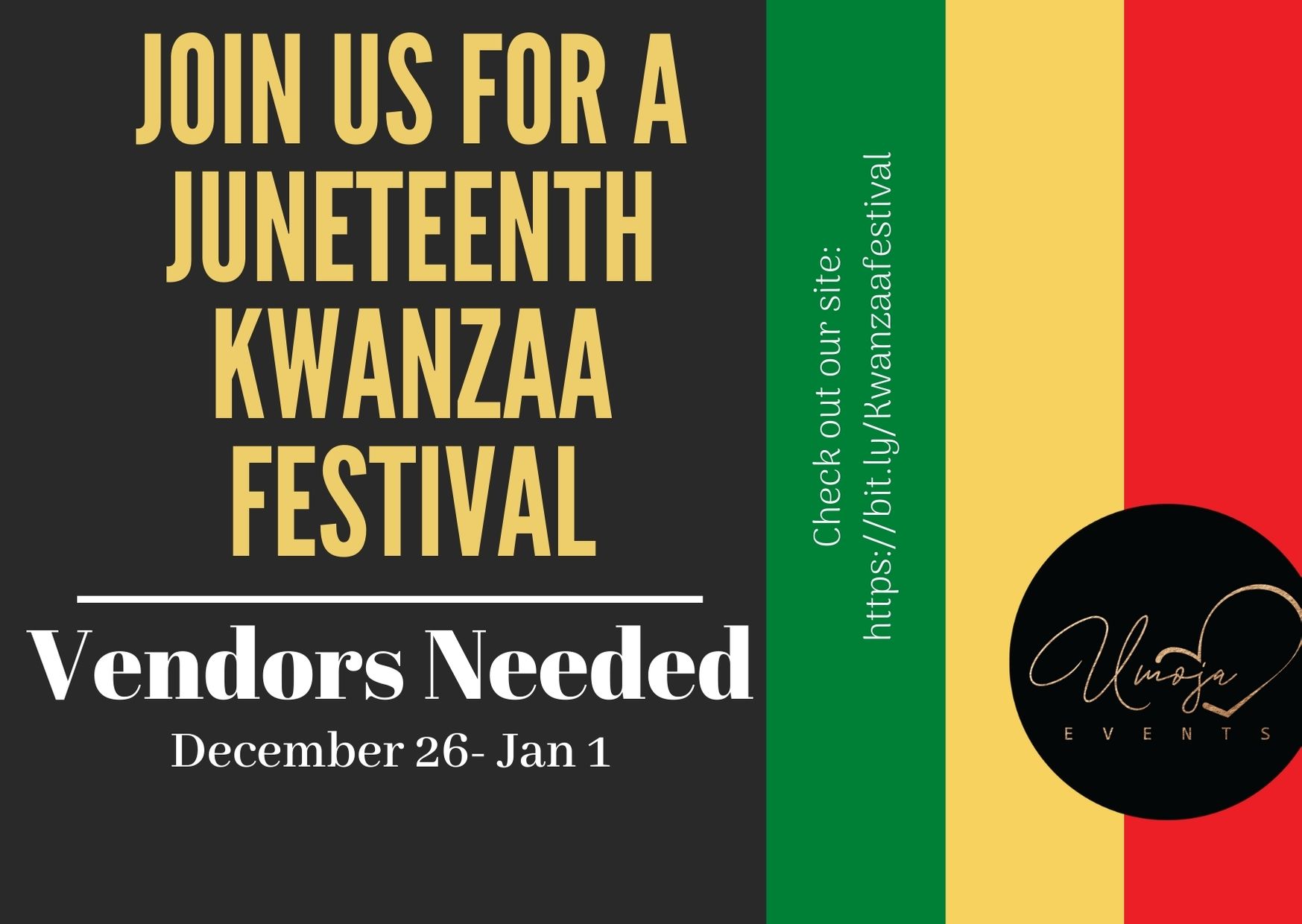 The Kwanzaa Festival and Online Market is showing a ray of hope to Black entrepreneurs and all those whose business has taken a hit during the Covid-19 pandemic. The festival and marketplace will be held between December 26, 2020 – January 1, 2021, and hosted by Umoja Events and its charismatic CEO, the Brownsville Mom and 2020 Robin Hood 'Hero of New York', Athenia Rodney.
Black business owners looking for good news should look no further than the Annual Kwanzaa Festival and Online Market, which has gone ONLINE! The event will launch on Saturday, December 26 (9 am to 5 pm), and is among the new platforms that are launching new ideas and giving a sales outlet for small businesses hit by the pandemic.
"We are fundraising to support our Black-owned small business and youth entrepreneurs, so they can get a step in the right direction with a small grant in addition to community support," says Athenia, CEO, Umoja Events.
The Kwanzaa Festival and Online Market is popular with small business owners for making healthy sales during the Holiday season, and this time it will be virtual. The festival also celebrates the African-American culture, and the finale is a communal feast called Karamu (created by Dr. Maulana Karenga and inspired by African harvest festivals).
Festival highlights at a glance:
Talks that focus on education for the whole person (child mindfulness, finance, health, beauty, women's products)

Activities such as stories, book readings, children's games, and family fun

Performances, fashion show and talks empowering the Black community

Full presentation of all the components of Kwanzaa

Live auction starting on December 20 and ending on January 1: A fundraiser for grants for small business owners that register for the Juneteenth 2021 celebration.

The year 2020 has been eventful, with several celebrations, starting with Martin Luther King Day in January, Black History Month in February, and Women's history month in March. December will be just the time to celebrate the power of the Black community giving back to its entrepreneurs. With many small businesses having to shut down, and others struggling to survive, the festival and marketplace aims to bring relief and revenue. This entire year, the Juneteenth NY Board has planned various events based on the seven principles, and the festival is a great way to end and start a new year.
Athenia Rodney, the Brownsville wife, mom-of-three, and entrepreneur, has worked hard in the last nine months to offer community services as the pandemic raged across the country, with her family battling Covid-19, and tragedies like a fire and a stroke. The live auction will be available on the official website with users able to bid on each item.
To register and participate in the Kwanzaa Festival and Online Market, visit: https://bit.ly/Kwanzaafestival
Vendors are welcome to join and participate in the event and maximize its potential for everyone.
For more information, please visit: www.umojaevents.com and www.juneteenthny.com
Media Contact
Company Name: Umoja Events
Contact Person: Athenia Rodney
Email: Send Email
Phone: 646-522-9869
Address:1390 East 53rd Street
City: Brooklyn
State: NY
Country: United States
Website: http://www.Umojaevents.com