Introduce:
Corn, also known as maize, has been a staple food in many cultures for thousands of years. Not only is it delicious, but it's also a great source of essential nutrients and fiber. In recent years, researchers have identified compounds called peptides in corn that have shown promising health benefits. In this blog post, people will explore the various health benefits of corn peptides and why you should include them in your diet.
What is Corn Peptide?
Peptides are short chains of amino acids, the building blocks of proteins. Corn peptides are extracted from corn protein through an enzymatic hydrolysis process. This process breaks proteins down into smaller chains of amino acids, which form peptides. These peptides have unique properties that can have a positive impact on our health.
Health Benefits of Corn Peptide Powder:
1. Antioxidant properties: Corn peptides are rich in antioxidants that help protect our cells from damage caused by harmful free radicals. By neutralizing free radicals, corn peptides may reduce the risk of chronic diseases such as heart disease, cancer and diabetes.
2. Blood pressure regulation: Studies have shown that corn peptide has a potential blood pressure lowering effect. They can help lower high blood pressure by inhibiting the action of enzymes that constrict blood vessels. Including corn peptides in your diet may help maintain healthy blood pressure levels.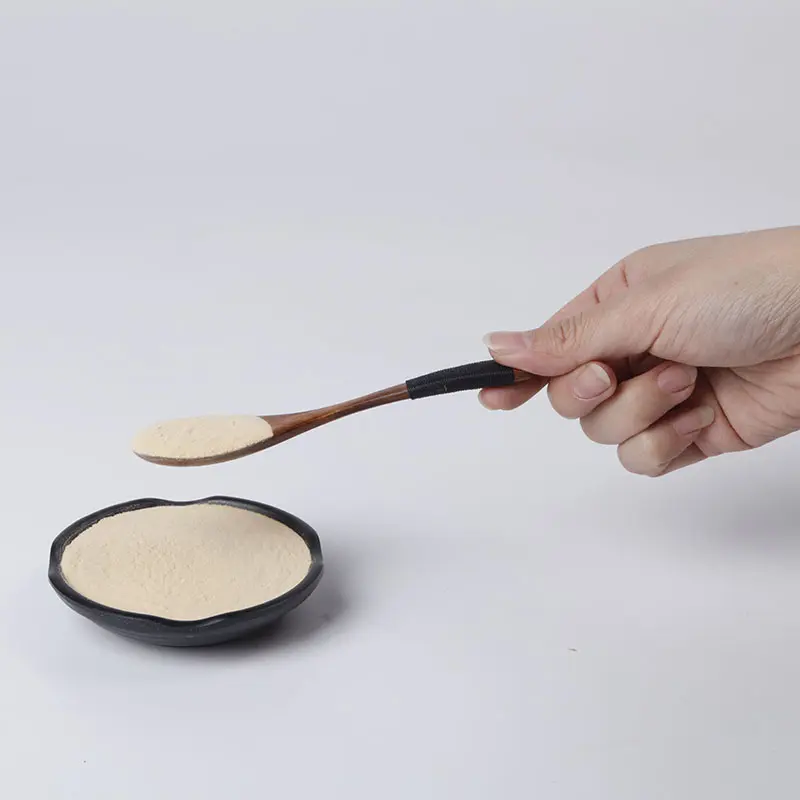 3. Anti-inflammatory effects: Chronic inflammation has been linked to a variety of diseases, including arthritis, obesity, and certain types of cancer. Corn peptides have been found to have anti-inflammatory properties, thereby reducing inflammation in the body and promoting overall health.
4. Immune System Support: Adding corn peptides to your diet can boost your immune system. They help stimulate the production and function of immune cells, making your body more resistant to infection and disease.
5. Digestive system health: Corn peptide contains dietary fiber, which plays a vital role in maintaining the health of the digestive system. Fiber promotes regular bowel movements, prevents constipation, and supports gut health by nourishing beneficial gut bacteria by acting as a prebiotic.
6. Weight management: If you're trying to lose a few pounds, corn peptides may help. They help induce satiety, keeping you feeling fuller for longer. By reducing hunger and appetite, corn peptides may support weight management efforts.
Incorporate corn peptides into people's daily diet:
Now that peple understand the health benefits of corn peptides, the question arises: How do people incorporate them into our diets? Here are some simple suggestions:
1. Corn Gluten Meal: Add corn gluten powder to your smoothies, protein shakes or baked goods.
2. Corn Snacks: Look for snacks made from corn, such as cornflakes or popcorn, and enjoy the health benefits of corn peptides while satisfying your cravings.
3. Corn-based meals: Prepare corn-based dishes, such as tortillas, cornbread, or corn salad, to incorporate this healthy ingredient.
In conclusion:
Corn peptides are an important addition to a healthy diet. With their antioxidant, anti-inflammatory and immune-boosting properties, they have many health benefits. By adding corn peptides to people's meals, they can enhance their overall health and support their long-term health goals. So next time they're at the grocery store, don't forget to pick up some corn products and enjoy the benefits of this nutrient.
Media Contact
Company Name: Shandong Taiai Peptide Biotechnology Co., Ltd.
Email: Send Email
Phone: 0086-19933321205
Address:The right side of Guihua 1st Road, Heze Modern Medicine Port, Changjiang East Road, Development Zone
City: Heze
State: Shandong
Country: China
Website: https://www.taiaitaibiology.com/