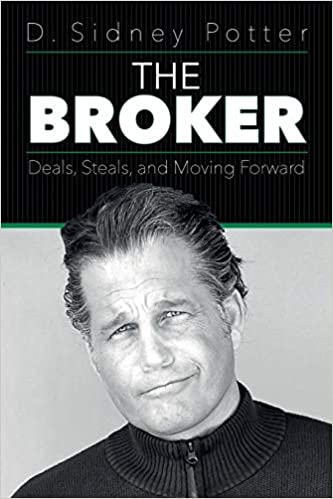 D. Sidney Potter, former commercial real estate broker with national brokerage Marcus & Millichap, just released his third book, The Broker: Deals, Steals and Moving Forward. Mr. Potter has street credibility on this topic as it relates to commercial real estate brokerage, and can converse on mortgage operations as it relates to defaults, vacancies, repurchase portfolios, refinances, eviction waivers and post plague issues. As a present day residential mortgage operations professional, he has worked for Deloitte & Touché, Accenture and Bank of America on issues related to money laundering, compliance, mortgage buybacks, and the current state of the market as it relates to mortgage refinances and home sales as a result of the plague.

As a seasoned industry writer, Mr. Potter has been a contributing writer to several of the following periodicals: American Thinker, CounterPunch.com, Inman Real Estate, Enter Stage Right, iReport (CNN), Dissident Voice, Newsvine.com (apart of MSNBC), and The Huffington Post.
Mr. Potter's first two books, The Flip (2010), and The Essayist (2017), which received critical acclaim from NY Times Bestsellers, Politicians, and Radio Hosts alike, can be reached at all major retail outlets, along where The Broker is sold as well.
The Broker promises not to disappoint. It recounts Mr. Potter's meteoric rise at Marcus & Millichap in the late 1990's, a national commercial real estate brokerage and the race relation issues he observed in a masculine and capitalistic industry.
Testimonials

"The author presents a series of anecdotes as he learned the ins and outs of working at the Los Angeles office of Marcus & Millichap, which, he says, "practically breeds brokers by the dozens." However, his attention to the subjects of race and race relations offers a refreshing perspective on the industry that one doesn't often see." – Kirkus Reviews
"Potter has written a book that is by turns a professional manifesto, a treatise on people and behaviors, a stream-of-consciousness autobiography, and a warts-and-all professional confession. It's everything a person might want to know about commercial real estate but didn't know who to ask." – The U.S. Review of Books

"The Broker," by D. Sidney Potter, is a memoir about the commercial real estate business every aspiring broker should read. The author talks honestly about working his way up, and racial issues in real estate, drawing from his personal experiences and direct observation." – Reader Views
For more information, visit https://thebroker.tv/index.html or https://www.amazon.com/Broker-Deals-Steals-Moving-Forward/dp/1641117001/
Media Contact
Company Name: Potter Equities
Contact Person: Media Team
Email: Send Email
Country: United States
Website: https://thebroker.tv/index.html