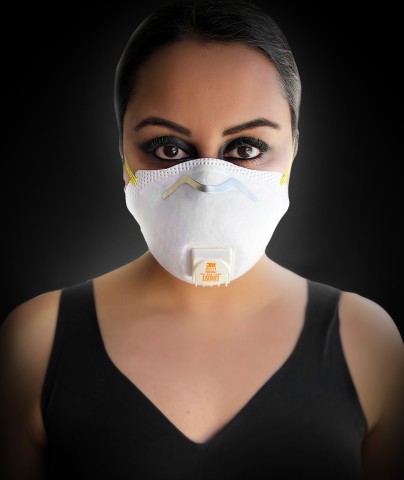 Adiha Khan is a Texas-based dentist who was recently furloughed due to government mandates postponing all elective dental treatment. As a health care provider, she understands the importance of having the right PPE, especially with the amount of aerosols she was exposed to, having been in close contact with so many patients daily. Apart from being a dedicated dentist, she is also a trained vocalist, and used these skills to create her first original song called "Locked in Quarantine."
"Locked in Quarantine" is dedicated to healthcare professionals and serves as a wake-up call to the "lions", the leaders of our nation, serving as spectators while more and more healthcare workers and patients die from the ravages of COVID-19.
"It is truly disheartening and disappointing to see our doctors fighting losing battles with lack of proper protection for themselves and a lack of equipment available to use to save the many dying patients", states Adiha.
Adiha's "Locked in Quarantine" perfectly describes the plea of healthcare professionals who are working day and night to save lives from the COVID-19 pandemic with lack of proper PPE and equipment. She further adds, "I felt an urgency to create something impactful to address the current state of our nation, a call to action you might say."
Adiha's powerful voice, propulsive cadence, and hard-hitting songwriting skills shine in her first single that surely leaves an impact. She derived her passion for music from her father who was a guitarist in a band called "The Sound of the Silhouettes", during his younger days in Pakistan. She always wanted to create music but couldn't really find the time to devote towards it because she started practicing as a full-time dentist as soon as she graduated from University of Tennessee College of Dentistry in 2017. Seeing the struggles of healthcare workers battling the pandemic on the frontlines even inspired her to create her own slogan related to the virus, #RiseAboveCOVID-19. It was clear from speaking to her that she aims to not only release music, but to create a movement.
Having spent most of her childhood in Memphis, TN, a city with a rich music scene, Adiha dreamt of being on shows like American Idol and contributing to the music world in her own way. She was fully supported by her parents who found her a vocal coach named Rosemary Hurt when she was in high school. "Mrs. Hurt," Adiha affectionately called her, trained Adiha in Italian Opera and other classical pieces and helped her discover and develop her powerhouse vocals. The haunting, resonant soprano vocalizations in the song give testament to the beauty of classical training merging with modern music, yet also serve as a voice for "the fallen," the victims of COVID-19.
Following the footsteps of her older siblings, also dentists, Adiha too got into dental school. Being so busy with school full-time, she lost touch with music. After completing her degree, she moved to Texas in 2017 and started working full-time as an Associate Dentist with Lake Jackson Modern Dentistry in Lake Jackson, TX.
Adiha has used her present time since she was furloughed to take inspiration from the current situation and re-connect to her vocal prowess, all culminating into the creation of a song that sends a powerful message to #RiseAboveCOVID-19". She states to the "lions", "Roars don't make N-95 masks, nor do they raise the dead."
Adiha is also working on another song titled "The Burning One" that she'll be releasing soon.
Adiha's debut single "Locked in Quarantine" is available on YouTube and SoundCloud. Check her song out below:

Video Link: https://www.youtube.com/watch?v=GZVNw0W4bsA
Media Contact
Company Name: Adiha Khan Music
Contact Person: Adiha Khan
Email: Send Email
Country: United States
Website: www.youtube.com/watch?v=GZVNw0W4bsA