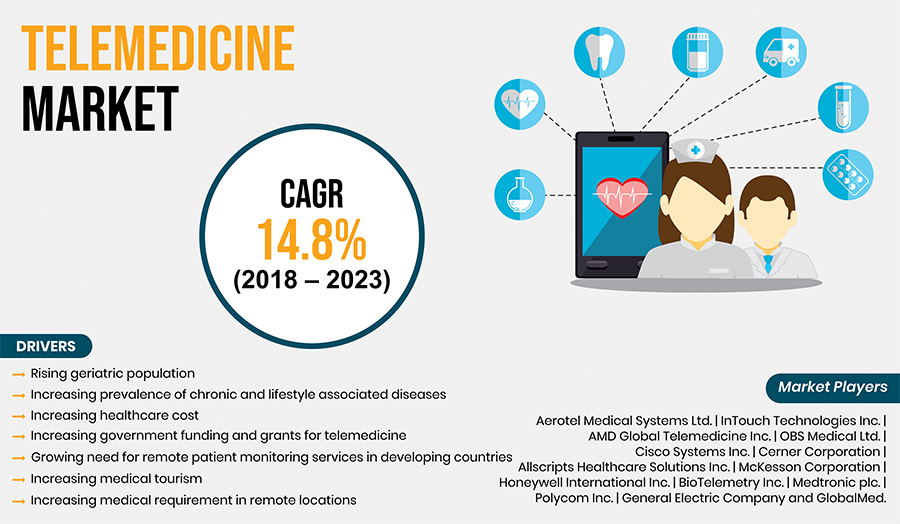 The telemedicine market size was valued at $21.5 billion in 2017 and is projected to witness a CAGR of 14.8% during the forecast period by P&S Intelligence.
The growing disease burden and rising inflation have led to an exorbitant increase in the healthcare cost globally. This has impacted the prices of drugs and the technologies used in healthcare, administrative cost, as well as the consulting fees of doctors. The Centers for Medicare & Medicaid Services reported that in the U.S., the price of medical services would witness an average increase of 2.7% during 2020–2025, compared to the average increase of 2.4% in 2018–2019. This surge in healthcare costs is making healthcare inaccessible to large strata of society, to curb which social care and healthcare providers are finding ways to provide affordable services. Telemedicine is one such way of providing quality health services at significantly reduced costs, which has revolutionized the healthcare sector.
A CAGR of 14.8% has been predicted by P&S Intelligence for the growth of the telemedicine market in the coming years, which would help it ultimately garner $48.8 billion compared to $21.5 billion in 2017. Telemedicine is the subset of medical services that enables healthcare professionals to diagnose, evaluate, and treat patients using telecommunication equipment, such as video and audio devices. Various services, such as tele monitoring, tele consulting, tele training, and tele education, come under telemedicine. The service is is popularly provided two ways, tele-home, and tele-hospital and clinic. In 2017, the larger revenue share in the market was held by tele-hospital and clinics as they provide extensive telemedicine services among different hospitals, and connect hospitals to different experts and clinics.
Download sample copy of this report at: https://www.psmarketresearch.com/market-analysis/telemedicine-market/report-sample
As governments across the globe are also keeping an eye on the increasing healthcare expenditure, they are introducing various measures and initiatives to curtail it. This is evident in the form of growing funding and initiatives for the satisfactory implementation of telemedicine facilities. For instance, in 2015, an initiative for telemedicine, 'Sehat,' was launched by the Government of India in collaboration with Apollo Hospitals. The aim behind this initiative was to connect people in rural settings with doctors in urban areas, who have better clinical experience, via video conferencing. Similarly, a sum of $23.0 million was granted by the U.S. Department of Agriculture in 2016 to 36 telemedicine and 44 distance learning projects. This was done to engage and connect rural communities with educational and medical experts to improve their accessibility to healthcare services.
Telemedicine is deployed in various branches of medical sciences, such as dermatology, neurology, gynecology, orthopedics, and cardiology. Over 76.0% of hospitals in the U.S. are connected with telehealth, and these provide these services in all such disciplines. Owing to the increasing awareness about skin diseases and conditions, such as psoriasis, rashes, acne, moles, and skin cancer, in 2017, the highest demand in the telemedicine market was generated by the dermatology specialty. In the coming years, neurology is expected to drive the demand for telemedicine as neurological emergencies, such as strokes, seizures, and sudden paralysis, require immediate attention, which can be provided with the help of telemedicine.
Pre-Purchase Inquiry at: https://www.psmarketresearch.com/send-enquiry?enquiry-url=telemedicine-market
Browse another reports by P&S Intelligence
Mobile Health (mHealth) Market
North America contributed 37.8% revenue to the market in 2017, which was the highest of all regions. The key factors behind the dominance of the region in the mHealth market are the growing geriatric population, increasing healthcare spending, improving consumer access to connected medical devices, and rising prevalence of lifestyle-associated and chronic diseases. It is because of these reasons that the continent will continue being the largest user of mHealth during the forecast period.
https://www.psmarketresearch.com/market-analysis/mobile-healthcare-market
Digital Health Market
During the forecast period, the fastest growth in the digital health market is expected to be witnessed by the individuals division, at a CAGR of 21.9%. This would be because of the increasing penetration of IT devices in the everyday life of people across the globe.
https://www.psmarketresearch.com/market-analysis/digital-health-market
Media Contact
Company Name: P&S Intelligence
Contact Person: Abhishek
Email: Send Email
Phone: +918887787886
Address:Noida Sector 2
City: Noida
State: UP
Country: India
Website: https://www.psmarketresearch.com/market-analysis/telemedicine-market