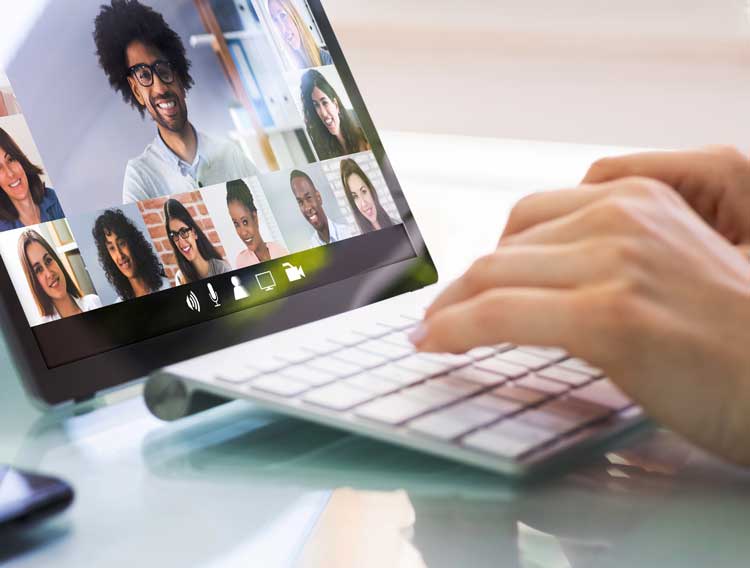 As partners, TELECO will help every step of the way in making sure their customers are getting the best solution for their businesses. TELECO's cutting-edge technologies give every user peace of mind in knowing their work can still get done, whether they're in the office, traveling across the country, or across the world!
The company has a variety of tools ranging from collaboration suite to DaaS and call forwarding to ensure businesses receive many remote-working solutions in one place.
Until 2020, remote working was a rare accommodation, usually only made to meet very specific needs. The outbreak of COVID-19 made teleconferencing and telework technology a vital solution to help many businesses survive. Now, more and more businesses are taking advantage of the full value remote work technologies can offer. Many companies are even proposing remote work as a long-term option to their entire staff. TELECO has emerged as the market leader in helping organizations set up remote working solutions for their employees.
As the world begins to re-open from the vast shutdowns caused by the coronavirus pandemic, remote working is seen as a major trend. According to a survey from U.S.-based Enterprise Technology Research (ETR), the percentage of employees worldwide who are working from home is expected to double in 2021 as remote productivity has allowed businesses to thrive during the coronavirus pandemic.
In the US alone, 25-30% of the workforce will be working from home multiple days a week by the end of the current year. With this change comes the need for business owners to continue implementing the right technologies for their business, making sure operations run smoothly on and off-site. When the pandemic first hit, TELECO quickly implemented the technologies needed to make sure its employees were able to work remotely utilizing the latest remote work tools that keep the team connected seamlessly across any location.
And by any location, we really mean 'ANY' location. This was recently demonstrated by Florencia Hernandez, VP of Marketing at TELECO. After a whole year without being able to visit her family in Buenos Aires, Argentina due to the current pandemic, Florencia was finally able to fly in December 2020.
She stayed in Argentina for almost a month, where she took her business laptop and gave her native city a "try" to see how working remotely would work being so far away. It was a total success!! All technologies used performed without any interruption. Working from a foreign country really put the remote work tools to the test. The remote work tools Florencia used while in Buenos Aires included:
Video meetings via both laptop and mobile device: 100% browser-based, so she could join anytime, anywhere without having to download any software.
Desktop as a service (DaaS): She was able to access any document stored in the cloud, from anywhere, at any time.
Microsoft Teams: A tool that allowed her to not only interact with TELECO team members but also bring external participants to join Team meetings when necessary.
Mobile softphone and desktop softphone: Made her computer a fully featured phone at all times.
Call forwarding: A feature that routed her incoming calls to her cell phone and softphones.
The combination of these technologies resulted in a successful workflow throughout the month she was working remotely. In one of her Teams meetings, her boss made the joke:
"Flor, your internet works better out of the country than when you're just a few minutes from the office!"
TELECO's more confident than ever that wherever its customers are in the world, TELECO has them covered! The company has also partnered with Star2Star to offer many business solutions to assist with remote work tools such as:
Call Forwarding: Incoming calls can ring to a user's home, office, and cell phones, either one at a time or all at once.
Mobile Softphone & Desktop Softphone: Turn a user's computer into a fully-featured phone that is ready to take full advantage of all of Star2Star's Unified Communications features.
Text Messaging: Seamless communications with single number service using employee's desk phone numbers or other designated lines when communicating via texting.
Video Meetings: Host and join online meetings from any device on the video platform designed to be secure and flexible. Share screens simultaneously and even manage attendees with virtual lobby controls.
Desktop-as-a-Service: Employees can log in to virtual desktops, apps, and cloud storage via an encrypted portal and enjoy the same level of productivity whether they are working from their home desktop, laptop, tablet, or even a mobile phone.
Mobile Faxing: Enables digital faxing capabilities from a smartphone.
Collaboration Suite: Star2Star's Team Hub makes meetings more productive than ever – no formal office required. Utilize team messaging with individuals or groups, file sharing management, productivity tools, and more.
Integration: Empower employees with tools like Business SMS and CRM integrations and ensure that they stay connected with customers the same way at home as they would in the office.
TELECO & Star2Star's Remote Workforce makes it possible for every employee to stay connected regardless of where they are located, which results in increased productivity and profit.
To learn more about TELECO or to procure their services contact them via e-mail, phone or visit their website.
About Teleco:
TELECO started as a single location telephone interconnect company and began distributing phone systems to interconnects throughout the US. Today, TELECO offers Cellular & Public Safety Distributed Antenna Systems, Unified Communications as a Service, Business Phone Systems, TELECO's Perfect View™ Video Surveillance and Building Access Control, Structured Cabling, and Managed IT Services. TELECO distributes voice, data, and video products to dealers throughout the United States.
Media Contact
Company Name: TELECO, Inc.
Contact Person: Florencia Hernandez
Email: Send Email
Phone: (800) 800-6159
Address:430 Woodruff Road Suite 300
City: Greenville
State: SC
Country: United States
Website: https://www.teleco.com