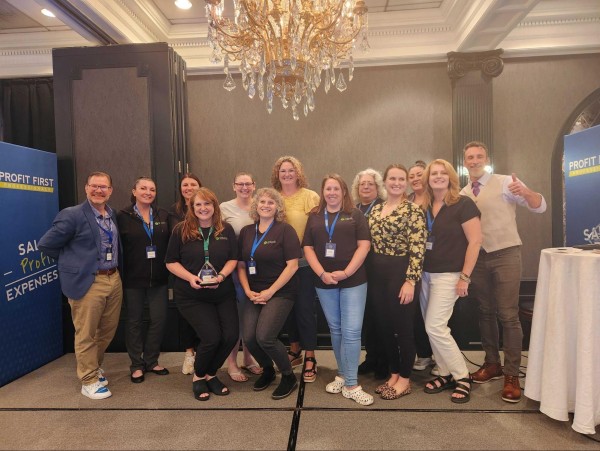 In a remarkable achievement, Sum of All Numbers has been awarded the Profit First Professional Firm of the Year for 2023, with Michelle Scribner as the CEO.
The Profit First Professionals Firm of the Year award is a highly coveted honor presented by Profit First Professionals, an organization that certifies accountants, bookkeepers, and coaches in the Profit First methodology. This award recognizes excellence in implementing Profit First principles and achieving remarkable growth. Recipients of this award are selected through a rigorous process that combines internal assessments and peer voting.
Co-founded by serial entrepreneur Mike Michalowicz and Ron Saharyan, Profit First Professional's mission is to eliminate entrepreneurial poverty. 'Sum of All Numbers' mission to drive entrepreneurs toward financial peace is perfectly aligned with this objective, realized through personalized strategies and financial solutions tailored to each business owner's unique needs and circumstances.
In an interview, Michelle Scribner provided insights into the company's transformation over the past few years. She took over as the CEO of Sum of All Numbers in 2020 during the challenging COVID-19 pandemic. Recognizing the critical role that Profit First principles played in helping businesses weather the storm, Michelle initiated a pivotal shift. Under her leadership, Sum of All Numbers made consulting an integral part of their bookkeeping offerings. This empowered clients to manage cash flow more effectively, achieve fiscal health, and ensure business owners receive their deserved earnings.
Since implementing this transformation, Sum of All Numbers has experienced substantial growth, with the company's annual revenue increasing from $1.2 million to over $2 million. The firm's client base has expanded to serve nearly 200 clients across the United States.
Michelle believes that one of the significant achievements leading to the recognition is the successful scaling of 'Sum of All Numbers' coaching program. The company trained their account managers to consult more effectively with clients, reducing the reliance on the CEO. This means their coaching services can benefit a broader range of businesses without overwhelming the company's leadership.
'Sum of All Numbers' commitment to specializing in specific market segments contributes to their well-deserved award. This approach strongly resonates with Profit First Professionals' advocacy for niche markets. By concentrating its expertise in six areas — real estate, construction, service industry, high-tech, hospitality, and non-profits — the company is proud of its proficiency in serving clients within these sectors.
The journey to receiving the Profit First Professional Firm of the Year award was marked by continuous improvement and innovation at Sum of All Numbers. Michelle's dream of helping 100 businesses in 2020 now seems within reach, thanks to the exceptional work she and her team have put into serving their clients with expertise, efficiency, and dedication.
While Michelle Scribner humbly acknowledged that the award was a result of striving for excellence and continually seeking ways to better serve their clients, it's evident that Sum of All Numbers has not only achieved extraordinary growth but has also made a lasting impact in the financial consulting industry.
About Sum of All Numbers:
Sum of All Numbers is a financial consulting firm specializing in the Profit First methodology. The company's mission is to help entrepreneurs achieve financial peace and prosperity by implementing proven financial strategies. With a strong commitment to their clients' success, Sum of All Numbers has grown into a trusted partner for businesses looking to improve their financial management and profitability.
Media Contact
Company Name: Sum of All Numbers
Contact Person: Michelle Scribner, CEO
Email: Send Email
City: Loomis
State: California
Country: United States
Website: sumofallnumbers.com