Sourdough Market by Type (Type I, Type II and Type III), Application (Bread & Buns, Cookies, Cakes, Pizza), Ingredients (Wheat, Barley, and Oats), and Region (North America, Europe, APAC, South America, RoW)
The global sourdough market is estimated at USD 2.3 billion in 2023 and is projected to reach USD 3.5 billion in 2028, at a CAGR of 9.0%. The significant shift in consumer preferences towards healthier and natural food options and sourdough bread aligns perfectly with this trend. The market is driven by the expanding product offerings of manufacturers, who are introducing a wide range of sourdough-based products like baguettes, rolls, and even pastries. The increasing availability of artisanal and premium baked goods in supermarkets and specialty stores also contributes to market growth.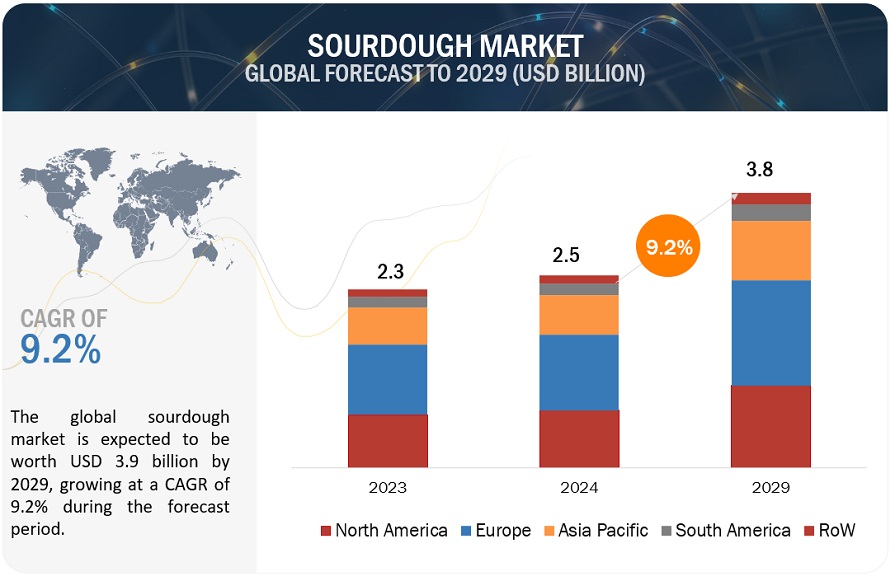 Download PDF Brochure: https://www.marketsandmarkets.com/pdfdownloadNew.asp?id=212823308
Key Highlights the Sourdough Market
Here are some key highlights of the sourdough market:
1. Rising Popularity: Sourdough bread has experienced a surge in popularity in recent years due to its unique flavor, texture, and perceived health benefits. Consumers are increasingly seeking artisanal and traditional bread options.
2. Health and Wellness: Sourdough bread is often perceived as a healthier alternative to conventional bread because of its natural fermentation process, which can make it easier to digest and may have lower glycemic index levels.
3. Gluten-Free Options: The market has witnessed the emergence of gluten-free sourdough variants to cater to consumers with gluten sensitivities or celiac disease. This has expanded the customer base.
4. Innovation in Flavors: To cater to evolving consumer tastes, sourdough producers are experimenting with various flavors, from classic whole wheat and rye to more exotic options like olive, rosemary, and sun-dried tomato.
5. Sustainability: Sustainability is a growing concern in the food industry, and sourdough production aligns well with this trend. The natural fermentation process can reduce the need for additives and preservatives, contributing to a more sustainable product.
6. E-commerce Growth: The online sale of sourdough products has witnessed substantial growth, with consumers increasingly turning to e-commerce for convenient access to high-quality, freshly baked sourdough bread.
The oats segment is projected to grow at the highest rate during the forecast period.
Increasing consumer awareness of the health benefits of oats, such as high fiber content and gluten-free properties, is driving the demand for oat-based products. The shift towards healthier dietary preferences, including vegan and plant-based diets, is also contributing to the popularity of oats. Manufacturers are innovating and introducing a variety of oat-based products to cater to evolving consumer preferences. The sustainability aspect of oats, with lower water and land requirements, aligns with the growing focus on environmentally friendly food choices. These factors collectively propel the growth of the oats segment and make it a lucrative market opportunity.
Make an Inquiry: https://www.marketsandmarkets.com/Enquiry_Before_BuyingNew.asp?id=212823308
Based on application, the Cakes segment is projected to occupy a significant sourdough market share rate during the forecast period.
Sourdough cakes provide a healthier alternative to traditional cakes, appealing to health-conscious consumers. The unique tangy flavor and moist texture offered by sourdough enhance the taste experience, attracting consumers seeking new and distinct flavors. The association of sourdough cakes with artisanal and gourmet offerings adds to their appeal, as consumers increasingly value high-quality, handcrafted products. The growing variety of sourdough-based cakes from manufacturers provides consumers with more choices, driving market share. Increasing consumer awareness about the health benefits and unique characteristics of sourdough contributes to the demand for sourdough cakes.
Europe holds the highest market share during the forecast period.
Europe accounted for the largest market share in the food & beverage metal cans market in 2022. Europe holds the highest market share during the forecast period in the sourdough market due to several key factors. Europe has a deep-rooted tradition and cultural connection to bread, making it an integral part of European diets. The region's familiarity and preference for bread contribute to the higher market share of sourdough in Europe. Europe values artisanal and traditional food products, aligning with the characteristics of sourdough. The demand for sourdough is driven by European consumers' appreciation for authenticity, high-quality ingredients, and unique flavors. Europe's advanced bakery industry, encompassing artisanal bakeries and commercial manufacturers, ensures the widespread availability and accessibility of sourdough products. The combination of cultural heritage, preference for artisanal foods, and a well-developed bakery industry establish Europe's dominant market share in the market.
Get 10% free customization on this report: https://www.marketsandmarkets.com/requestCustomizationNew.asp?id=212823308
Key Players in Sourdough Market
Key players in this market include Puratos (Belgium), IREKS GMBH (Germany), Lallemand Inc. (Canada), Lesaffre (France), BOUDIN BAKERY (US), Goodmills (Austria), and Bake With Brolite (US).
About MarketsandMarkets™
MarketsandMarkets™ has been recognized as one of America's best management consulting firms by Forbes, as per their recent report.
MarketsandMarkets™ is a blue ocean alternative in growth consulting and program management, leveraging a man-machine offering to drive supernormal growth for progressive organizations in the B2B space. We have the widest lens on emerging technologies, making us proficient in co-creating supernormal growth for clients.
Earlier this year, we made a formal transformation into one of America's best management consulting firms as per a survey conducted by Forbes.
The B2B economy is witnessing the emergence of $25 trillion of new revenue streams that are substituting existing revenue streams in this decade alone. We work with clients on growth programs, helping them monetize this $25 trillion opportunity through our service lines – TAM Expansion, Go-to-Market (GTM) Strategy to Execution, Market Share Gain, Account Enablement, and Thought Leadership Marketing.
Built on the 'GIVE Growth' principle, we work with several Forbes Global 2000 B2B companies – helping them stay relevant in a disruptive ecosystem. Our insights and strategies are molded by our industry experts, cutting-edge AI-powered Market Intelligence Cloud, and years of research. The KnowledgeStore™ (our Market Intelligence Cloud) integrates our research, facilitates an analysis of interconnections through a set of applications, helping clients look at the entire ecosystem and understand the revenue shifts happening in their industry.
Media Contact
Company Name: MarketsandMarkets™ Research Private Ltd.
Contact Person: Mr. Aashish Mehra
Email: Send Email
Phone: 18886006441
Address:630 Dundee Road Suite 430
City: Northbrook
State: IL 60062
Country: United States
Website: https://www.marketsandmarkets.com/Market-Reports/sourdough-market-212823308.html