Video Link: https://www.youtube.com/embed/YWAF5Rn9SqY
With the recent emphasis on personal hygiene due to Covid-19, wet tissues are used for various purposes such as for children's hygiene, for going out, and for cleaning. When it comes to wet tissue, which are closely related to hygiene, consumers value safety the most.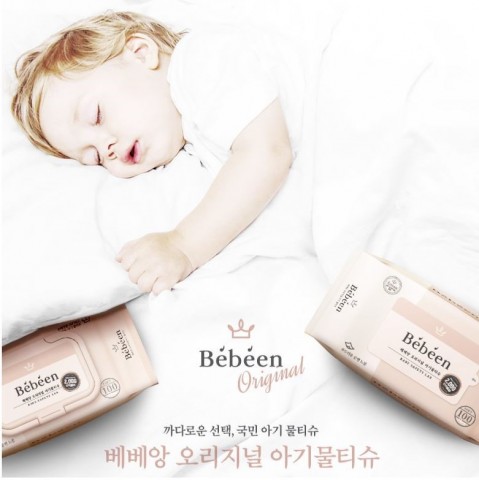 Soonsukorea started its business with the belief of developing wet tissues for our own children, and has topped the sales volume in the wet tissue section for two consecutive years in Coupang, a famous e-commerce in Korea, and surpassed the sales of 20 million packs of a single product in the shortest period. The brand ranked 6th in the entire wet tissue market.
The company's star product, BEBEEN, uses safe purified water that has passed through a six-step water purification system, which accounts for 99% of all wet wipes. Moreover, it caught the hearts of Korean consumers at once by using thick fabric and using only safe ingredients like olive leaf extract.
Another reason why Soonsukorea's products are loved by consumers is the cost performance. With technological innovations such as a cap-attached robot system and 100-sheet automated production facilities, and management innovation, Soonsukorea built a 'one-stop' system that encompasses research, production, sales and distribution, and imprinted the image of 'high quality at a low price' to its consumers.
Recently, as controversy over the detection of harmfulness of various household products arose, consumers fell into confusion. However, Soonsukorea's products were confirmed to be safe from methanol and humidifier disinfectants through a nationally recognized certification test. Chil-Sik Yang, CEO of Soonsukorea said, "there is anxiety among consumers about household products, but Soonsukorea 's products are evaluated as safe in the national certification test, giving consumers confidence in safety." As such, the CEO's ceaseless R&D and management innovation have produced fruitful results, turning crises into opportunities.
Soonsukorea is actively entering into overseas markets based on its success in Korea. Currently, it is exporting to Singapore, Vietnam, Taiwan, and Australia, and is preparing to export its prodcuts to the Middle East and US markets. Especially, it received great attention from overseas buyers by signing a supply contract with a large Vietnamese retailer with an annual purchase amount of $1 million.
Media Contact
Company Name: Soonsukorea Co., Ltd.
Contact Person: Ryan Choi
Email: Send Email
Phone: +82 10-4701-4690
Country: South Korea
Website: https://www.gobizkorea.com/user/goods/frontGoodsDetail.do?goods_no=GS2020062492884&ctgryCode=S0800200010000&upperCode=M0800200000000&goodsNms=BEBEEN-SIGNATURE_Wet-Wipes&skwanSn=&speclKwanId=SPCCD0000581